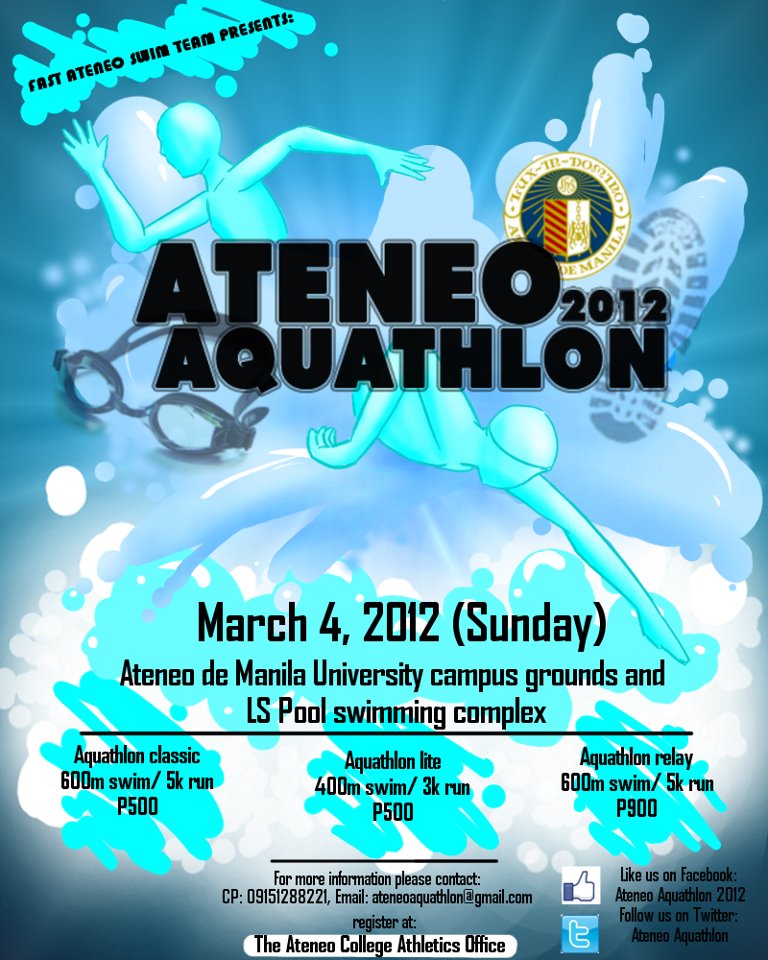 As a way to promote swimming and healthy living, FAST (Fast Ateneo Swim Team) organizes the Ateneo's premiere and sole multi-sport event during the team's off-season. This event, the Ateneo Aquathlon 2012, will be the 6th race organized purely by members of FAST.
Ateneo Aquathlon is a swim-run event open to all ages and separate category for boys and girls. We have categories ranging from 12 & under, 13-16, 17-21, 36-44, 45 & over. They will be giving away medals for the top 3 finishers in each category and a finishers kit.
Ateneo Aquathlon 2012
March 4, 2012 @ 4:30AM
Ateneo de Manila University Swimming Pool and Campus
Relay: 600m Swim & 5km Run; Aquathlon Classic(12&Under):400m Swim & 3km Run; Aquathlon Classic(13&Above):600m Swim & 5km Run; Lite: 400m Swim & 3km Run
Organizer: Fast Ateneo Swim Team
Registration Fees:
Individual participants: Php 500.00
Relay teams: Php 900.00
Awards:
Medals for 1st-3rd in All Categories
Finisher's Kit from Sponsors
Registration Venues:
How to REGISTER?
Download Registration Form Here: [download id="635″]
Step 1: Visit them at… College Athletics Office, Ateneo de Manila University (beside the Tennis Court)
Office Hours:
Weekdays: 8-5pm
Saturday: 8-12pm
(look for Louise Sarmiento)
OR
Online -> https://www.ateneoaquathlon.com
Step 2: Payment
You may pay at the College Athletics Office
OR
Via "Payment Slip" through Metro Bank
Company Name: Ateneo De Manila University
Subscriber Name: Full Name of Participant
Reference No: 013
Step 3:
Email a photo or scanned copy of the
Payment Slip to [email protected]
with your Full Name AND Contact Details
*BRING PAYMENT SLIP ON RACE DAY FOR REFERENCE.
Registration Period: Until Feb 26, 2012
Area Map: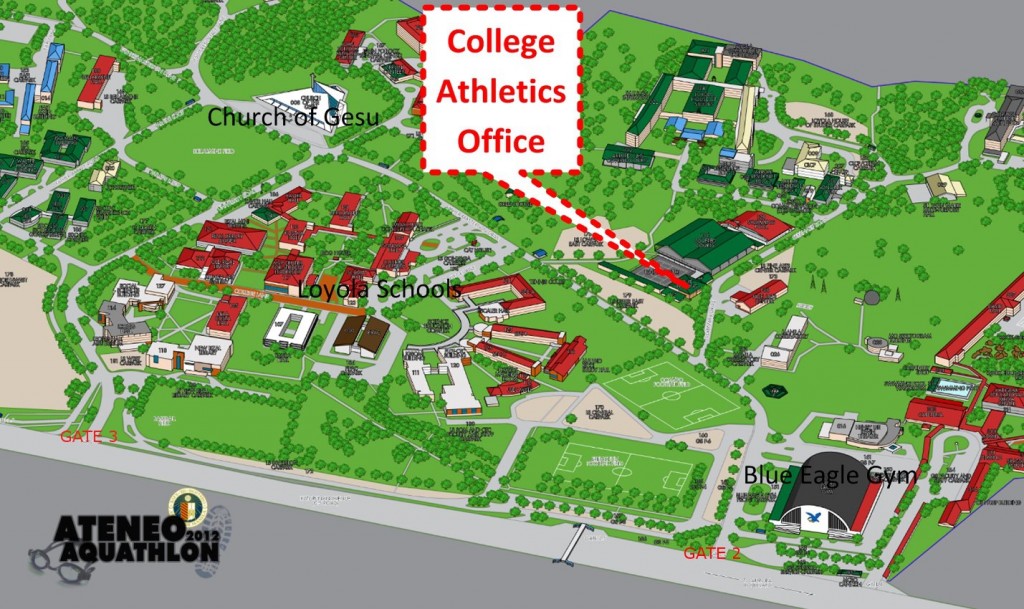 Contact Details:
Maysheen Tiu: 09151288221, 09228549900 Email us at: [email protected]