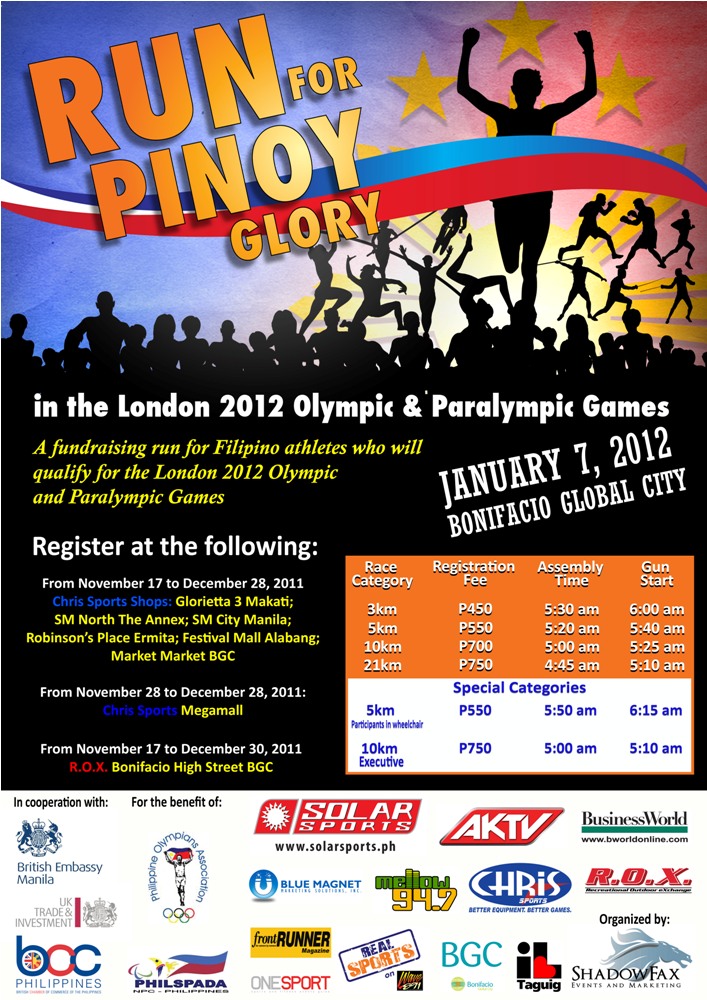 Hi Guys! Shadowfox Events the organizer of the upcoming Summit Run for Pinoy Glory was kind enough to extend 5 FREE race kits for the Pinoy Fitness Community! and I'm giving them all away!
Run for Pinoy Glory 2012
January 7, 2012 @ 5AM
Bonifacio Global City
3K / 5K / 10K / 21K
Full Event Details -> Click Here
Note: Registration for this event has been extended till January 6, 2011 at ROX and there will be on-site registration starting 4AM
Mechanics:
1. You must be a Pinoy Fitness Follower in at least one:
-> Facebook -> https://www.facebook.com/pinoyfitness
-> Twitter -> https://www.twitter.com/pinoyfitness
2. Leave a comment below indicating your
-> Full Name (Must be the same as your Valid ID)
-> Valid Email Address (this will be used to contact you)
-> Answer This: What makes you a Proud Pinoy?
3. Tweet or Share the Following: (On your personal accounts)
-> I'm Proud to be a Pinoy! Run for Pinoy Glory Promo at Pinoy Fitness – https://wp.me/pQctC-3ln @pinoyfitness
Promo Period is only until January 3 @ 11:59PM
How to avail the race kits:
Kits will be available at R.O.X. 1 day after the announcement between 2PM-8:30PM until January 6. Alternatively, they can claim the kits onsite on race day from 4AM onwards.
a) Recipient must show a valid ID. Name on ID must match name submitted.
b) Recipient will be asked to fill up a registration form, after which the race kit can be claimed.