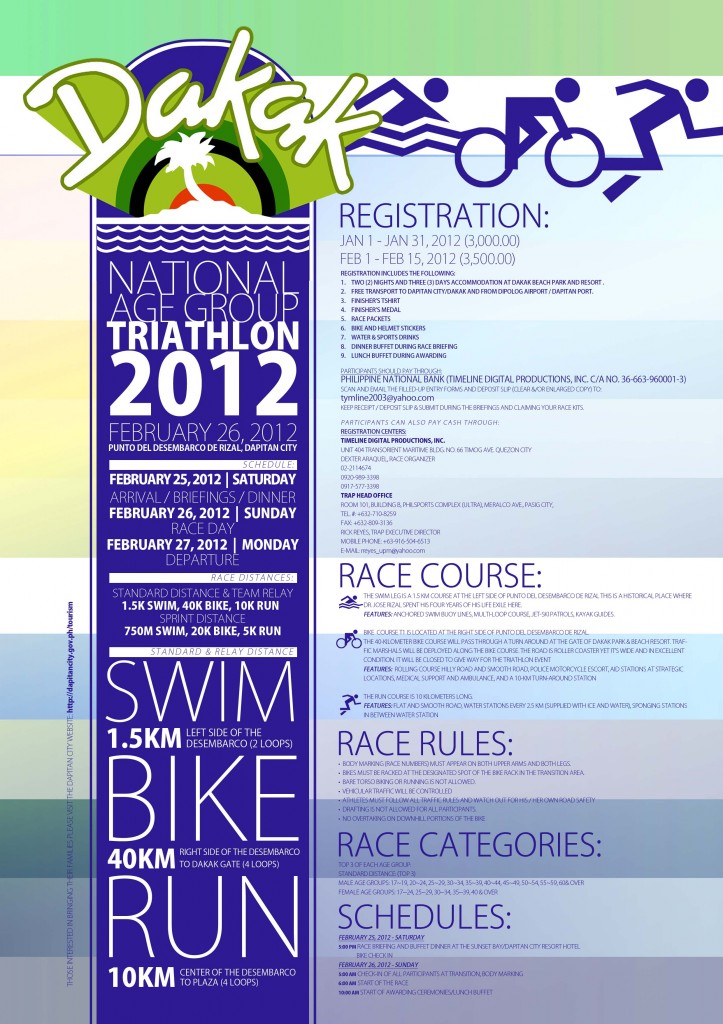 Let's suppor the DAKAK NATIONAL AGE GROUP TRIATHLON 2012 happening on February 26, 2012 at Punto Del Desembarco de Rizal, Dapitan City. Check out the details.
DAKAK NATIONAL AGE GROUP TRIATHLON 2012
February 26, 2012
Punto Del Desembarco de Rizal, Dapitan City
Standard, Relay & Sprint
Organizer: Timeline & TRAP
Registration Fees:
January 1-31, 2012 – PHP 3,000
February 1-15, 2012 – PHP 3,500
Registration includes the following:
1. 2 nights and 3 days Accommodation at DAKAK Beach Park and Resort
2. Free transport to Dapitan City/Dakak and from Dipolog Airport/Dapitan Port.
3. Finisher's Tshirt
4. Finisher's Medal
5. Race packets
6. Bike and Helmet Stickers
7. Water & Sports Drinks
8. Dinner Buffet during Race Briefing
9. Lunch Buffet during Awarding
Registration Venues:
Participants should pay through:
• Philippine National Bank (Timeline Digital Productions, Inc. C/A No. 36-663-960001-3)
Scan and Email the filled-up entry forms and deposit slip (clear &/or enlarged copy) to: [email protected]
Keep receipt/deposit slip & submit during the briefings and claiming your race kits.
Participants can also pay cash through:
Registration Centers:
TIMELINE DIGITAL PRODUCTIONS, INC.
Unit 404 Transorient Maritime Bldg. No. 66 Timog Ave. Quezon City
Dexter Araquel, Race Organizer
02-2114674
0920-989-3398
0917-577-3398
TRAP Head Office: Room 101, Building B, Philsports Complex (ULTRA), Meralco Ave., Pasig City,
Tel. #: +632-710-8259; Mobile
Fax: +632-809-3136
Rick Reyes, TRAP Executive Director
Mobile phone: +63-916-504-6513 E-mail: [email protected]
The Race Course:
Swim Course
The swim leg is a 1.5 km course at the left side of punto del desembarco de rizal This is a historical place where Dr. Jose Rizal spent his four years of his life exile here.
Features: anchored swim buoy lines, multi-loop course, jet-ski patrols, kayak guides.
Bike Course (T1 is located at the right side of punto del desembarco de rizal
The 40-kilometer bike course will pass through a turn around at the gate of Dakak Park & Beach Resort. Traffic marshals will be deployed along the bike course. The road is roller coaster yet its wide and in excellent condition. It will be closed to give way for the triathlon event
Features: Rolling course Hilly road and smooth road, police motorcycle escort, aid stations at strategic locations, medical support and ambulance, and a 10-km turn-around station
Run Course
The run course is 10 kilometers long
Features: flat and smooth road, water stations every 2.5 km (supplied with ice and water), sponging stations in between water station.,
RACE RULES:
– Body marking (race numbers) must appear on both upper
arms and both legs.
– Bikes must be racked at the designated spot of the bike rack
in the transition area.
– Bare torso biking or running is not allowed.
– Vehicular traffic will be controlled
– Athletes must follow all traffic rules and watch out for
his/her own road safety
-DRAFTING IS NOT ALLOWED for all participants. –
NO Overtaking on downhill portions of the bike
Race Categories:
Top 3 of each Age group:
Standard Distance: (Top 3)
Male Age Groups: 17~19, 20~24, 25~29, 30~34, 35~39, 40~44, 45~49,
50~54, 55~59, 60& over
Female Age Groups: 17~24, 25~29, 30~34, 35~39, 40 & over
Race Schedule:
February 25, 2012 – Saturday
5:00 pm Race Briefing and Buffet Dinner at the Sunset Bay/Dapitan City Resort Hotel
Bike Check In
February 26, 2012 – Sunday
5:00 am Check-in of ALL participants at transition, Body Marking
6:00 am Start of the Race
10:00 am Start of Awarding Ceremonies/Lunch Buffet
OTHER INFOS:
Those interested in bringing their families please visit the Dapitan city website:
https://dapitancity.gov.ph/tourism
Contact Details:
Dexter Araquel, Race Organizer
02-2114674
0920-989-3398
0917-577-3398