[ad#square-middle]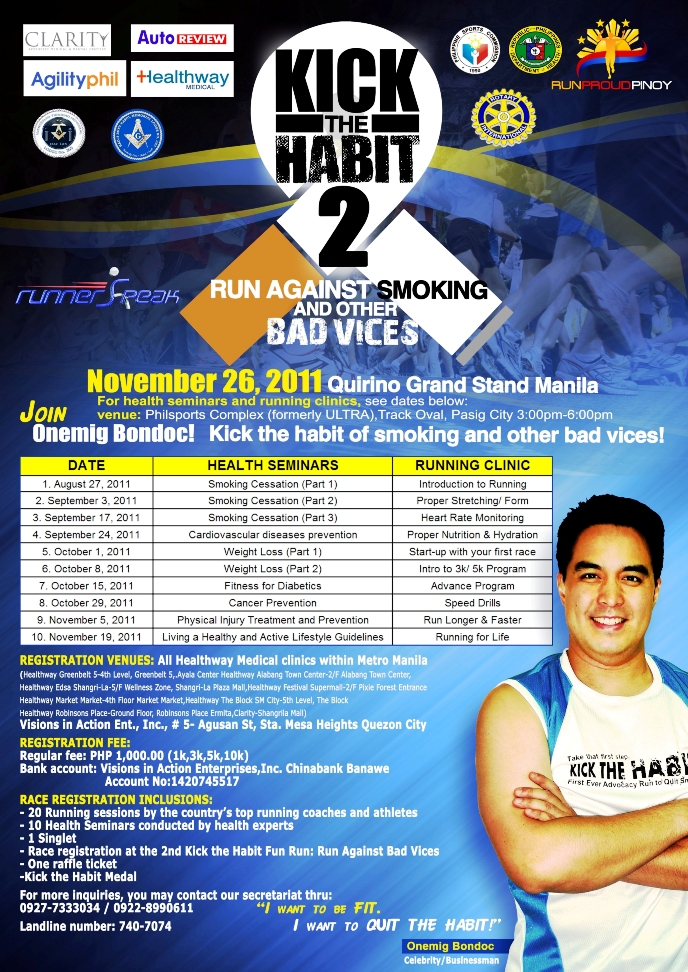 It is a four-month running and health program designed for smokers and other people with health and weight problems with the actual running event set on November 26, 2011. This is also open to everyone who wants to sustain a clean, healthy and active lifestyle. Check out Details Here!
The program aims to veer away from the usual "one-day-one-morning-run-get-freebies-go-home" events we have nowadays and thus helps develop a healthy habit-forming activity… Plus! It also educates every participant on his/ her body, its limitations and how one can improve and sustain a happy and healthy life.
Kick the Habit 2: Run Against Smoking & other Bad Vices
November 26, 2011 @ 5AM
Qurino Grandstand, Manila
1k, 3k, 5k, 10k
Organizer: RUNProud Pinoy Productions- VIA
Registration Fees:
For Only Php 1,000.00 (including the seminars)
Health seminars (c/o Healthway Medical) held at the Philsports Complex Track Oval (formerly ULTRA), Pasig City, 3-6 pm are as follows: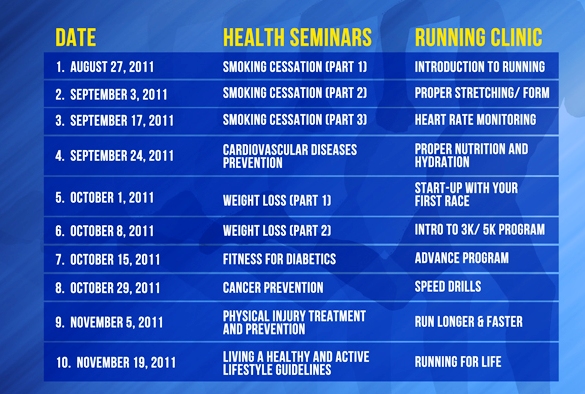 The program consists of:
– 20 running sessions
– 10 health seminars c/o Healthway Medical
– Free consultations from Healthway Medical (for early birds only)
– Free 1st Kick the Habit singlet (for early birds only)
– Free Orlistat Alli Weight Loss Pills (3 bottles for early birds only)
– One Kick the Habit 2 Singlet
– Kick the Habit Medal
– Registration at the Kick the Habit 2 to be held on November 26, 2011 at Quirino Grandstand
Actual running event categories:
Individual: 1k, 3k, 5k, 10k
Buddy/ Family/ Barkada Run: 1k, 3k, 5k
Registration Venues:
Interested parties can already register at Healthway Medical clinics within Metro Manila (Alabang Town Center, Edsa Shangrila, Festival Mall, Greenbelt 5, Market Market, Robinson's Place Manila, The Block SM City) and Clarity in Shangrila Mall.
Contact Details:
For inquiries, you may email [email protected]
or contact number: 0927-7333034/ 740-7074