[ad#square-middle]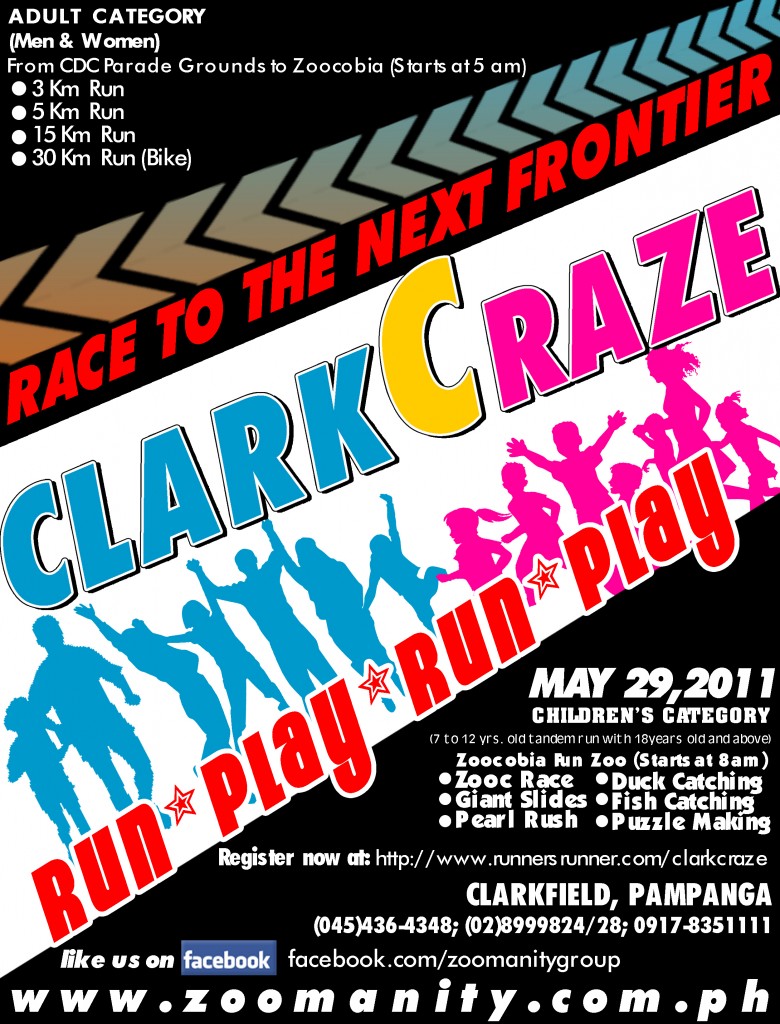 The Clark Craze: Race to the Next Frontier is a fun run conceptualized by the Zoomanity Group, a subsidiary of the Yupangco Group of Companies.
This fun run aims to introduce and launch Clarkfield in Pampanga as a year-round sports and cultural destination fit for families, friends, adventurers and serious athletes.
Clark Craze: Race to the Next Frontier
May 29, 2011
Clark field Pampanga, Zoocobia Fun Ranch
2 Km Tandem Fun Hike (Kids up to 12 years and adult 18yrs above)
3Km / 5Km / 10Km Run
30Km Bike
Registration Fee:
2 KM Tandem Run: PHP 600 per pair
3 Km – PHP 300
5 Km – PHP 400
10 Km – PHP 500
30 Km – Bike PHP 500
Register Online:
https://www.runnersrunner.com/store/events/clark-craze.html
Event Schedule:
6:00-10:00 race proper (10k, 6:30 am, 5k 7:00 am, 3k 7:30 am)
10:00-13:00 lunch time and rest period in Zoocobia
13:00-14:00 Awarding ceremony for runs
14:00-16:00 Bike Race
14:00-17:00 Special Games and activities inside the Zoo / Live Entertainment/Bike awarding
The Special Games will be facilitated by Zoocobia staff inside the park. Small tasks or obstacles will be organized inside the park featuring the various facilities.
These special games may include:
1. Mini zooc race, (Best luge time every hour gets a special prize)
2. Scavenger hunt inside the park
3. Duck catching
4. Raffle