[ad#square-middle]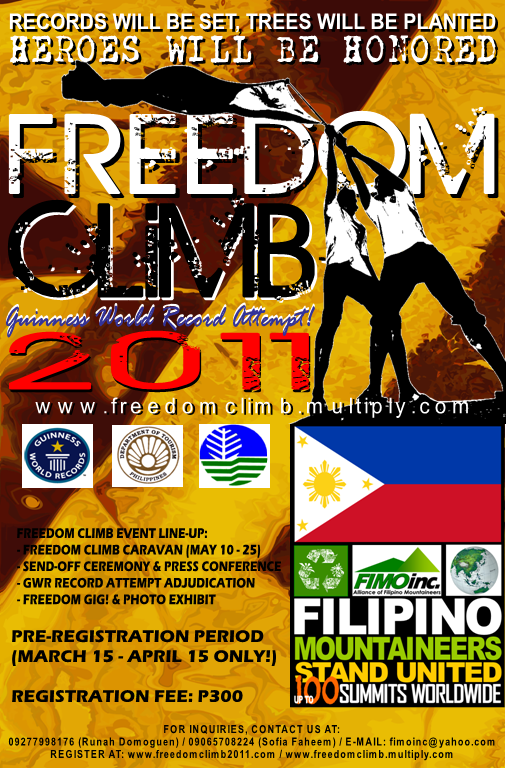 In celebration of our National Independence, Freedom Climb is an annual event wherein mountaineers and outdoor enthusiasts from all over the country collaborate together to summit different climbing destinations simultaneously.
Now on its third year, on June 10-13, the organizers of this event shall try what has never been done before. To create a new criterion in the Guinness World Records and set a worldwide record for — THE MOST PEOPLE TO SUMMIT DIFFERENT PEAKS within a 24-hr period.
Aside from nurturing national unity, the event aims to promote environmental awareness, conservation, preservation and protection; to campaign advocacies for responsible sportsmanship, synergism among individuals and groups, and to unite the mountaineering community to achieve greater good.
RECORDS WILL BE SET,
TREES WILL BE PLANTED,
TOURISM WILL BE PROMOTED,
HEROES WILL BE HONORED,
THE FILIPINO MOUNTAINEERS WILL TRIUMPH!
FREEDOM CLIMB 2011: GUINNESS WORLD RECORD ATTEMPT
June 10 – June 13, 2011 (Depending on your climb destination)
NATIONWIDE
Organizer: Alliance of Filipino Mountaineers, Inc. (FIMO)
Registration Fees:
Pre-Registration (March 15 – April 30)
PHP 300.00
Regular Registration (May 1 – May 15)
PHP 400.00
Registration Venues:
www.freedomclimb2011.com.ph
Contact Details:
Contact Numbers: 09277998176 / Runah Domoguen
09065708224 / Sofia Faheem
Email Address: [email protected]
Website: www.freedomclimb.multiply.com
Source: Jade Rance Acidre via Email