[ad#square-middle]

I was fortunate enough to be able to attend the Press Launch for the 2011 Adidas King of the Road (KOTR) 2011 happening on October 23, 2011 at Fort Bonifacio Global City. Wondering why the Launch is 7 months early? Here is Why…
Adidas King of the Road (KOTR) 2011
October 23, 2011
Fort Bonifacio Global City
5K / 16.8K / 21K
Organizer: RunRio
[OCTOBER 21 – UPDATE!]
Those who weren't able to join us at the KOTR Kick-Off, please come down to adidas Philippines 14/F Fort Legend Tower 3rd Ave cor 31st street BGC, Taguig City today Oct 21, from 11am-8pm only and on Saturday, Oct 22, 10am-4pm only. Please bring all requirements. See you!
[SEPTEMBER 8, 2011 – UPDATE!]
1. A limited number of race slots across ALL CATEGORIES are now AVAILABLE again ONLINE (paid with Visa/MasterCard credit/debit cards only), while race slots last. ONLINE Registration may close without prior notice when race slots run out.

2. PREPAID RESERVATION (paid with cash only) across ALL CATEGORIES will be made AVAILABLE again on SELECT DAYS at the 14 adidas RUNNING STORES: Sept 2-4, Sept 10-11, Sept 16-18, and Sept 24-25 during store hours and finally, on Sept 26-30, Prepaid Reservation will be available from 5pm until store closing only. We may cancel selling of Prepaid Reservation before Sept 30 without prior notice when race slots run out.
Online Registration Now Open!
Adidas King of the Road 2011 – Online Registration
[UPDATE!]
Attention all runners, adidas is extending the King of the Road 2011 Online Registration from September 1 -10. Race bibs on the other hand won't be personalized due to last-minute time constraints.
Things to Know about KOTR 2011
1. Adidas KOTR 2011 will be held in 5 countries and will culminate in an ultimate championship race here in the Philippines on Oct. 23, 2011 with targetted 20,000 participants
– Adidas KOTR Thailand – May 15, 2011
– Adidas KOTR Singapore – August 28, 2011
– Adidas KOTR Indonesia – September 25, 2011
– Adidas KOTR Malaysia – October 2, 2011
– Adidas KOTR Southeast Asia Championship 2011 Philippines – October 23, 2011
* Winners of each of the other four countries will qualify for an all-expense paid trip to the Philippines to compete for the Asia Championship.
2. Adidas KOTR 2011 has a theme titled 'Colours' represented through the variety of different coloured adidas singlets each participant can wear. The event can become the most colorful event of the year.
Adidas KOTR 2011 Men's Singlet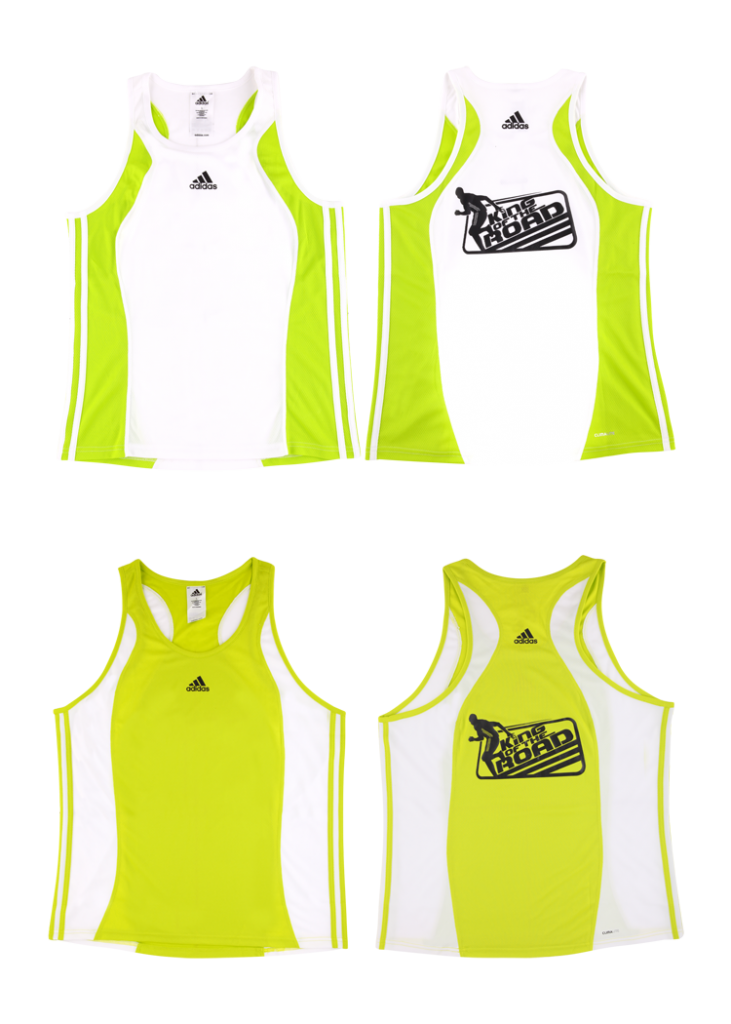 Adidas KOTR 2011 Women's Singlet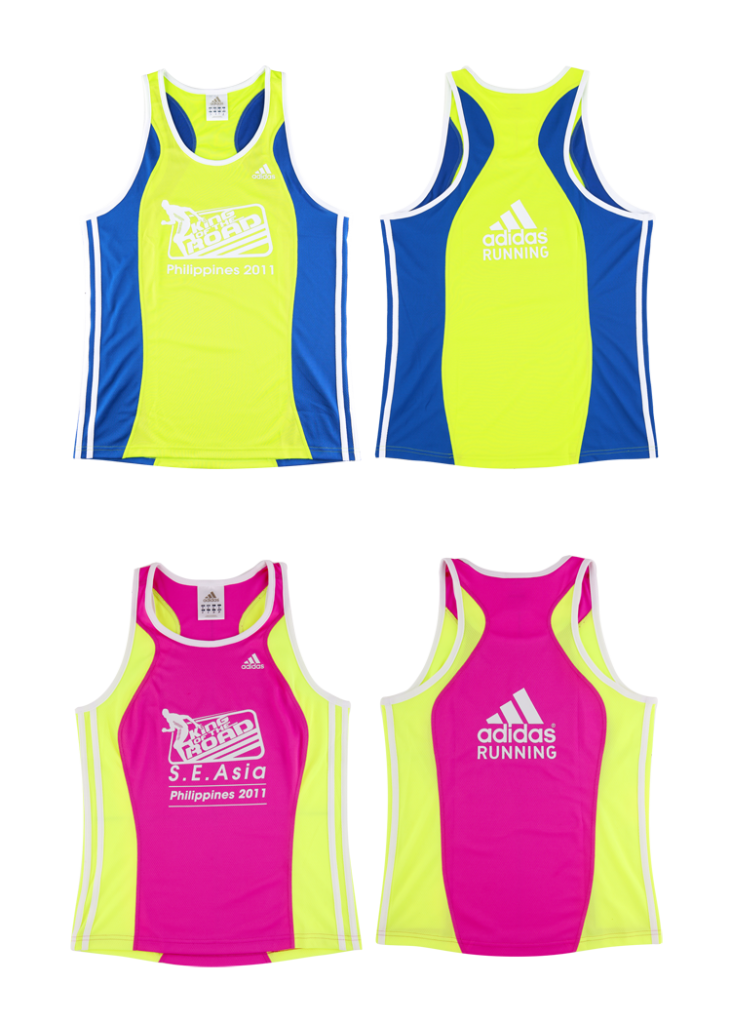 3. Adidas KOTR 2011 removed the 10K category and replaced it with a Unique 16.8KM route instead to increase the challenge catered to social and serious runners alike!
Adidas KOTR 2011 – 5K Race Map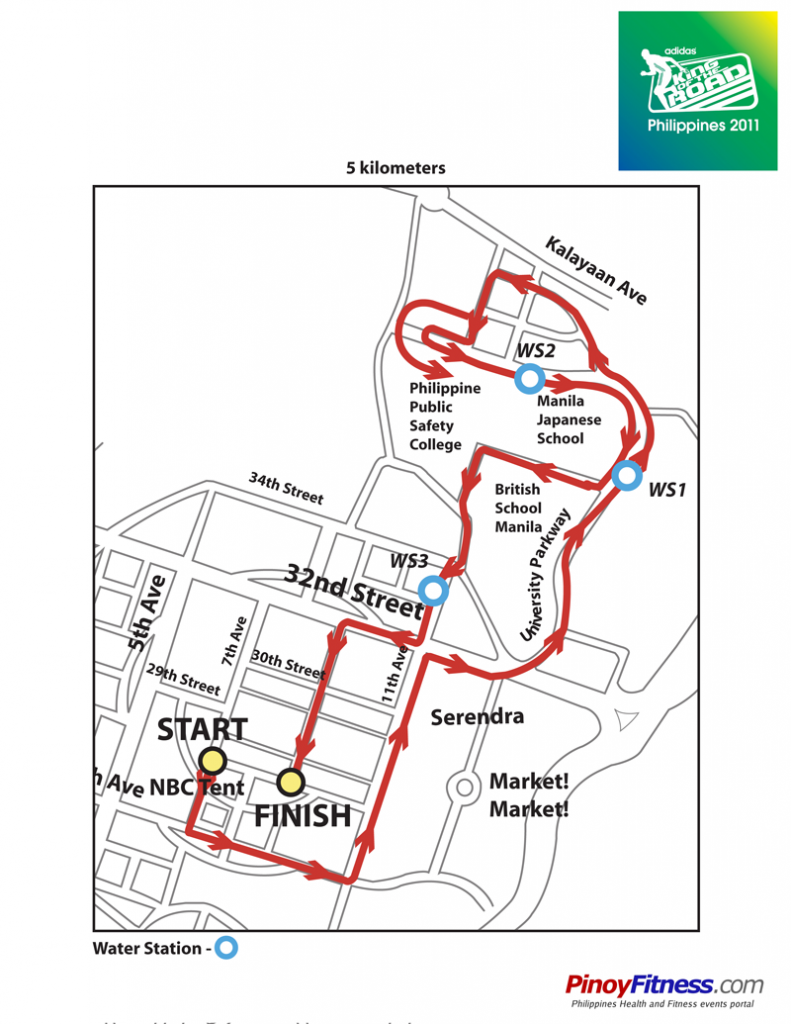 Adidas KOTR 2011 – 16.8K Race Map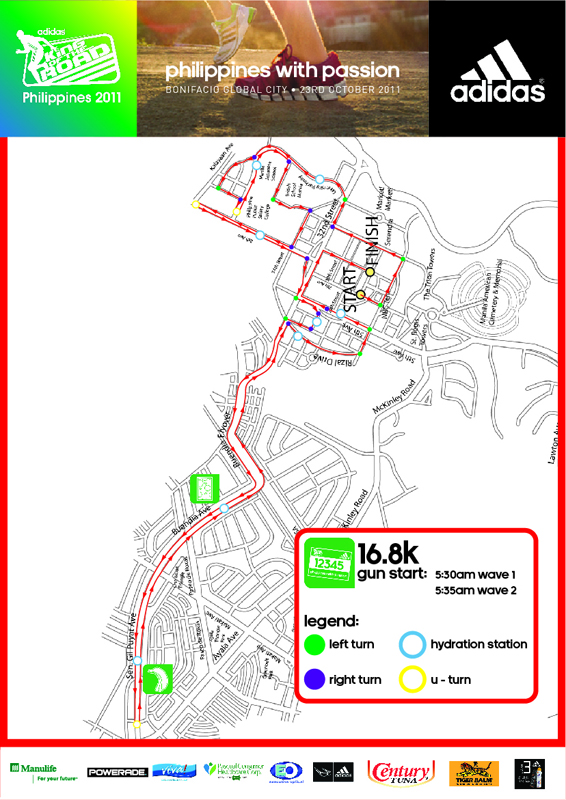 Adidas KOTR 2011 – 21K Race Map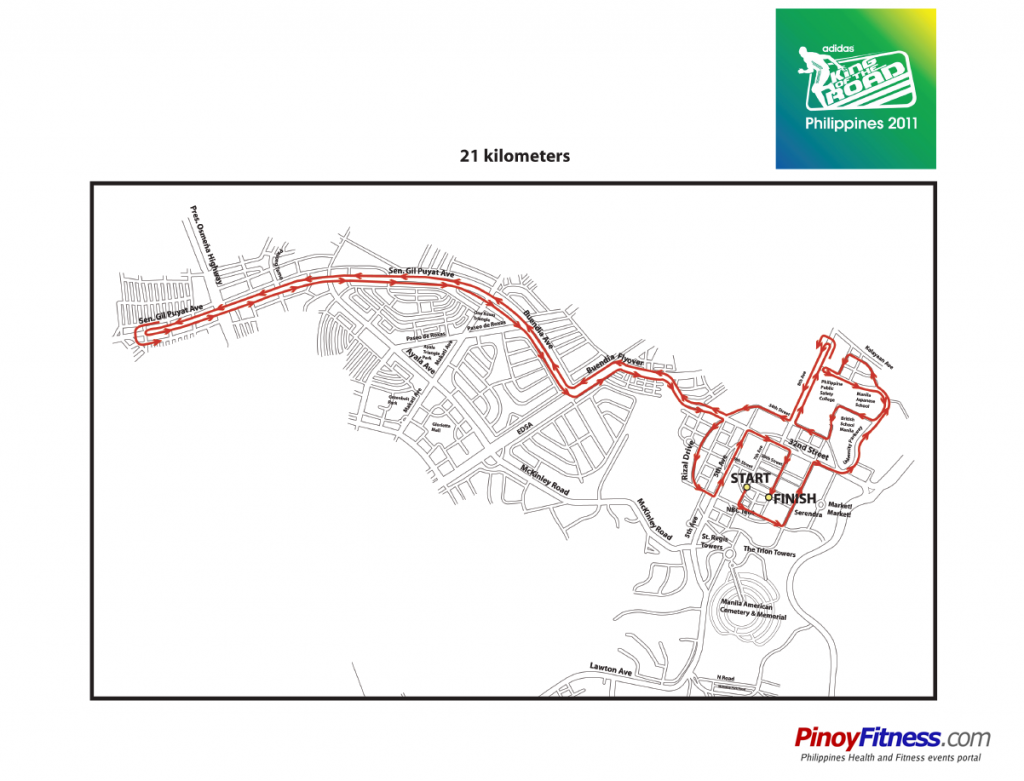 4. Registration will be available Online and in all Adidas and Participating Outlets Nationwide from June 1 to August 31, 2011.
– Adidas Alabang Town Center
– Adidas Eastwood City
– Adidas Gateway Mall
– Adidas Glorietta 3
– Adidas Greenbelt 3
– Adidas Powerplant Mall
– Adidas The Fort
– Adidas Shangri-la Plaza Mall
– Adidas SM Mall of Asia
– Adidas SM Megamall
– Adidas SM City North Annex
– Adidas Trinoma
– RUNNR
5. adidas King of the Road 2011 – Medal Designs! For all categories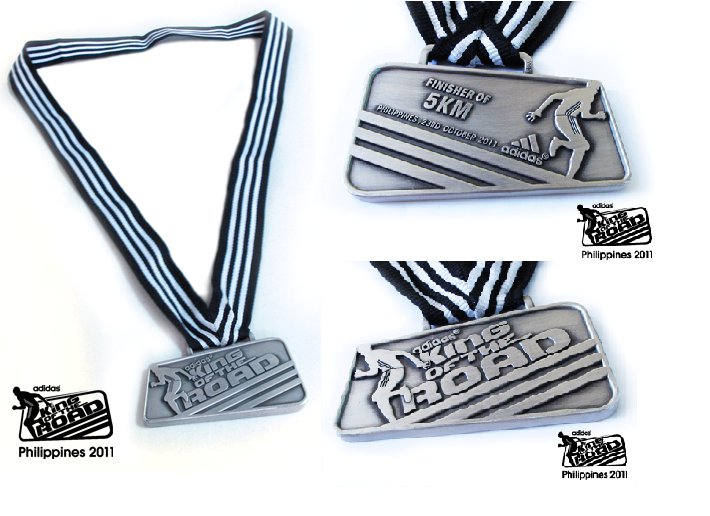 6. Finally, How much would it cost?! Registration Fee for the race event is:
5K – PHP 1,050.00
16.8KM – PHP 1,300.00
21KM – PHP 1,050.00
FREE RUN PROMO: Register in the 12 running zones 4 provincial running zones and buy worth (5,000 – 50% OFF) and (7,000 – FREE) you get a Limited Edition Singlet and KIT.
Other Highlights: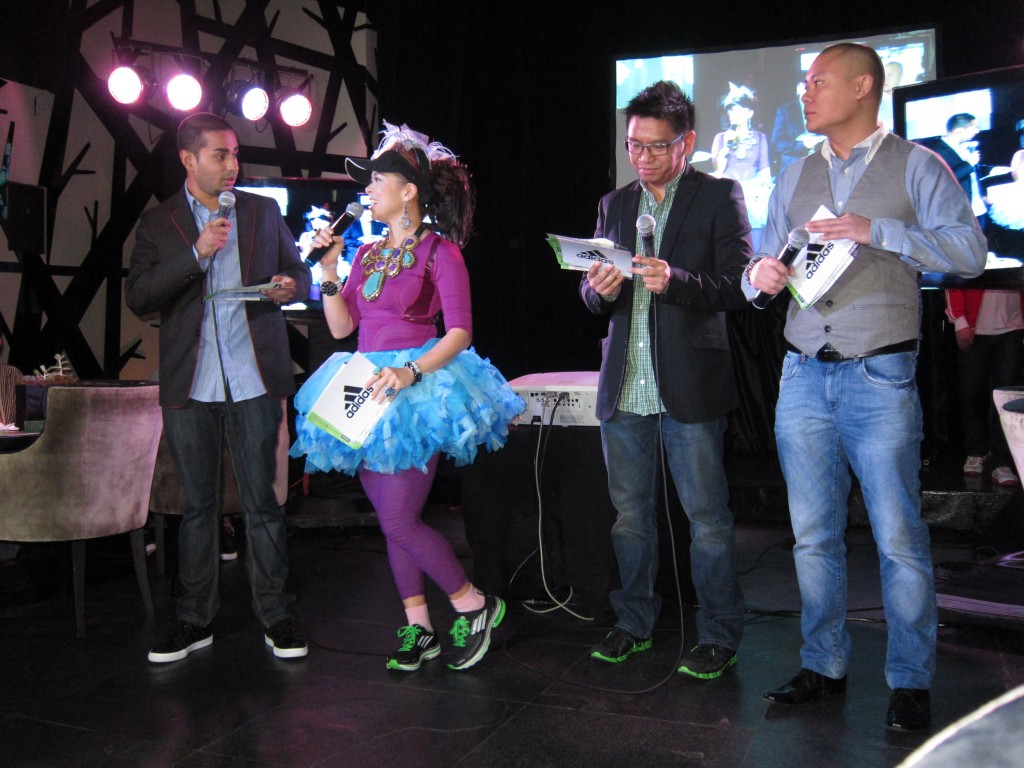 The event was also hosted by Boys Night Out! at NOON time and Tessa Prieto! and graced by several celebrities like Richard Herrera, Richard Hardin or TARA 4, Kelly Misa, Amanda Griffin and a lot more…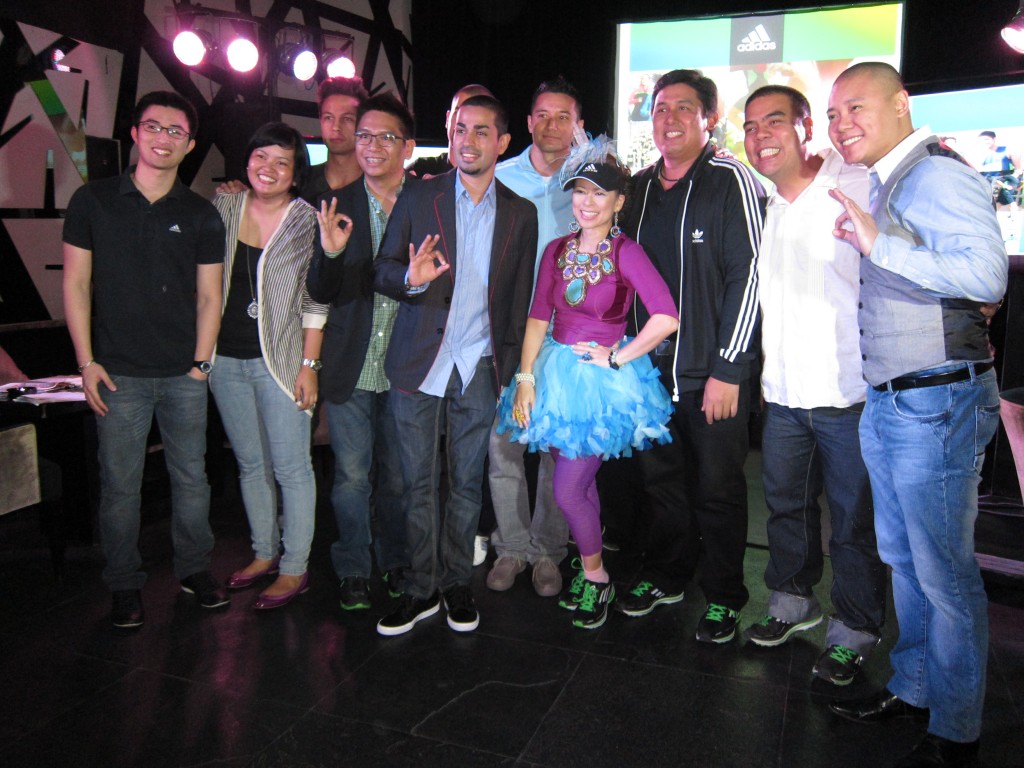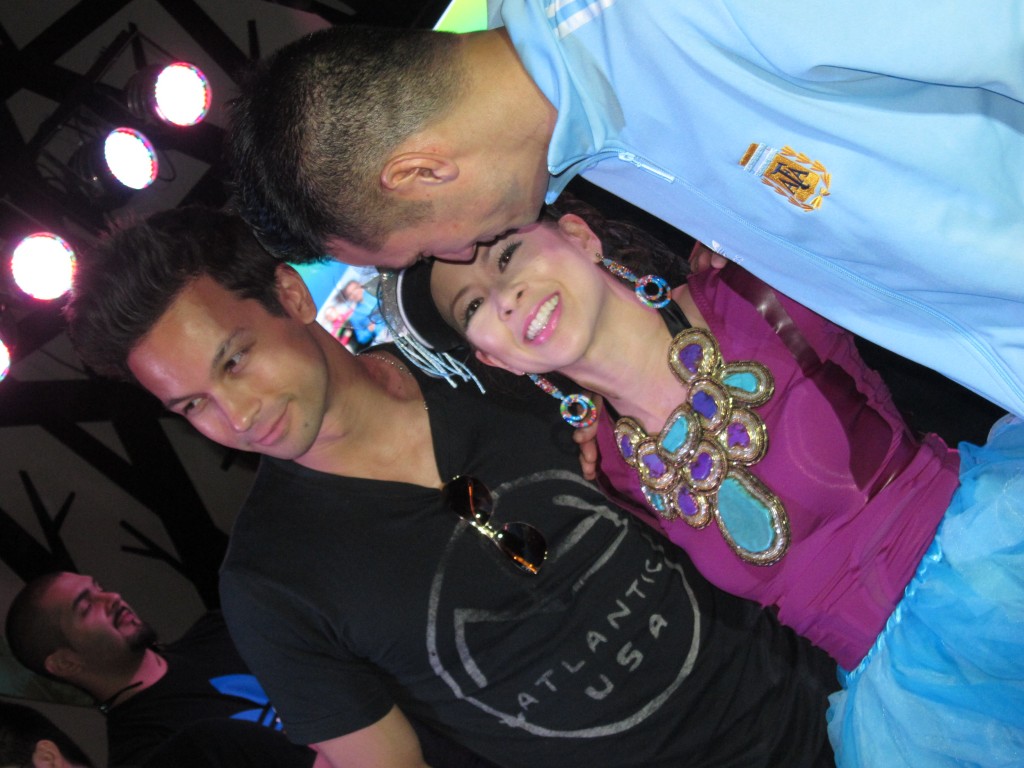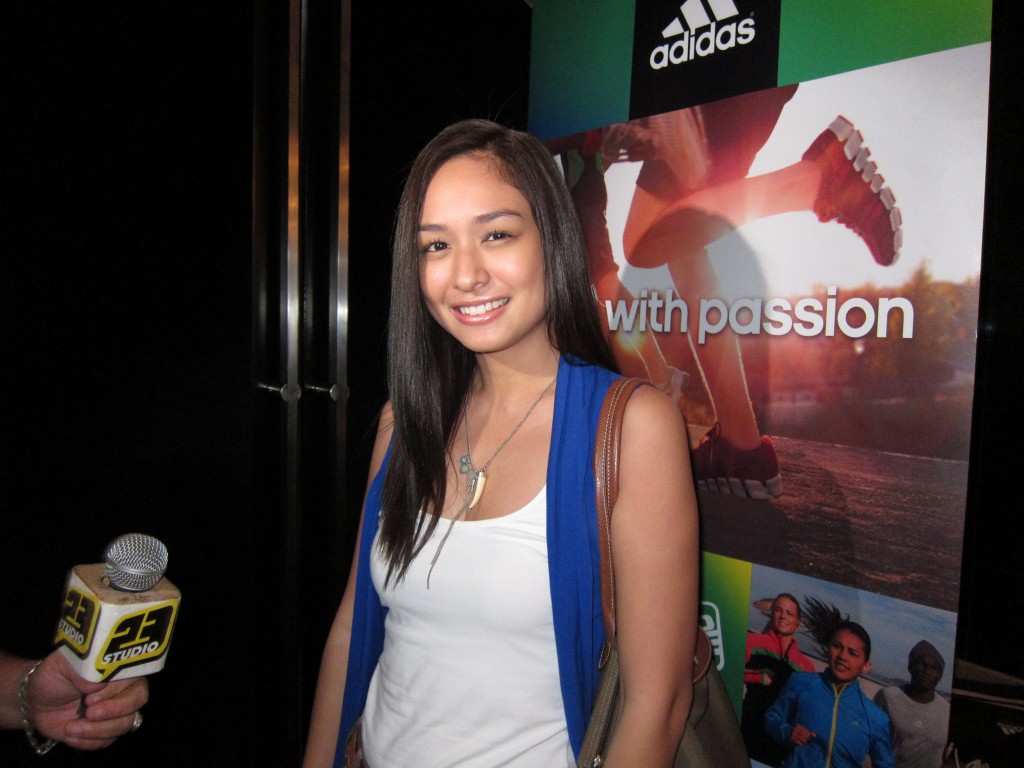 I'm sure everyone is excited! Stay tuned for future updates about the upcoming Adidas King of the Road (KOTR) 2011!