[ad#square-middle]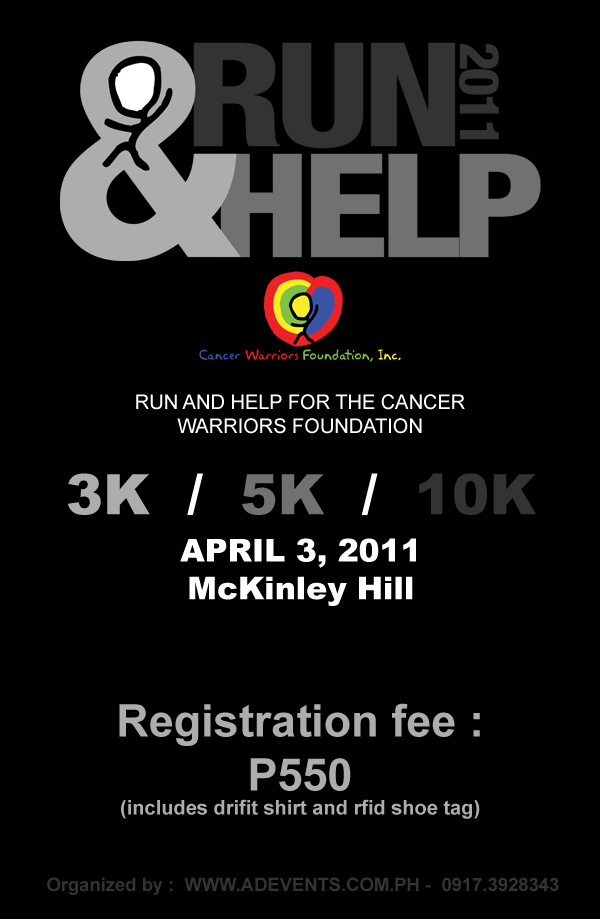 Run for Help for Cancer Warrior Foundation originally planned for February 2011 has been moved and finalized to be held on April 3, 2011 at McKinley Hill, Global City, here are the details as well as the singlet design for this event.
Run and Help 2011
April 3, 2011 @ 6:00AM
McKinley Hill, Global City, Taguig
3K / 5K / 10K
Registration fee for this event is PHP 550.00 with Timing Chip and Dri-Fit Shirt. Registration starts March 1, 2011
Run for Help 2011 Singlet Design: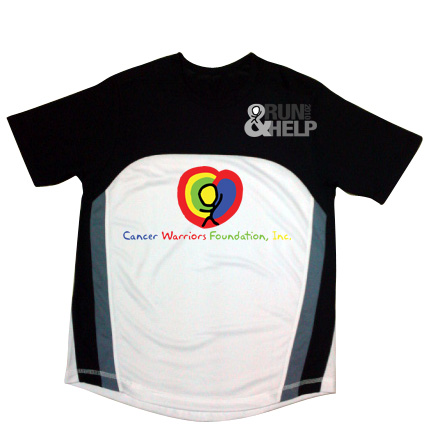 Download Registration Form Here:
[download id="412″]

Registration Outlets:
DIGITAL EXCHANGE
3rd floor, Glorietta 3, Ayala Center
near TGIF (FRIDAY'S)
ADVERTISING & EVENTS MANILA
73 William Shaw, Caloocan City
Mobile (0917) 3928343 / (0918) 4674206
Facsimile (0632) 3646201
Email : [email protected] / www.adevents.com.ph
JRS EXPRESS DELIVERY
a. Fill out registration form clearly. Indicate complete delivery address to avoid losses. If living in
a condominium, instruct lobby guards to accept package upon delivery.
b. Pay thru BPI S/A 4089 0189 49, with account name MAR SPORTS & EVENTS
CONSULTANCY. Delivery charge is (P70.00). One pack can accommodate up to FIVE
registrants. For one to five registrants, pay P70.00 only.
c. Fax registration form and deposit slip thru (0632) 3646201.
d. Call or send an SMS thru (0917) 3928343 for confirmation. Packs will be delivered at your door.
e. Orders with unsigned waivers and no contact information will not be processed.
f. Write your e-mail address clearly.
ROVING REGISTRATION
Schedule of Sunday races will be announced through Www.adevents.com.ph
For more information about this event call – 0917-392-8343
Check out the complete list of fitness events @ Pinoy Fitness List of Events.
Source: ADEVENTS