[ad#square-middle]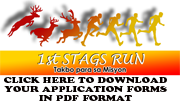 Congratulations to those you joined and participated in the recently concluded Stag Run that happened on January 16, 2011. Race Results will be posted here once the organizers released them.

Download Race Results Here:
[download id="406″]
[download id="407″]
[download id="408″]

For now please feel free to share your feedback and comments about this event here:
For a complete list of upcoming events, visit the List of Events page.