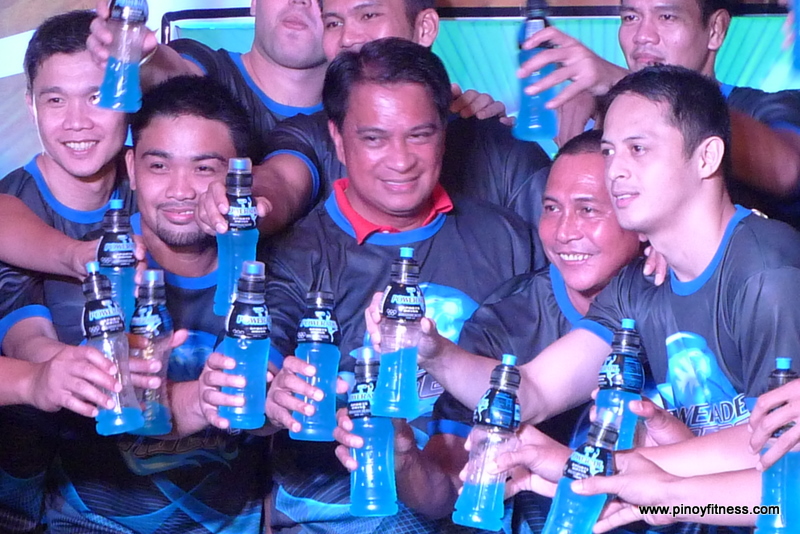 Entering the 36th season of Philippine Basketball Association (PBA), Coca-Cola re-branded their franchise from donning red to blue and had their name changed to Powerade Tigers. Aside from their drive in promoting an active, healthy lifestyle to Filipinos, the Tigers were hoping they'd transform their tame outlook to a more ferocious one in trying to change their identity and fortune in the league.
Last season, the Tigers finished seventh in both the All-Filipino Cup and the import-laden Fiesta Conference. However, Powerade coach Bo Perasol has expressed confidence the Powerade Tigers can improve and turn things around in the coming season.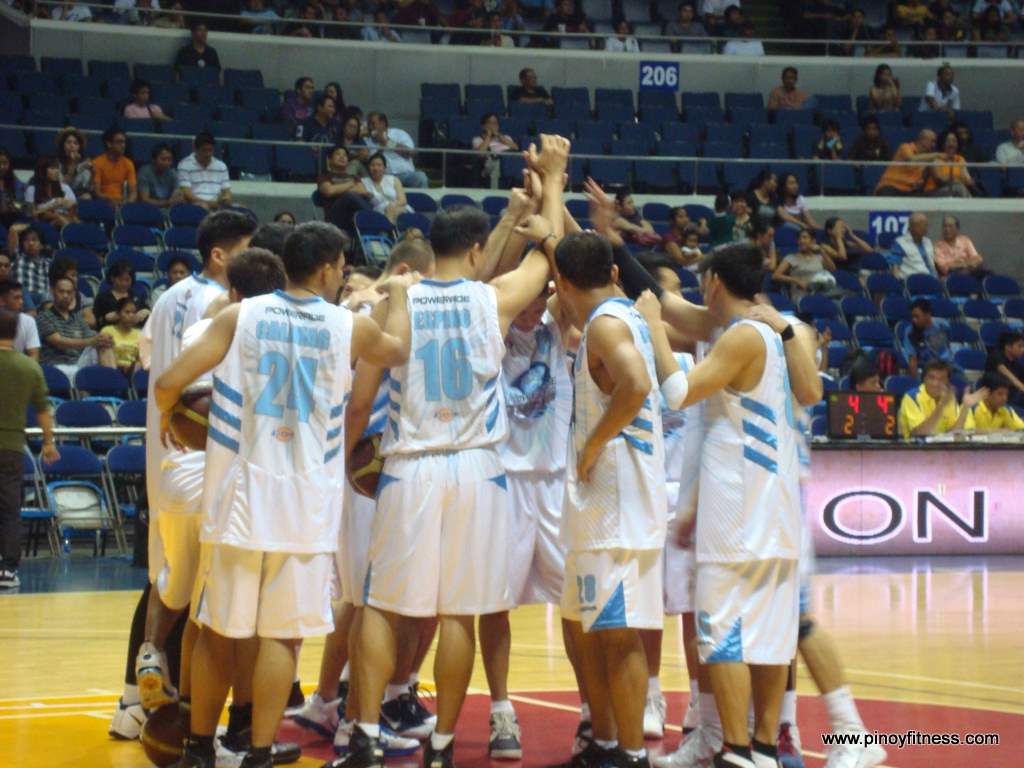 Before the season started, Powerade trimmed down their frontline by trading away Asi Taulava and Ken Bono. Looking like a retreat move, the new Powerade Tigers claimed they would hinge on the development of their young players like rookie Sean Anthony, RJ Rizada and Rob Reyes. That plus the veteran core of Gary David, Dennis Espino, Chico Lanete and Paolo Mendoza, you get a hungry Powerade team ready to prove to the league they're worthy of a name-change.
Unfortunately, their luck hasn't turned as soon as they had expected. They may have changed colors, but their fate remains the same. In the midst of a seven-game skid, I caught a glimpse of what the new Tigers were like when I saw them in action against the Alaska Aces Wednesday night.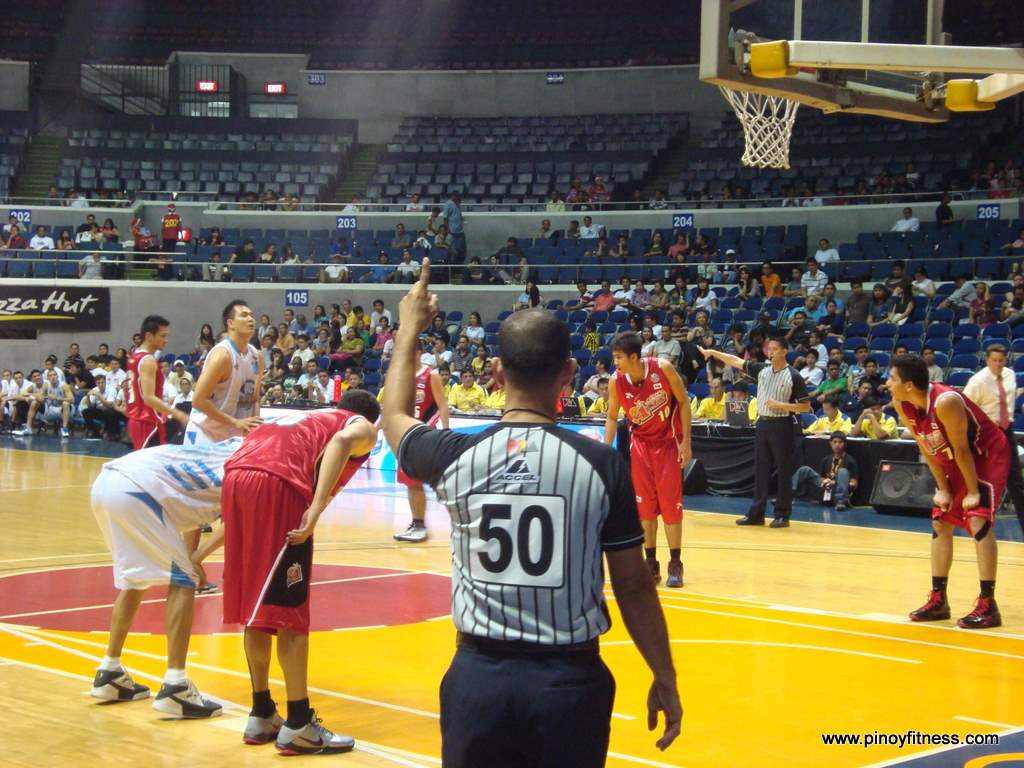 Coming into that game, Gary David was the league's leading scorer, averaging 22.5 points per contest. But early on, Powerade's go-to-guy would struggle against Alaska's suffocating defense. Despite a few hiccups, Powerade trailed by just six points at halftime. But it got worse. As the third quarter came, the Tigers lost grip of the situation and couldn't hit their shots. They made just 28 percent of their shots in the third and ended the quarter with a 16-point deficit. Though, they did show signs of life late in the fourth period, the Tigers would come up short. And just like that, so does their Philippine Cup campaign.
One bright spot for Powerade was masked-man Sean Anthony. The rookie tried to keep the Tigers in the Alaska game with his hustle and grit. Anthony grabbed rebounds and drove to the basket like his life depended on it. He finished with a career-high 29 points on 9-of-13 shooting. Top gunner David never found his groove as he shot just 4-of 14, finishing with nine points while veteran big man Dennis Espino chipped in 10.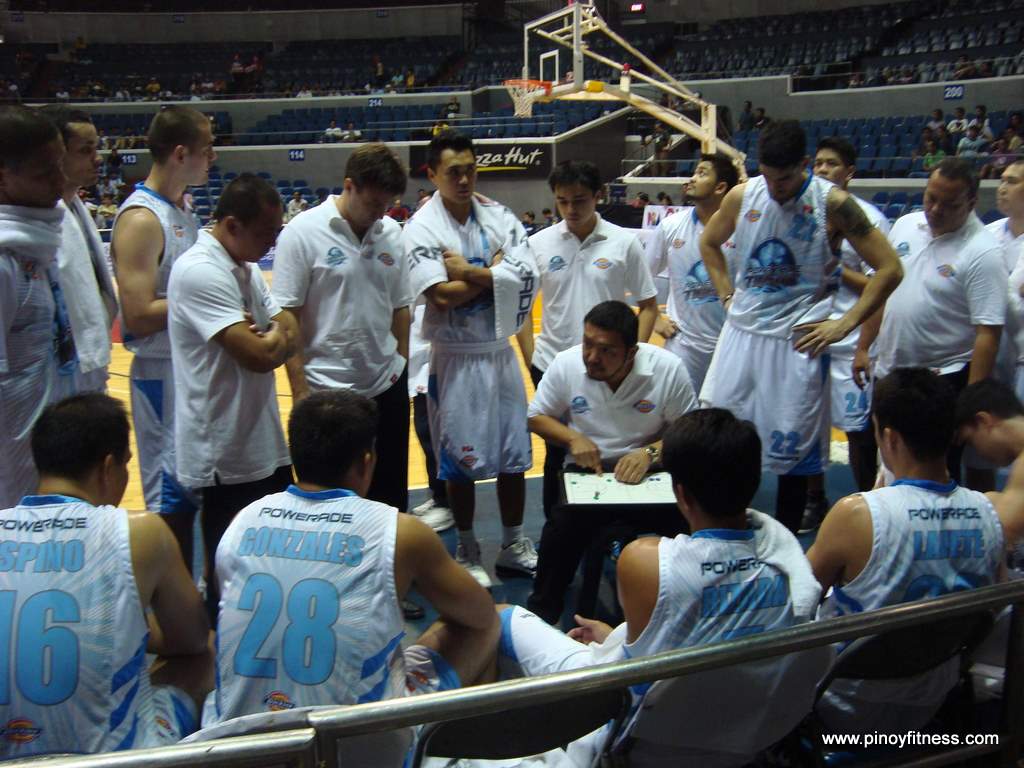 Coach Bo Perasol should find ways to make his team adapt to a more defensive style of basketball. What they lack in height, they make up for in length. Players like Eddie Laure, Will Antonio and Anthony can provide stability on the defensive end. If they can create turnovers, things will open up on the other end. The Tigers are a team that heavily relies on outside shooting, and if they learn to execute their sets flawlessly, they can become deadly to opposing squads.
Gary David is the team's MVP. They rely on him to carry the scoring load night in and night out. David is a force; his skillset is incredible. He has the superb ability of creating shots and can undoubtedly take over a game. As the Tigers' main guy, he should be responsible in trying to get his teammates more involved in the offense. Dennis Espino is the leader on this squad. His role is to boost the young players' confidence and keep them geared in the right direction. Teammates will look up to Espino and as a veteran, his role is to keep them focused and motivated. The Tigers won titles back in 2002-2003, and if they play their cards right, they can earn themselves another chance of winning the crown again next conference.
They may be still adjusting, things still being a bit shaky after the re-branding. But they're a team on the rise and everyone is itching for the Tigers to break out. They're young and should continue to grow. They have yet to establish their identity, but I expect them to find that intimidating factor they lacked in the Philippine Cup. With their unparalleled passion and dedication for the game, these Tigers will soon hit their stride. Powerade has yet to scratch the surface, but one day opposing teams will fear them. It'll take time, but sooner or later they will find their niche. And when they do, these Powerade Tigers will be ready to pounce back.
Here are the Powerade Tigers 2010 All-Filipino Conference Line-up
1. Paolo Mendoza (13)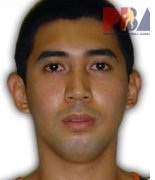 A certified scoring machine in his high school (UPIS) and collegiate (UP) days where he was scoring above 40 points. At one instance, he held the UAAP junior record of most number of points in a single game at 69 when he led University of the Philippines Integrated School to victory over University of the East in 1994. In fact, Mendoza's 48 points – the highest output made by collegiate player – in the 1997 UAAP season stays unbreakable until now.
Drafted by Sta. Lucia in 2000 as the first overall pick, he is one of the contributors that allowed the Realtors to capture the 2001 Governor's Cup championship, the first-ever PBA title of the team.
2. Chico Lanete (26)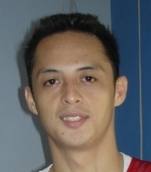 He grew up in Isabela, Basilan and then played for Southern City Colleges in Zamboanga City during college before moving to Lyceum of the Philippines University. He is known for his hot shooting starting or coming off the bench.
3. Jai Reyes (15)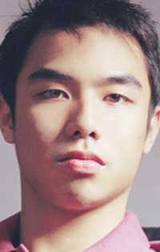 He spent his college years at the Ateneo de Manila University, leading the Blue Eagles to two UAAP Seniors championships as team captain. He was drafted 18th overall in the 2010 PBA Draft by the Powerade Tigers. His reputation as a 3-point marksman shall be put to the test in his rookie season.
4. Mark Macapagal (80)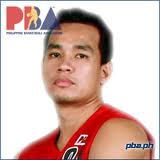 Stats-wise, Macapagal had a career year last season, averaging a personal-best 8.4 points per game. Macapagal, now on his fifth season in the league, had 66 triples last season and his average of 1.88 three-pointer a night ranked No. 9 in the league. He had also the second-best three-point accuracy with 38.15 percent clip behind the 40.59 of TNT's Jimmy Alapag, just to show he is one of the most prolific shooters in the league right now. He has also led the league in freethrow shooting percentage last season.
5. RJ Rizada (5)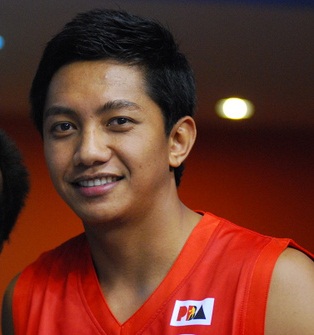 He was the twelfth overall pick in the 2006 PBA Draft. He played for the Ateneo de Davao Blue Knights for a year and was recruited by the Far Eastern University Tamaraws after he was scouted in the University games. The lefty Rizada has been taking advantage of the increase in his playing minutes, playing steady with less error. He is expected to be a consistent scorer and defender either playing alongside Gary David or as his back-up.
6. Gary David (20)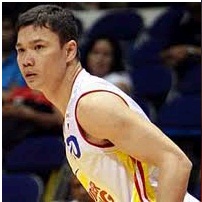 The 2003 PBL MVP played under Moñtana Pawnshop and emerged from being an effective role player to superstar status after improving his numbers where he also captured various awards.
David first entered the PBA in 2004 and was the tenth overall draft pick by the Coca-Cola Tigers. He played one season for the Tigers where he had limited minutes.
He was considered a major steal in the 2005 mid season after Air21 got him. David brought high energy to Air21's running game and led the Express to a third place finish in the 31st PBA Fiesta Conference. David exploded for 19 points to carry Air21 to its first-ever Final Four appearance after upsetting the Darvin Ham-led Talk 'N Text Phone Pals, 117-110, in Game 5 of the quarterfinals on January 20, 2006 in Antipolo City.
If not for an elbow injury, David was on the verge of having an impressive season and probably an MVP award to boot. Despite several injuries in the past, David took the cudgels as the team's go-to-guy after former franchise player Renren Ritualo was shipped to Talk 'N Text and the energetic Ronald Tubid to Ginebra.
The 2010 PBA Fiesta Conference was a blast for David as he led the PBA in scoring with 21.9 points per game along with 3.4 rebounds and 2.3 assists per game.
7. Sean Anthony (10)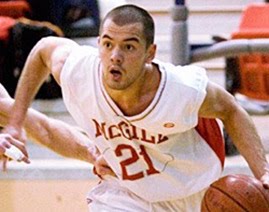 A rookie in the mold of the relentless work ethic of Rudy Hatfield inside the paint but with a soft touch in the perimeter. Much is expected of this rookie who was drafted 5th overall in the 2010 PBA draft. He is expected to contribute immediately with the power forward position up for grabs with the recent trade of Larry Rodriguez.
8. William Antonio (34)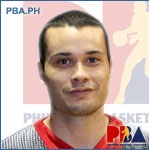 William Antonio is an original member of the 2002 Coca-Cola Tigers Team. He was a former 3-point shooting champion. He is also known for his defensive chops, being assigned to the local bigmen of opposing teams and even to their imports.
9. Rob Reyes (22)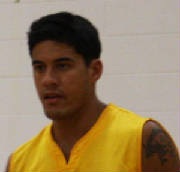 He spent his college years in the United States at Flagler College. He was drafted fourth overall in the 2008 PBA Draft by the Talk 'N Text Tropang Texters. He is expected to man the paint for the Powerade Tigers in place of Asi Taulava.
10. Norman Gonzales (28)

Norman Gonzales is among the league's toughest sixth man since he entered the league in 2001. He was known for producing big points, sometimes double-double during his amateur days and while he was playing in the defunct MBA. Known also as a good defensive stopper inside and outside, Gonzales spent his first two years with Talk 'N Text before signing up as a free agent with Sta. Lucia. He was dragged to controversy in the middle of 2003 regarding his illegal drug use while playing for Talk 'N Text, and his basketball career went down seemingly. But instead of giving up, Gonzales proved his innocence and continuously improved his game especially when Sta. Lucia team governor Buddy Encarnado gave him another chance to redeem his sinking career in 2004.
11. Ricky Calimag (24)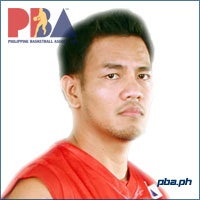 Calimag is entering his seventh season in the league and the Tigers are hoping that he could be a big contributor particularly on the defensive end. He is known to be the team's enforcer never backing down in terms of physicality.
12. Eddie Laure (65)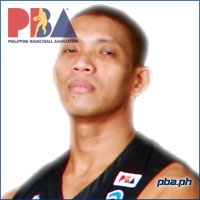 Known by many as The Dominator, he is a former MBA MVP. He is acknowledged as one of the greatest players to come from Zamboanga del Norte.
Laure played for the Adamson Falcons in the UAAP from 1994-1997 alongside future PBA superstars Kenneth Duremdes and Marlou Aquino. He also played in the PBL during his time prior to the pro ranks, winning an MVP once.
13. Dennis Espino (16)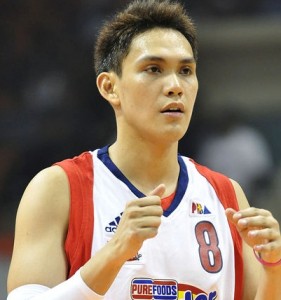 Undoubtedly the biggest off-season move in 2009, the former King Growling Tiger saw his 14-year stint with Sta. Lucia come to an end as he was shifted to the Tigers. Espino's acquisition is enough proof that Coke is dead serious on winning a title this coming season. His experience of leading his former team to two PBA Championships would be of great help. His physical presence inside the paint would be
14. RenRen Ritualo (14)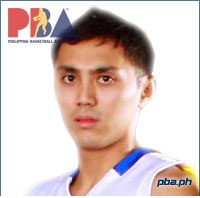 Accomplishments
• PBL Mythical Five
• PBL Most Valuable Player
• PBL Champion (1999, 2000, 2001)
• Member of the PBL's 20 Greatest Players
• 2002 PBA Rookie of the Year
• 2002 PBA Sixth Man of the Year
• PBA All-Star
• 2002 PBA Mr. Quality Minutes of the Year Award
• 2006 Best Player of the Conference Candidate
• 2008 PBA All-Star 3 Point Shootout Champion
• PBA 500 Three-Points Club Member
• 1st local player in PBA history to have 4 games with at least 8 treys in each of those games
• Third-best in number of consecutive games played (278), behind Dante Gonzalgo (280) and Alvin Patrimonio (596)
Written by: JC Ansis