[ad#square-middle]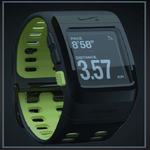 It's time for the CES 2011 and here is one of the first gadgets to be announced that will surely be one of the most exciting product in health and fitness for the year 2011. Nike and TomTom just partnered to create the Nike+ SportsWatch + GPS
LAS VEGAS—In the past Nike teamed up with Apple to create the Nike+ iPod, which lets runners create custom playlists to track the distance and duration of their runs. Today at CES 2011, Nike announced a similar partnership with TomTom to create the Nike+ SportsWatch Plus GPS.

The 1.5 x 10.8 x .6-inch watch weighs 2.3 ounces and comes with a shoe sensor to track your steps. As you might expect, TomTom provides the GPS functionality and that works in tandem with a sensor that the runner places in their shoe. The GPS will be used to optimize the performance of the sensor, which in the Nike + iPod version can be inconsistent.

When the run is over, users can connect the watch to their computer via USB and upload their run data. This is also how you charge the watch.

The watch is also designed to motivate you. If your growing gut isn't warning enough, you can get automatic reminders from the watch when you haven't run in the past five days. You can also get kudos for reaching new personal bests. All these cues can be adjusted and manipulated on Nikeplus.com.

No word on pricing or availability yet, but I expect it will be priced to move.
From: PCMAG