[ad#square-middle]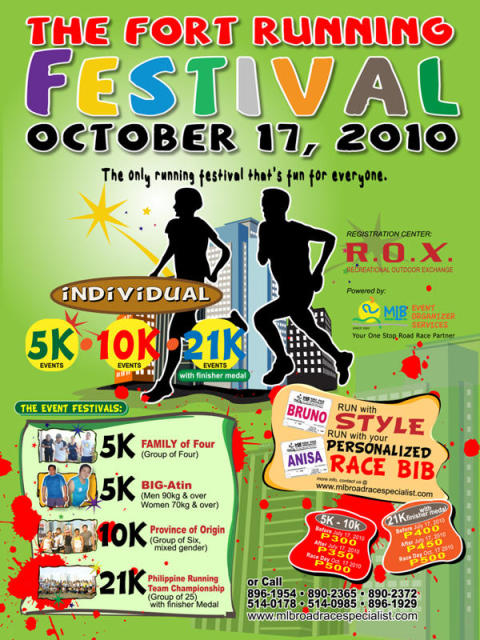 The Fort Running Festival is a small but definitely well attended, well organized and fun event. There were other races lined up on this clear weathered Sunday morning but I'm definitely glad that I joined this event! I signed up for 10K and had a great time throughout the route. Here are some points that are worth mentioning:
Plus Points +
– Early morning gun start (5:15 AM for 10K); we were off and done before the heat of the sun gets in the way
– Race started on time
– Different and unique group categories for family and friends ('family of four' & 'BIG-Atin' to name a few)
– There were enough race marshals and direction markers
– KM markers
– Water stations every 2KM and some Pocari Sweat stations in between
– People handing out water greeting runners with a smile; "good morning!"
– Traffic was managed quite well; there were cars crossing on major intersections once in a while but the race marshals are able to stop them when runners are passing through
– Loot bag; contains a banana, 2 energy bars, cookies, multi-vitamins samples, and a cold Pocari Sweat in can
– Free popsicle and taho on the event area!
And for the delta points… NONE! There may be very minimal opportunities but nothing that cannot be tolerated.
Over-all I will give this race a perfect 5 out of 5 rating! I like this kind of small but well organized races where in the route is not congested, definitely an opportunity for everyone to get a PR on whatever category you signed up for or simply enjoy running with the whole family or a group of friends.
My friend/pace buddy Age and I planned to really run this race while another friend Royce planned on taking it easy and condition himself for a bigger race next week. Right at guns start, Age and I sped off, it was too fast for us that we found ourselves running at 5:09/km pace on the 1st km. We slowed down a bit and kept ourselves at a steady 5:40 pace stopping at every water station and happily greeted by the people handing out water. We tried our best to keep the pace steady despite of some uphill parts within the route.
We slowed down at a 6:04 pace between the 7th and 8th km. We stopped at the last water station and then I told Age: "tara last 2K!" We picked up the pace going on the 9th and 10th km with a 5:40 and 5:10 pace respectively but this time with heavy breathing and panting on my part! It seems though that Age still had a lot of air left on his tank as he increased speed and gained approximately a 2 minutes advantage. We both felt great after crossing the finish line, but the best part of this race… a new 10K PR for both of us! Based on Age's Garmin, I finished 10.29KM at 57:33 with an average pace of 5:38/km.
Kudos to MLB Road Race Specialists for successfully staging an enjoyable event like this!
Thanks to Pinoy Fitness for hooking us up on this event and giving me the privilege to review the race!
Note:
This race review is written by Michael Janeo and is solely based on the personal experience of the writer and may differ from anyone else who joined the event.
Want to review an upcoming race? send us an email at [email protected]