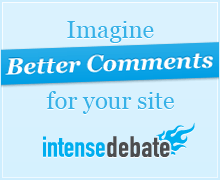 Hi guys! I just recently changed the website comment system and it is now powered by Intense Debate. This new and enhanced commenting system should enhance interaction of comments plus cool new features like threaded comments, email notifications, commenter reputation, comment voting, connect via facebook and twitter, etc.
I'm still trying this out and would really appreciate your help and feedback about this new system, as well as testing if you are encountering any problems with it. Try to leave a comment, if your having problems with the new system drop me an email at [email protected]
I hope this new improvement can further improve site communication between readers. Thanks in advance!