[ad#square-middle]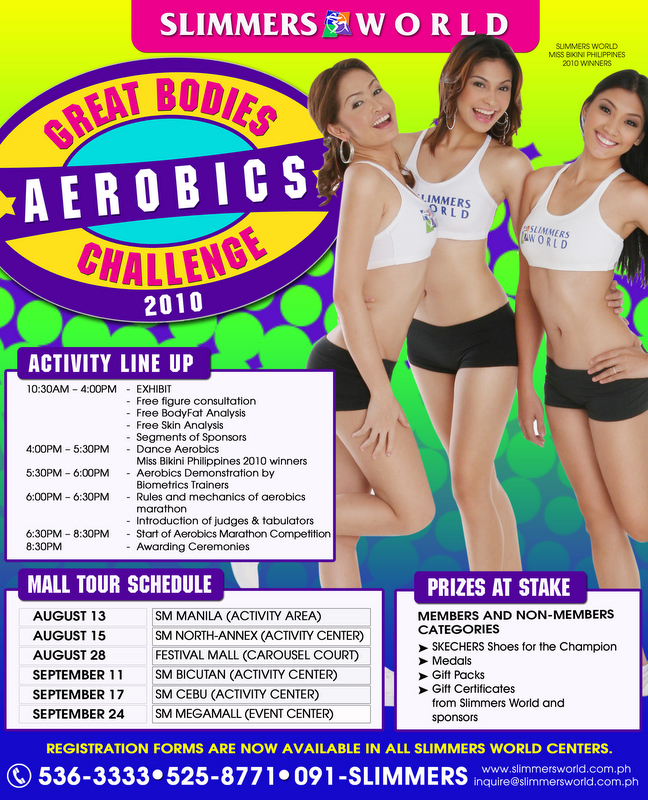 Slimmers World International will be holding its annual AEROBICS EXHIBITION MALL TOUR.
Apart from the sponsors' pocket activities and Slimmers World's total wellness booths, the mall tour will also include a 2-hour Aerobics Marathon with two categories: SWI clients and SWI-NON clients to involve the mall goers, students, etc.
All participants will be selected according to (1) endurance, (2) enthusiasm, (3) coordination, (4) physique and (5) attire. Winners of each category will bring home prizes and gift certificates from the organizers and the event sponsors.
This mall tour is keeping with the company's goal of promoting total wellness, fit lifestyle and creating health awareness among Filipinos today. As such, Slimmers World has prepared the following schedule of activities:
SCHEDULE OF MALL TOUR
AUGUST 13, 2010 – SM Manila (Activity Area)
AUGUST 15, 2010 – SM Annex (Food Court, Activity Center)
AUGUST 28, 2010 – Festival Mall (Carousel Court)
AUGUST 29, 2010 – SM Megamall (The Atrium)
SEPTEMBER 11, 2010 – SM Bicutan (Activity Center)
SEPTEMBER 18, 2010 – SM Cebu (Activity Center)