[ad#square-middle]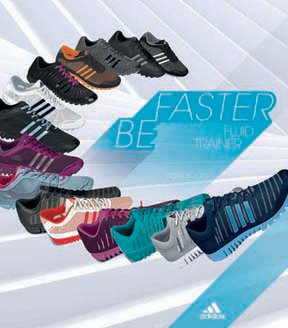 Check this out Guys! Adidas is introducing the FLUID TRAINER here in the Philippines on August 2010 priced at about Php 3,895 to Php 4,495! Check our the Press Release!
Adidas presents a new era of training with its latest multi-purpose training shoes, the Fluid Trainer. Experience extreme flexibility and freedom of movement for all your training activities.

The FLUID TRAINER is a lightweight training shoe available for both men and women. This concept has been developed to ensure the ultimate in foot flexibility and freedom of motion through a unique soft technology and full-length cushioning system. FLUID TRAINER footwear is super lightweight and dynamic, has 3600 flexibility and good ground contact which gives you good grip for any indoor and outdoor activities. It is designed with mesh, suede and leather to serve both function and style. The shoe also has a completely seam-free upper for extra comfort and breathability.

The FLUID TRAINER comes in five (5) colour combinations for women and four (4) colours for men. This array of colours makes it easy for one to mix and match with any of your adidas training apparel or even pair it with your favourite leisure wear in and out of the gym.

Amidst your fast-paced and demanding lifestyle, FLUID TRAINER allows one to still look fashionable and be comfortable while training. The hunt for the perfect gym shoes is now over! adidas global Fitness Trainer Marta Formoso says: "The FLUID TRAINER is perfect for my workout style! It's so flexible and comfortable and lets me move without any limitation. It looks cool and I can choose the colour I want! "

The fall/winter 2010 FLUID TRAINER collection is available in the different Adidas Sports Performance stores, PSIs, selected Proline, Toby's, and SM sport shops starting AUGUST 15, 2010. Get these items at Php 3,895 to Php 4,495.