[ad#square-middle]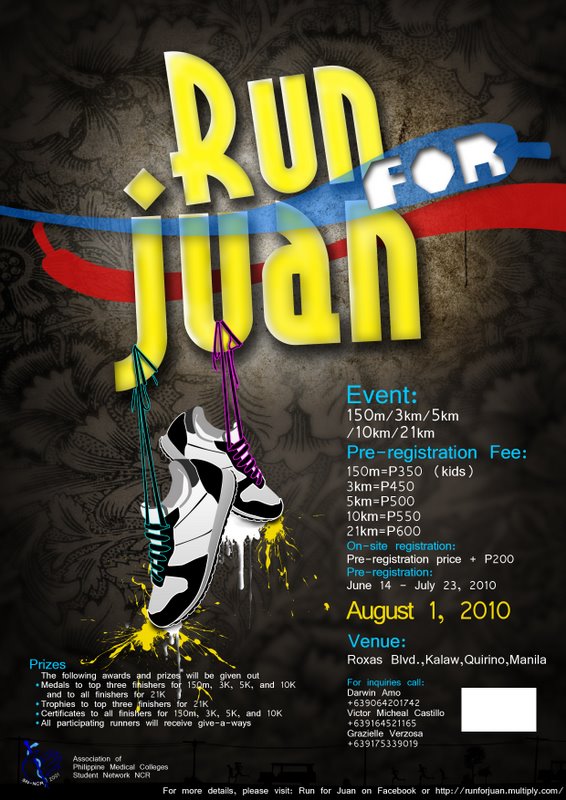 Run for Juan 2010 happening on August 1, 2010 is an event in benefit of One MED for Juan, a start up non-profit organization geared towards building a community of medical students that is united beyond affiliations and boundaries in reacting positively to disasters, national concerns and other related issues.
Run for Juan 2010
August 1, 2010
Roxas Blvd., Manila
150m / 3km / 5km / 10km / 21km
Registration Fee:
150 m = P350
3 km = P450
5 km = P500
10 km = P550
21 km = P600
On-site Reg: Pre‐registration price + P200

Download Registration Form Here:
[download id="170″]
Registration Areas:
– Ateneo School of Medicine and Public Health (ASMPH)
– De La Salle University-Health Science Institute (DLS-HSI)
– Emilio Aguinaldo College of Medicine (EAC SM)
– Far Eastern University-Nicanor Reyes Medical Foundation (FEU NRMF)
– Manila Central University-Filemon D. Tanchoco Medical Foundation (MCU-FDTMF)
– Pamantasan ng Lungsod ng Maynila College of Medicine (PLM CM)
– San Beda College of Medicine (SBCM)
– St. Luke's College of Medicine (SLCM)
– University of Perpetual Help Dalta System-Jonelta (Jonelta-UPHR)
– University of Perpetual Help-Dr. Jose G. Tamayo Medical University (UPH-DJGTMU)
– University of Santo Tomas Faculty of Medicine and Surgery (UST-FMS)
– University of the East-Ramon Magsaysay Memorial Medical Center Incorporated (UERMMMCI)
– University of the Philippines College of Medicine-Philippine General Hospital (UP CM)
For more info please contact:
Victor Michael Castillo-09164521165
Darwin Amo – 09064201742
Grazielle Verzosa – 09175339019
Andre' Adducul -09158676392
Marienelle Manipol -09274041737
Aizelle Moje – 09177357320
Nicole Fernandez – 09189168522
Kriska Joaquin- 09275459690
Race Organizer: Association of Philippine Medical Colleges Student Network NCR
Official Press Release
This momentous occasion marks the beginning of the 10th year of the APMCSN (Association of Philippine Medical Colleges Student Network). As such, the event would serve as a venue to publicize the organization, our vision, and our mission. The objectives of this event are to promote the interests of medical students, to promote APMCSN as a health advocate, and to promote exercise as part of a healthy lifestyle.
This event, which would be open to the public, would mainly be participated in by be students, faculty, and family members coming from APMCSN-NCR's 13 member medical schools of Metro Manila, namely:
– Ateneo School of Medicine and Public Health (ASMPH)
– De La Salle University-Health Science Institute (DLS-HSI)
– Emilio Aguinaldo College of Medicine (EAC SM)
– Far Eastern University-Nicanor Reyes Medical Foundation (FEU NRMF)
– Manila Central University-Filemon D. Tanchoco Medical Foundation (MCU-FDTMF)
– Pamantasan ng Lungsod ng Maynila College of Medicine (PLM CM)
– San Beda College of Medicine (SBCM)
– St. Luke's College of Medicine (SLCM)
– University of Perpetual Help Dalta System-Jonelta (Jonelta-UPHR)
– University of Perpetual Help-Dr. Jose G. Tamayo Medical University (UPH-DJGTMU)
– University of Santo Tomas Faculty of Medicine and Surgery (UST-FMS)
– University of the East-Ramon Magsaysay Memorial Medical Center Incorporated (UERMMMCI)
– University of the Philippines College of Medicine-Philippine General Hospital (UP CM)