[ad#square-middle]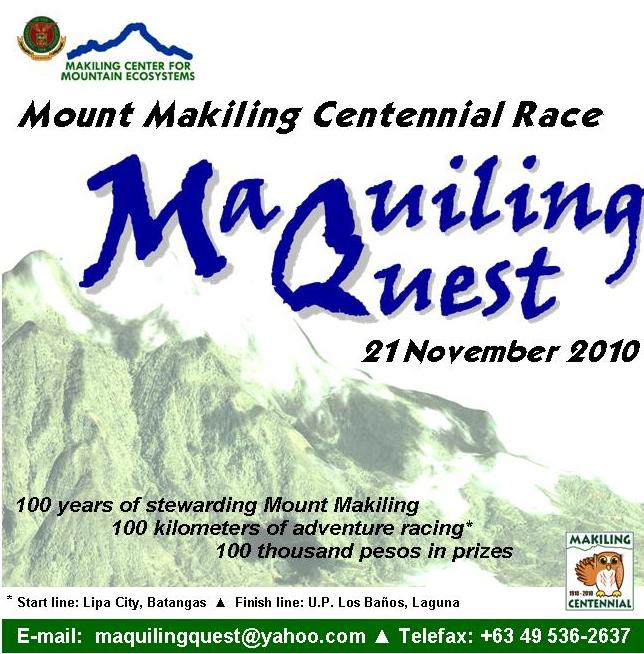 Do you know that November 21, 2010 marks the 100 years since the establishment of Mount Makiling Forest Reserve? To celebrate this Centennial Event, the University of the Philippines Los Baños (UPLB) Makiling Center for Mountain Ecosystems is organizing the Maquiling Quest 2010 dubbed "100 years of Mount Makiling, 100 kilometers of adventure racing, 100 thousand pesos in prizes"
Maquiling Quest 2010
November 21, 2010
Lipa City to UPLB Campus
Bike and Run
Detailed registration procedures will be out soon.
Contact person:
Robby Cereno
Deputy Director
Makiling Center for Mountain Ecosystems
University of the Philippines Los Baños
Telefax: 049 536 3572
E-mail: [email protected]
Official Press Release
The University of the Philippines Los Baños (UPLB) Makiling Center for Mountain Ecosystems is organizing the Centennial Year edition of its annual Maquiling Quest on 21 November 2010.
The race is dubbed as "100 years of Mount Makiling, 100 kilometers of adventure racing, 100 thousand pesos in prizes" as it is scheduled exactly 100 years since the establishment of Mount Makiling Forest Reserve on 21 November 1910 through Proclamation 106 by then American Governor-General W. Cameron Forbes.
It will be a combination of biking and running that will start from Lipa City through the pit stops around the towns of Malvar, Tanauan and Sto. Tomas in Batangas, traversing Mount Makiling forest trails to the towns of Bay and Los Baños in Laguna. The 100-kilometer race will end at the UPLB campus.
Maquiling Quest was first held in Year 2002 to celebrate the United Nations' International Year of Mountains, to enhance public awareness and understanding about the need to conserve Mount Makiling, and to develop and promote sports, adventure travel and ecotourism in the legendary mountain.
This year's Maquiling Quest is the main event to commemorate the centenary of Mount Makiling's proclamation as the first national mountain park in the Philippines. It will be open to teams of three members, and will offer Php100,000.00 in cash prizes to top three finishing teams plus sponsors' gift certificates, and freebies to participants.