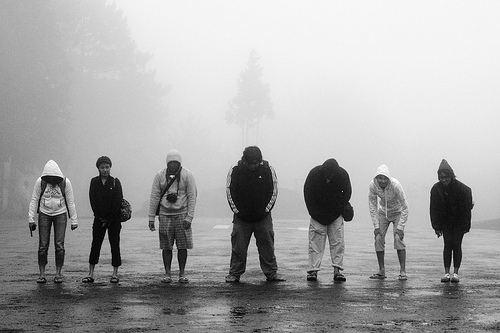 Aug 29-31, 2009
Sagada, Mountain Province, Philippines
Travel Factor's 3 Days and 2 Nights adventure tour to the Mountain Province.
PACKAGE RATE P4,750 per pax
PACKAGE INCLUSIONS
* Roundtrip Chartered Aircon Bus: Manila – Sagada – Manila
* 3d/2n accommodation in Sagada
* Day 1 – breakfast, lunch
* Day 2 – breakfast, lunch
* Private Jeepney during tours around Sagada (see itinerary)
* Cave Connection Adventure (Sumaguing and Lumiang Cave)
* Environment permits and entrance fees
* Service of the Local Guides & Cave Guides with lamps
* Service of the tour director
* Travel Insurance
* Travel Factor ID, lace, Conquer Sagada souvenir t-shirt
ITINERARY
Day 0, Fri Aug 28
07:00 PM Meeting Time at the Bus Terminal
07:30 PM Boarding of Passengers
08:00 PM ETD Manila to Sagada
Day 1, Sat Aug 29
07:00 AM Stop-over Banaue Viewing Deck
08:30 AM Breakfast at Bontoc
10:00 AM ETA Sagada. Free Time/Rest/Prepare
12:00 NN Lunch
01:00 AM Banga-an Rice Terraces, Trekking and Swimming Bomod-ok Big Falls
06:00 PM Sunset at Lake Danum
07:00 PM Free time for food trip
Day 2, Sun Aug 30
04:00 AM Wake Up
05:30 AM Sunrise at Kiltepan Viewpoint
08:00 AM Breakfast
09:00 AM Cave Connection Adventure
12:00 NN or later Lunch
07:00 PM free time for food trip
Day 3, Mon Aug 31
07:00 AM Walking Tour: St. Mary's Episcopal church, Calvary Hills, Echo Valley, Hanging Coffins, Sagada Weaving, Pasalubong shopping
10:00 AM Free time for food trip
01:00 PM ETD Sagada
07:00 PM Stop-over Baguio for Dinner and Pasalubong shopping
09:00 PM ETD Baguio
03:00 AM Tues Sep 01
BOOKING AND RESERVATION GUIDELINES
* Deadline of Registration: Aug 3 or until slots are available
* Book & Buy Policy. First come, first serve basis.
* No regform, No reservation. To reserve, please fill-out registration form then send to [email protected]
Subject: Sagada – Registration (Aug 29-31, 2009)
* Then you will receive thru email account details where to deposit payment (BPI). For group reservations, please send your registration forms in one file & email.
* Everyone is required to download and submit registration form
* Please register only if you are 100% sure you are joining. And if after registering you need to back-out, please have the courtesy to notify us properly thru email.
* Full payment must be settled within the agreed timeframe. Should you need extension, please coordinate with Travel Factor
* Non-refundable but transferable to other person. Travel Factor must be notified asap or at least 5 days before the trip. In this case, the "proxy" must fill-out and submit registration form.
* Upon payment, you will receive a copy of complete guidelines, including things to bring, itinerary, reminders, etc…
* For inquiries, email [email protected] or contact Tikoy (0917-8864480)
FOR INQUIRIES/COMMENTS/SUGGESTIONS
email your concerns to [email protected] with your name and contact number
Subject: Sagada – Inquiries (Aug 29-31, 2009)
DOWNLOAD REGISTRATION FORM
https://travelfactor.org/downloads/TF2009-RegForm.xls
DISCLAIMER
Recommended for fun-loving & adventurous people who would like to meet new friends while travelling. Be prepared of the long travel time and the 'wiwi' moments on public restrooms.