Ayala Heights Village will be hosting an Earth and Wellness Weekend on Sept 29-30. All are invited to join, there is something for everyone! There will be a 3K-5K Color Run, and a special route for Social walkers — mobile seniors and seniors in wheelchairs, pet-walkers, and toddlers in strollers.
We will have fitness sessions like Yoga, Zumba, Qi-Gong, & a Bootcamp Bodyweight Exercise Program. Speakers will conduct talks and workshops on health & wellness, and discuss environmentally related topics such as climate change, proper waste management and adopting eco-friendly lifestyle practices.
Alongside these activities, there will be an ongoing zero-plastic waste Bazaar of selected eco-friendly products, delicious nutritional food & beverages, and great local Christmas gift finds. Bring your own shopping bag, let's reduce waste! Make your weekend a fun, educational, and meaningful family/barkada event with the roster of activities we have in store for you!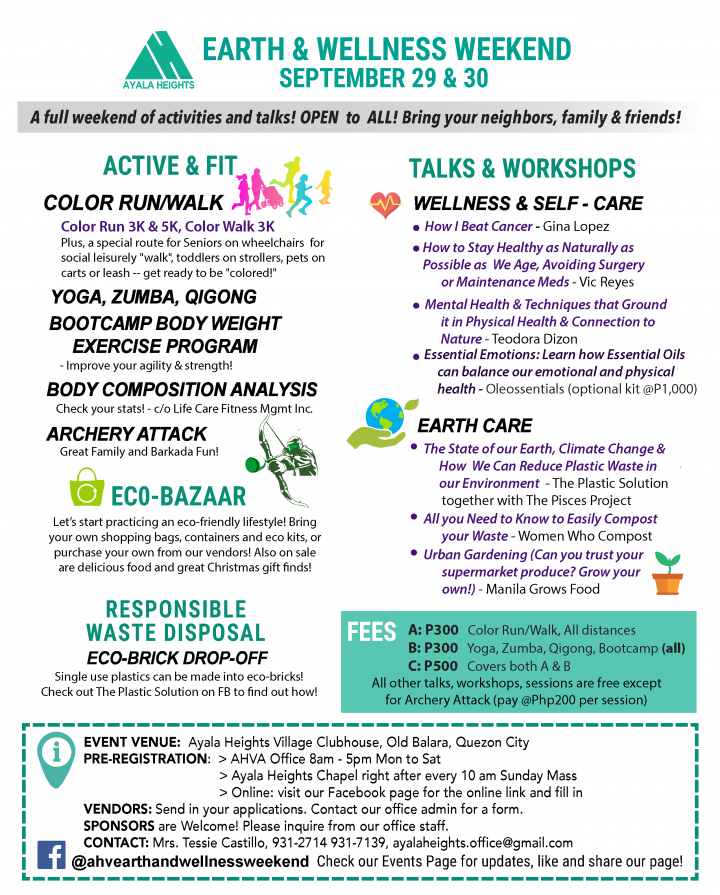 Ayala Heights Earth & Wellness Weekend
September 29, 2018
Ayala Heights Village Clubhouse, Quezon City
3K|5K
Organizer: Ayala Heights Village Association
Get Updates – Click Here
Registration Fees:
Package A: P300 – 3K & 5K Color Run, Social Walk
Package B: P300 – All-inclusive of Yoga, Zumba, Qigong, and Bootcamp
Package C: P500 – A and B (ALL)
– Talks and Workshops are free
– Archery Attack and Swordsmanship Lessons are paid for separately @ Php 200/head
Registration Venues:
1. Online – Click Here
2. On-site:
– AHVA (Ayala Heights Village Association) Admin Office, 8am – 5pm Mon to Sat
Schedule of Events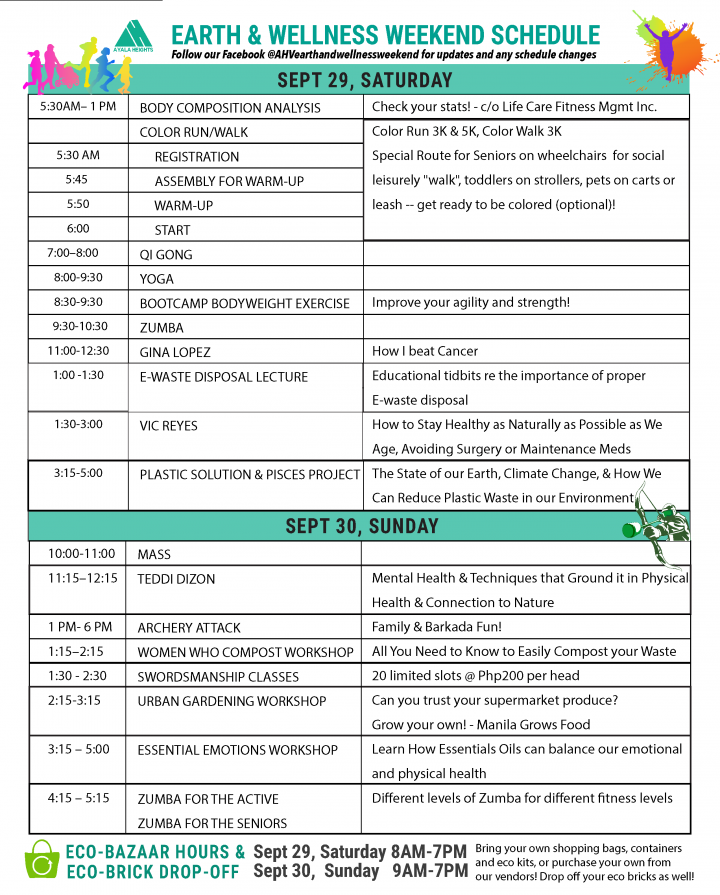 For More Information:
AHVA Office: 931-2714; 931-7139
email: [email protected]