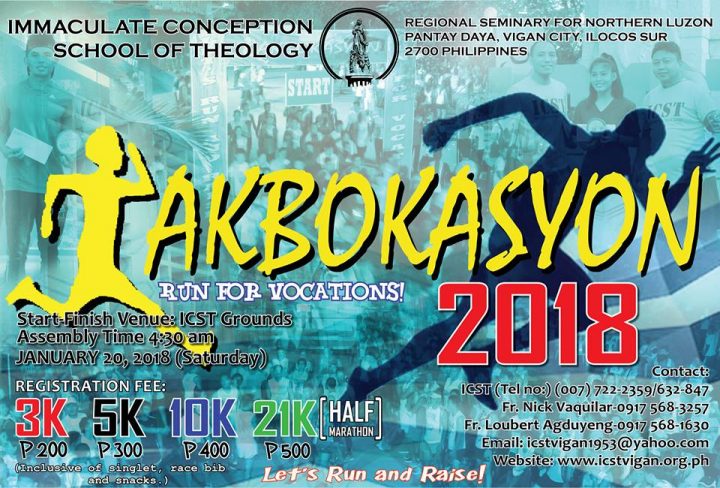 Experience traveling back in time while running your most coveted half marathon in the Heritage City of Vigan.
Consider this a rewarding experience and every runner's dream as you will get the worth of every dime you spend on the registration and at the same help the Immaculate Conception Major Seminary raise awareness on vocations and help budding priests.
For tourists and visitors, see centuries old places like the Heritage Village, old Spanish houses, the Bantay Bell Tower, Sta. Maria Church and more before or after your half-marathon.
On it's 3rd year running, the 2018 edition hopes to attract tourist-runners with its first half marathon edition and the same time raise awareness on priestly vocations.
Takbokasyon
January 20, 2018
Pantay Daya, Vigan City
3K|5K|10K|21K
Organizer: ICST / IBTOR Running
Registration Fees:
21K – P500
10K – P400
5K – P300-
3K – P200
– Inclusive of Race Bib, Event Singlet, Snacks
Registration Venues:
1. ICST Vigan and all Nueva Segovia Parishes
2. Security Bank Vigan Branch
3. Juwiel Flying V, Bulag, Bantay
Singlet Design: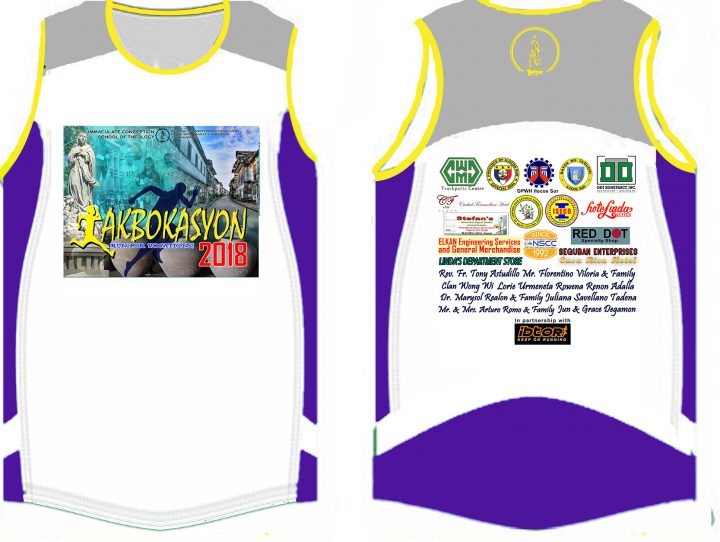 For More Information:
Fr. Loubert Agduyeng – Event Coordinator 0917-5681630
Fr. Nick Vaquilar – Rector 0917-5683257
Roland Repato – Race Coordinator 0917-7990199
Lymuel Pascua – Race Coordinator 0917-8251333
Juwiel Calvo – Race Coordinator 0917-5454542