Willy Yao – The 100 Marathon Man
How long do you run before you decide you've had enough? How many years does it take for you to say "I'm done running"? How many marathons before you feel accomplished enough to retire?
For the 67-year-old Willy Yao or Tito Willy, completing 100 marathons was the dream of a lifetime. Last July 30, 2017, Tito Willy ran the 41st Milo marathon as one ordinary runner amongst the 10,000+ marathoners…only he's not. During that run, the 67-year-old Willy Yao completed his 100th marathon– an undeniable feat for any runner, but more importantly, a test of relentless passion for running.
GETTING INTO MARATHON
Tito Willy fell in love with running as a teenager. He competed for 400-meter sprints to represent his high school, Xavier, back in the late 1960's. But it was only in 1988 when he first decided to run a full marathon through the Philippine Airlines International (PAL) Marathon.
The PAL Marathon was the beginning of a dream for Tito Willy. The run that started on the grounds of Luneta changed his life and made him want to achieve a life milestone – to qualify for the most prestigious and oldest major marathon in the world – the Boston full marathon!
"Boston was my dream. It was everybody's dream at that time!"
Tito Willy looked back on how difficult it was to prepare for Boston. "The training was really malupit. When we're training it's no longer jogging it's already sprinting"
He worked really hard to cut down his time minutes by minutes just to reach the 3 hour 20-minute qualifying time for the race. "Yung pagbabawas from 3:40 to 3:30 madali pero yung 3:30 to 3:20 sobrang hirap". "I lost a lot of weight", he even added.
And sure enough, his hard work paid off. In 1994, he was able to qualify for the Boston Marathon with a time of 3 hours 16 minutes. In 1995, he ran the Boston Marathon at 44 years old as one of the few 1000+ non-American runners amongst 7000+ American athletes, and the only Filipino back then.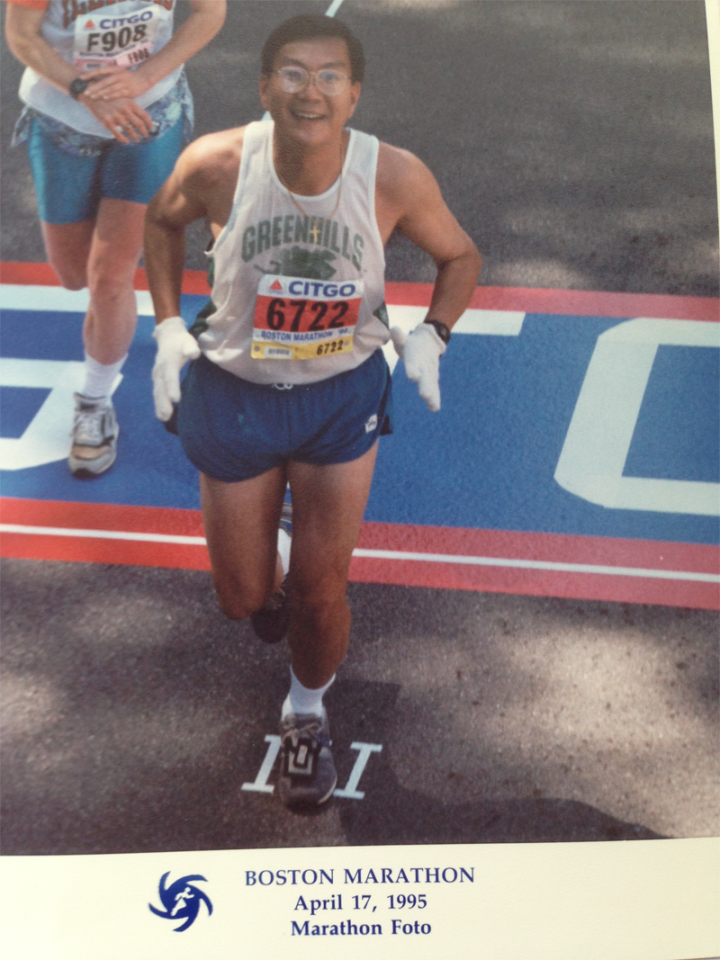 100 MARATHONS WAS NOT PART OF HIS INITIAL PLAN
"It wasn't my goal at the start" said Tito Willy in our interview with him. "Ang goal ko lang magqualify sa Boston tapos after nun retire na ako". When asked why he still continued to run after Boston, Tito Willy replied: "Wala na eh naging addiction ko na basta gusto ko na lang tumakbo sa any marathon that comes along".
But in more than 2 decades of running, reaching 100 marathons wasn't really part of his plans. "From 1988 to 2010 I only did 50 (marathons)", said Tito Willy. It was only in 2010 and at 60 years old when he decided to pursue the 100 marathon dream.
THE CHALLENGE OF COMPLETING 50 MARATHONS IN 7 YEARS
To run another 50 marathons in just a span of 7 years is not easy at all. Tito Willy knew that he is not getting any younger and his body is starting to slow down. And so, to achieve his dream, Tito Willy had to make the necessary adjustments and sacrifices. For one, he had to give up triathlon to focus on achieving his 100th full marathon.
"My goal is to really reach the 100 so I toned down my triathlon para maiwasan ang injuries" said Tito Willy when asked about his preparation for accomplishing 50 marathons in 7 years. He knew he had to focus on achieving his dream and avoid any more possible injuries from triathlons.
Being an ultra marathoner, triathlete, and a marathoner, Tito Willy has had a fair share of injuries throughout his career. He had broken his rib cage in a bike accident and had incurred knee injuries. Because of these injuries, he began to lay-off from triathlon by 2014 and completely stop by 2016.
But even after he gave up his triathlon, his age and body were still a hindrance to his dream.
"In my 40s ang time ko nasa 3 hours, in my 50s and early 60s nasa 4 hours pa but now… I cannot even lift my legs that high anymore".
Thus, Tito Willy really pushed hard to finish as many marathons while he still can. In fact, in 2015 and 2016 he joined multiple marathons in and outside of the country just to be able to finish 13 and 12 marathons, respectively, for each year! All of this Tito Willy did while battling with his Achilles Tendinitis.
| | |
| --- | --- |
| Year | Number of Marathons |
| 2011 | 3 |
| 2012 | 3 |
| 2013 | 4 |
| 2014 | 9 |
| 2015 | 13 |
| 2016 | 12 |
| 2017 | 6 |
TIPS FOR RUNNERS
"Prepare well. Combine intensity training with distance training" was Tito Willy's number one advice to runners. Having experience, triathlons, sprints, marathons, and even ultramarathons, he firmly believes in the value of a balanced training. He explained how it's a good foundation to invest in intensity training while you are young because it gets more and more difficult as you age.
Aside from this, Tito Willy also emphasized the importance of recovery. "If you start feeling pain, rest." For him, runners must be able to tell if the pain is from soreness or from injury, and the latter is something to be very careful about.
100 MARATHONS AND COUNTING
When asked what his plan was after this 100th, a lot may expect for Tito Willy to say that he is going to retire. But his immediate response was "I will check pinoyfitness.com and look up the next marathon!". 100 marathons after, and he still looks forward to his next run.
This is what relentless passion is all about. More than the goal, more than the medals, and more than the achievements, is the love for running. Tito Willy may have achieved things that many still haven't, but at the end of the day, it all boils down to the one thing that all runners have – the passion and determination to run.