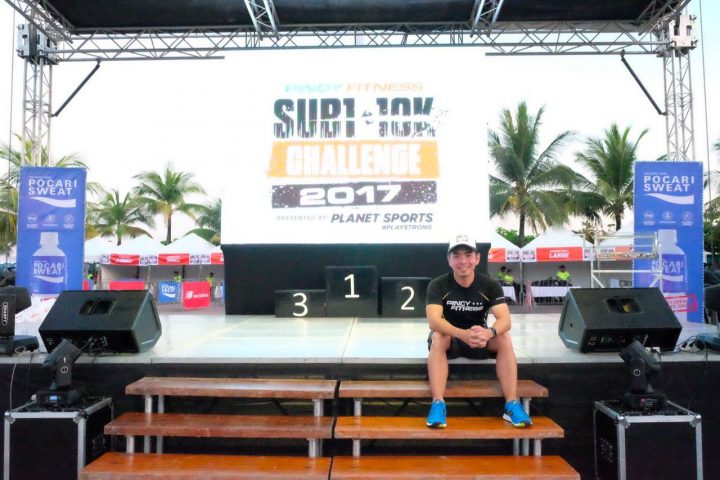 Pinoy Fitness SUB1 10K Challenge 2017 – Thank You!
Four years ago, I wouldn't have imagined the turnout of this year's Pinoy Fitness SUB1 10K Challenge. My brainchild race is now 5 years old. It has become bigger and runners have become faster than ever with 5,000 participants who dared to beat the clock this year.
This year, our fastest male runner (Argel Mendoza) completed the 10K race with an impressive time of 0:34:35, defending his title last year. Cindy Lorenzo took the top spot for the female category, finishing with a time of 0:40:53.
Top 3 Overall Male Finishers:
1 Mendoza, Argel Joseph 0:34:35
2 Jumao 0:35:23 2
3 Delos Reyes, Christian 0:35:30 2
Top 3 Overall Women Finishers:
1 Lorenzo, Cindy 0:40:53
2 Elijeran, Jocelyn 0:44:33
3 Santillan, Kristine 0:47:33
Official Race Results:
Pinoy Fitness SUB1 10K Challenge 2017 Official Race Results
We are sincerely thankful for the opportunity to do this for 5 consecutive years. Thank you to our Co-Presentor Plant Sports #playstrong, wave partners GNC Philippines and Walker Philippines; sponsors New Balance, Soleus Philippines, Pocari Sweat, LightWater, Australian Harvest and Jaybird; venue partner SM By the Bay; and race partners Pep Squad Events and Marketing, and My Run Time!
Race Photos:
Pinoy Fitness SUB1 10K Race Photos – Click Here
We grew this year, but the event was not without challenges. One of them is that our partner mistakenly misplaced some of the finisher shirts upon delivery which caused the shortage of shirts on race day. We do acknowledge this shortcoming and are now quickly making a resolution on how to distribute the remaining shirts to everyone.
Starting March 29 until April 9 (12nn to 8pm), runners can proceed to the following outlets and present their Race Bib and Finisher Shirt Stub to claim their Finisher Shirt and Drawstring Bag:
– Planet Sports Glorietta
– New Balance BHS
– GNC Trinoma
– GNC Megamall
– GNC Mall of Asia
– GNC Alabang Town Center
Just approach our staff and we'll be glad to assist you. If you have any questions or inquiries, do leave us a PM at our Facebook Page
Thank you for all the patience and understanding. We're looking forward to next year's Pinoy Fitness SUB1 10K Challenge. We'll make sure to keep on improving.