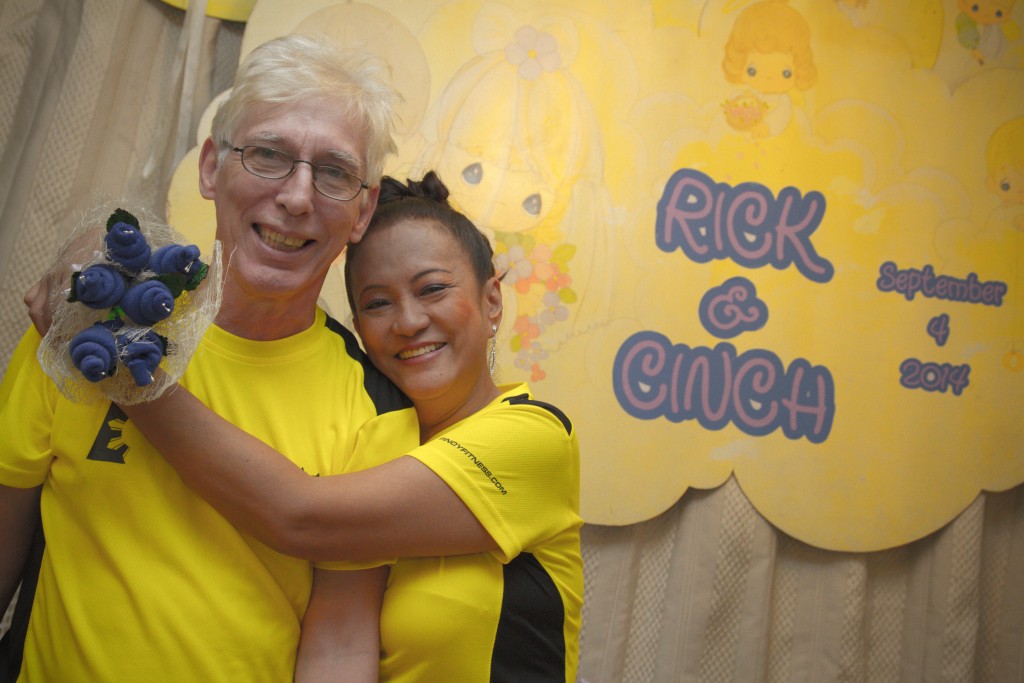 In Fitness and in Health: Three Couples Who Found Love, and Bonded, Through Running and Pinoy Fitness
May forever nga ba sa running? From sweethearts who met and fell in love through running to two married couples whose love was strengthened by the sport and being a part of the Pinoy Fitness family, we conclude that it's possible to run into love – and live happily ever after.
It all started in the Pinoy Fitness Community Portal…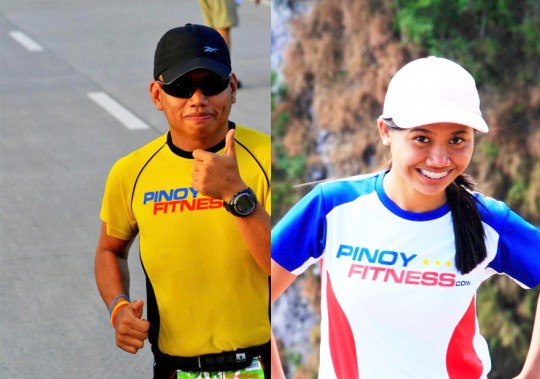 Allan Bulos and Goldy Dela Cruz have many things in common. Aside from being running enthusiasts, they are both members of the Pinoy Fitness (PF) Community Portal…
After months of chatting, they finally met at a PF group run in October 2011. The two eventually became part of one running barkada: Team Rock n' Road. The group would run almost every week, and would even go on mountain climbing trips.
Caption: Allan and Goldy at the 2nd Mt. Ugo Marathon (March 2013), their first race together as couple. Mt. Ugo is one of their favorite mountains that's why they keep coming back. They are set to run again this February 21 at the 5th edition of Mt. Ugo Marathon. (Photo by Meljohn Tezon)
When the other members of the group became busy with work and other activities, Goldy and Allan found themselves hanging out with each other more and more.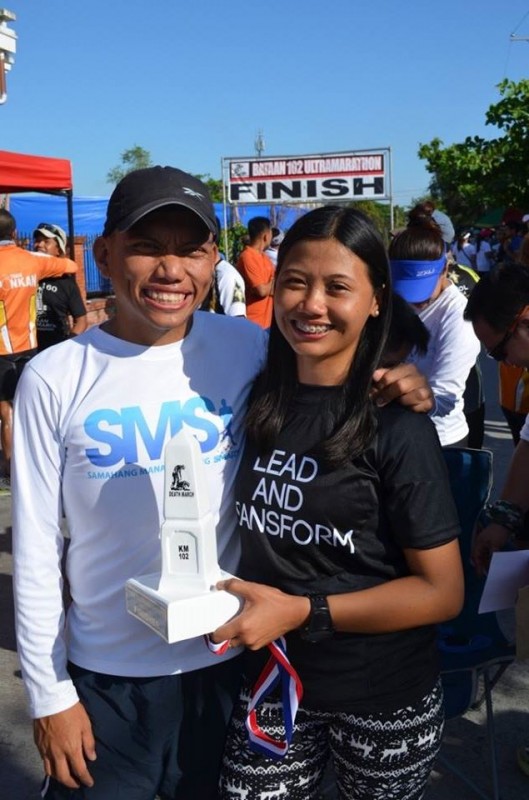 Caption: The couple after Goldy's finish at BDM102 last March 2015, where Allan was her chief support crew. BDM102 is one of the premiere ultramarathons in the Philippines to date. (Photo by Carl Balagot)
It was during the Bataan Death March 102 (BDM102) Ultramarathon Race in 2013 that Goldy and Allan realized they were feeling something different for each other.
"Nung naging part ako ng support team niya, na-realize ko na nag-iba na yung feelings namin sa isa't isa. Nagkakadevelopan na kami," shares Goldy. They became a couple soon after.
In 2015, it was Allan's turn to be a part of Goldy's BDM support crew. The two finished strong in their respective races.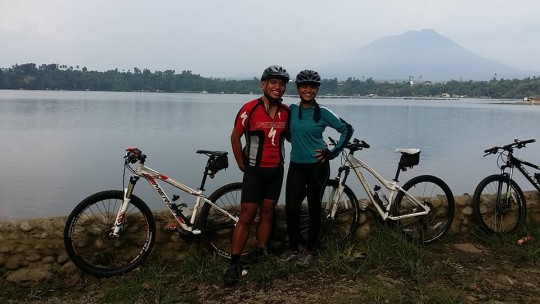 Caption: Allan and Goldy also enjoy biking as their Cross-Training.
Both engineers, Allan and Goldy still run after work and during weekends at UP Diliman. This year, they're planning to join TNF 100, Milo Marathon, and the Mt. Ugo Trail Run. When not on the road or on the trails, friends would find them mountain climbing or biking.
Goldy says running has taught them to become each other's best cheerleaders. "Tuwing may tinatamad tumakbo, pinu-push namin ang isa't isa." The same thing happens in other aspects of their lives; they inspire each other achieve their goals.
They Ran to Forever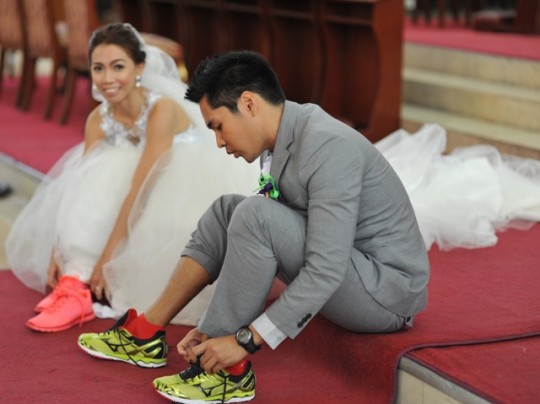 While Joric and Abby Gonzales did not meet through running, it played a big role in their relationship.
Abby was always there during Joric's races, which he joins at least once a month.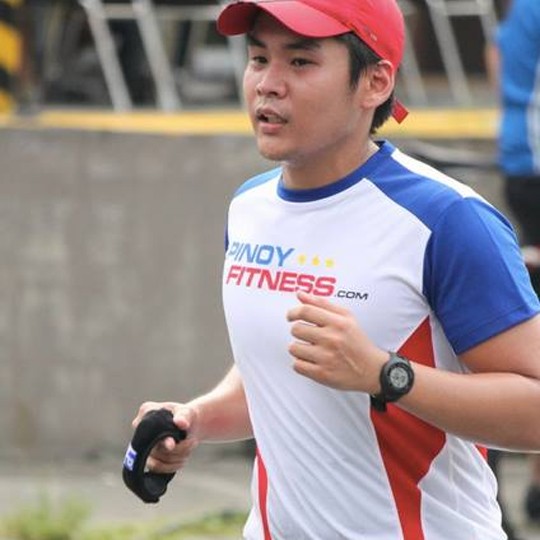 "Unlike other girlfriends who think na nakakaubos ng oras ang running, she's always there to support me," Joric says. "Okay sa kanya na weekends tumatakbo talaga ako."
Abby eventually got into running as well, joining Joric in a couple of races. PF was their main source of information on all upcoming running events; they planned their upcoming races and coordinated their schedules based on PF's race calendar, strengthening their bond along the way.
In 2012, Joric proposed to Abby at the finish line of the Milo Marathon.
Caption: Joric's unforgettable proposal to Abby at the 2012 Milo Marathon.
"Tinago ko yung engagement ring sa belt bag, akala nila energy gel yung laman 'nun," Joric laughs.
The thought that he was going to propose motivated him to complete the 42 km distance, even though his legs were cramping 35 km into the race.
"Ang pangit naman na magp-propose ako tapos hindi ko matatapos yung race. Mababawasan ng impact!" says Joric.
Joric, who's not used to public speaking, spent more than 4 hours thinking about what to say. In the end, he just got down on one knee and asked, "Will you marry me?" A tearful Abby said yes.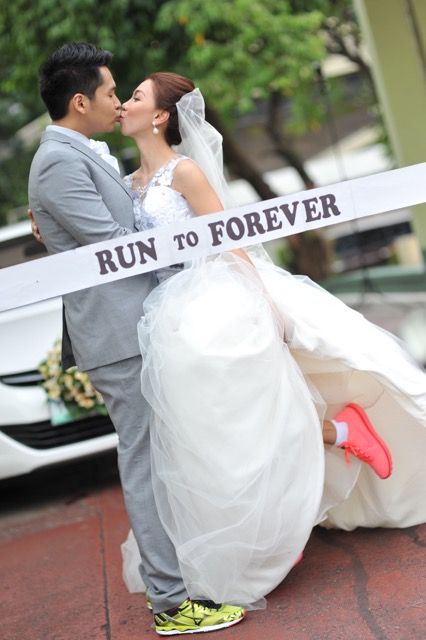 Caption: Joric and Abby's #Run2Forever.
Joric and Abby had a running-themed wedding at the Santuario de San Jose in January 2014, which had the hashtag, #Run2Forever. They even changed to running shoes after the ceremony and jogged out of the church, to the delight of their friends and loved ones.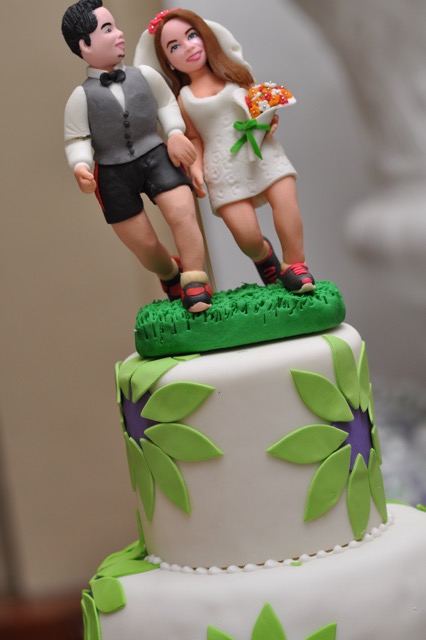 Caption: Everything about their wedding was running themed.
They now have a one year old daughter!
Joric says running has taught them to be more patient and understanding with each other. At the same time, it has made him see the importance of respecting his wife's preferences and limits.
"Kung anong gusto niyang gawin, rinerespeto ko," says Allan. "I don't force her to do anything she doesn't want to do."
Buddies for Life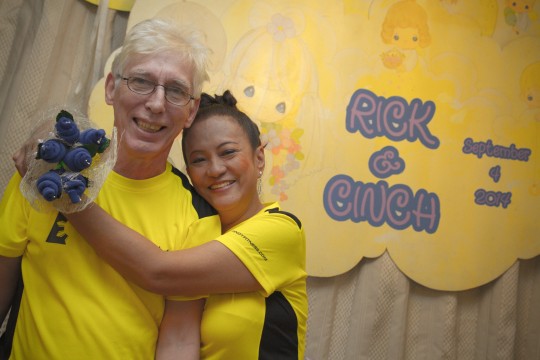 For architect Cinch Yu, running was the most accessible form of exercise after years of taekwondo and tennis took a toll on her body and she had to undergo knee surgery.
It also became an activity she shared with husband Rick Duntz, who got inspired to run more often after meeting Cinch. In fact, he's an honorary member of Cinch's running group, Team KM 6.16, a group that started on the PF website and Community Portal. They regularly run in the Mall of Asia area.
"He immediately felt accepted by the group when he came to the Philippines for the first time," says Cinch of her American hubby.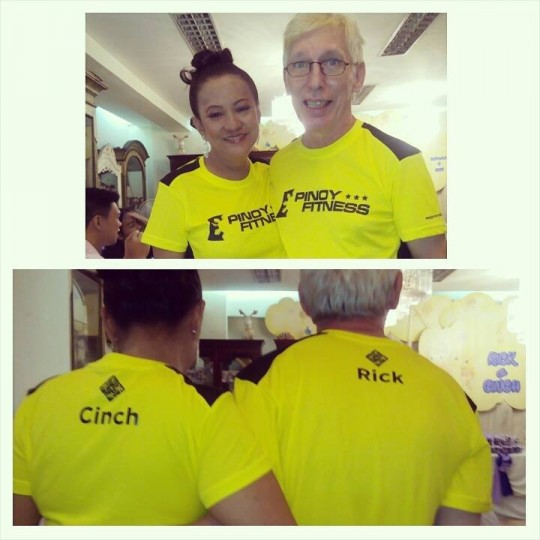 Caption: Cinch and Rick wore his and hers PF shirts during their wedding after party!
The couple got into running so much that the two chose to wear personalized PF shirts during the after party of their wedding in September 2014. Aside from family members and close friends, many of the guests were from their running group.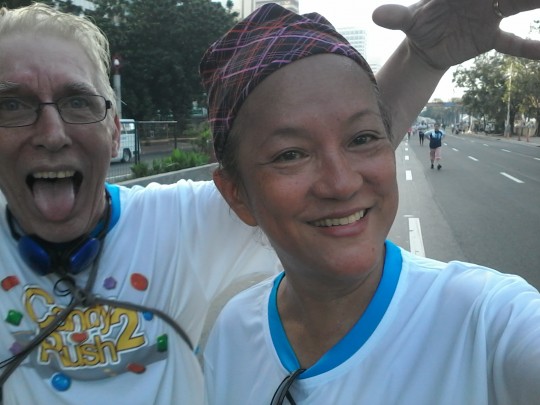 Caption: They run together at least once a month, playfully arguing and teasing each other until they reach the finish line.
While Cinch runs thrice a week on her own, she and Rick run together at least once a month, playfully arguing and teasing each other until they reach the finish line. The two are indeed buddies for life.
Running, according to Cinch, is their common ground.
"He's into music, and I don't know anything about music!" She laughs.
Running has also pushed them both to be the best version of themselves.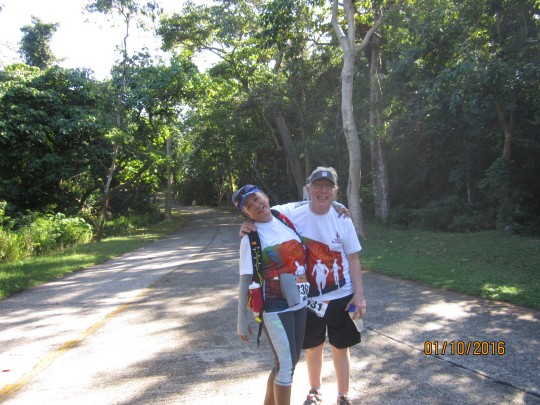 Should people looking for forever try running? "Why not?" Cinch replies. "They'll get to meet a lot of different people. Marami akong kakilala na nagkatuluyan dahil sa running!" she laughs.
Nakahanap ba kayo ng Forever sa Running? Tag us or Send us a Photo at [email protected]
For Instant Updates – Follow US!
https://www.facebook.com/pinoyfitness
https://www.twitter.com/pinoyfitness
https://www.instagram.com/pinoyfitness
PF Online Community -> https://members.pinoyfitness.com
PF Online Shop -> https://shop.pinoyfitness.com
Like this Post!? Share it to your friends!