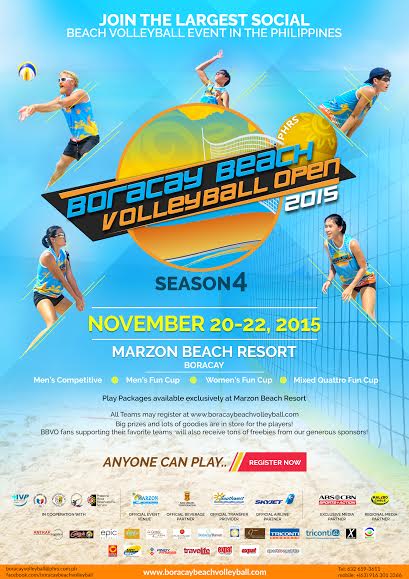 The much-awaited 4th season of the PHRS Boracay Beach Volleyball Open (BBVO) will take place at the Beachfront of Marzon Beach Resort Boracay on November 20 – 22, 2015. This tournament not only guarantees an exciting and fun-filled experience by gathering and bringing together lots of players and sport enthusiasts from all over the world, but it also aims to integrate the importance of sustainable tourism and the well-being of the environment. This convergence of health and environment advocates will be held at the most popular tourist spot in the country—-Boracay's White Beach! Undeniably, the number one beach in the Philippines is not just a place for a memorable nightlife; it's the best place to observe how we must value our physical well-being and the beauty of its scenery. This tourney is definitely worth playing for!
Endorsed by the Philippine Sports Commission (PSC), Heroes Volleyball Program (HVP), Philippine Beach Volleyball Association (PBVA) and the Province of Aklan, PHRS aims to highlight the love for sport with its desire to promote Boracay as still the #1 vacation destination in the Philippines.
According to Lila Rosenberger, CEO of PHRS, "It is still our aim for the 4thseason of BBVO,to promote an active lifestyle that would bring us a more positive outlook in life. Destinations like Boracay serve as a perfect backdrop to help advocate not only environmental awareness but more importantly its role as a catalyst in people's desire to be physically fit. After all, what better place is there in the world to showcase beach volleyball, than Boracay?"
The tournament will consist of four (4) Divisions: the Men's Philippine Beach Cup (Advanced Players), Men's Fun Cup, the Women's Fun Cup and the most favorite and requested division the Mixed Quattro Fun Cup. BBVO is open to both leisure and competitive volleyball aficionados as long as they are 18 years of age!
No one will go home empty handed as all registered players and fans will be receiving loot bags packed with goodies from our generous event sponsors. Team winners will be receiving plenty of sought-after prizes and giveaways much like in the previous years where winners received Travel Gift Certificates and other high value treats!
Live telecast of the games will be aired through Kalibo Cable, while ABS-CBN Sports and Action will feature the event in one of their sports segments so everyone can witness the exciting moments of the hippest and hottest beach volleyball events of the season!
Spread the word and make sure you and your friends don't miss out on the most thrilling beach volleyball games in Boracay this 2015 – a Fans Package is also available so you can support your favorite players throughout the entire tournament and partying with them!
Boracay Beach Volleyball Open Season 4
November 20, 2015
Marzon Beach Resort Boracay
Registration Fees:
For Registration & Travel Packages, please visit: www.boracaybeachvolleyball.com/bbvo2015/
Registration Venues:
* Online Registration -> www.boracaybeachvolleyball.com/bbvo2015/
For more information:
Website: www.boracaybeachvolleyball.com/bbvo2015/
Email: [email protected]
Phone: 02-6593611
Mobile: 0916 301 3366
For Instant Updates – Follow US!
https://www.facebook.com/pinoyfitness
https://www.twitter.com/pinoyfitness
https://www.instagram.com/pinoyfitness
PF Online Community -> https://members.pinoyfitness.com
PF Online Shop -> https://shop.pinoyfitness.com
Like this Post!? Share it to your friends!