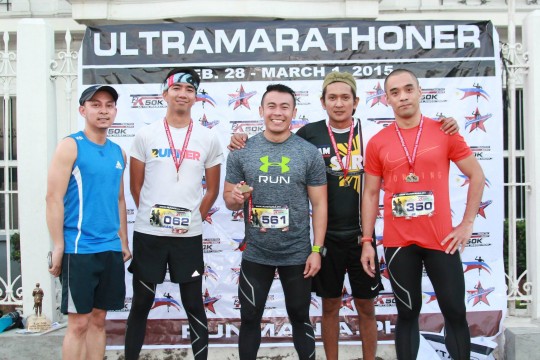 Top 3 Recommended Ultramarathon Events for Newbies
by: JP Navarrete
So you finally made up your mind that you're ready to take on your first ultra-marathon. Your wallet and your knees don't seem to have any objections either. So the next question to ask is which event?
I am almost certain that you came across this consideration when you were contemplating about running your first full. You probably have considered TBR, or Condura – because for whatever reason, you felt that these races are marathon newbie-friendly. The same thought process should be applied when you're running your first ultra, especially when you're in it for the long haul.
Here my TOP 3 recommended events, which I feel will ease a first timer's way into the crazy world of Ultra- marathons –
3. HERO 2 HERO Ultramarathon
Organizer: Run Mania Phils.
Annual Schedule: End of December
Entry Fee: 1,500
Cut Off: 10 hours
The best way to keep those holiday pounds away is to train for this ultramarathon scheduled at year end. With about 10 weeks after Run United 3, the timing of this event should give you enough time to recover and subsequently rack up training mileage. Plus, I couldn't think of a more kickass way to close the year than running a 50K. The course is predominantly flat and downhill, with just enough hills to make the race a tad more interesting (read: challenging).
If you haven't saved enough to finance an elaborate support contingent, you can survive this race on self-support. In addition, it is very typical for a Run Mania race to have aid and water stations at least every 10K. There are also a few 7-11s and neighborhood stores along the route. But of course, there are dozens of support vehicles armed with everything you can possibly need. All you need to do is ask.
2. TAGAYTAY 2 KAWIT Ultramarathon
Organizer: Run Mania Phils.
Annual Schedule: End of February
Entry Fee: 1,500
Cut Off: 10 hours
Having attracted more than 600 participants during its last 2 editions, this event is perhaps a record holder in terms of attendance. If you still thrive in that fun run party spirit, then this event is for you. The starting line is at Summit Ridge in Tagaytay City where about a dozen restaurants are open for your last minute carboloading requirements and oh, a Starbucks to keep you and your crew awake.
As for the race course, you go downhill in the first 25K, and mostly flat towards the other half. The toughest part is between km. 30 to km. 40 where you might get bored out of your wits because there's not much to see – until you are given ice cream right before you tackle your last 10K which is a pleasant reprieve from electrolytes to say the least. You get to finish right outside Emilio Aguinaldo's awesome balcony – which will serve as the perfect backdrop to your I-Am-An-Ultramarathoner selfie.
Like the Hero 2 Hero event, the organizers have aid stations deployed every 10K, with additional water stations every 5K. In addition, both start and finish line venues are commuter-friendly. Thanks to Cavitex, the Aguinaldo Shrine is only 30 minutes away from Mall of Asia.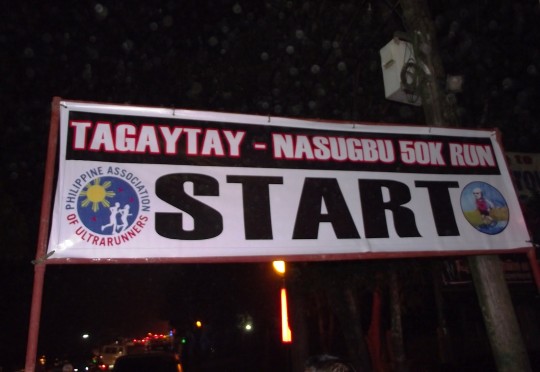 1. TAGAYTAY 2 NASUGBU Ultramarathon
Organizer: Bald Runner Events
Annual Schedule: May and November
Entry Fee: 2,000 (May 2015 edition)
Cut Off: 9 hours
T2N is the quintessential baptism of fire for every aspiring ultramarathoner.
The opening gunfire is at the Picnic Grove, and ends right before you reach the Nasugbu town proper. The course is downhill for the most part. An added bonus is the cool Tagaytay weather. The race starts at 4AM, and with its proximity to Manila, pulling an all-nighter is optional, really.
However, it's not really the course nor the breezy country club feel of the highway that makes this event an ideal first ultra. Known for its strict guidelines both for runners and support crew, this race teaches us how to practically ensure our safety on the road. It plants the seeds of discipline that every ultra-runner aspiring to conquer longer distances should possess. BR (as the race director is more fondly referred to) tells it as it is. He does not sugarcoat, and will unabashedly declare you as a DQ (delinquent) if you don't follow his rules. This may not sit well with a perennially spoiled fun runner, but frankly, this is how it should be if one wants to conquer the bigger league.
Related Article: 7 Reasons to run an Ultramarathon
So there you go – the top 3 races of choice suited to jumpstart your ultramarathon journey. Enjoy every step!
For Instant Updates – Follow US!
https://www.facebook.com/pinoyfitness
https://www.twitter.com/pinoyfitness
https://www.instagram.com/pinoyfitness
PF Online Community -> https://members.pinoyfitness.com
PF Online Shop -> https://shop.pinoyfitness.com
Like this Post!? Share it to your friends!