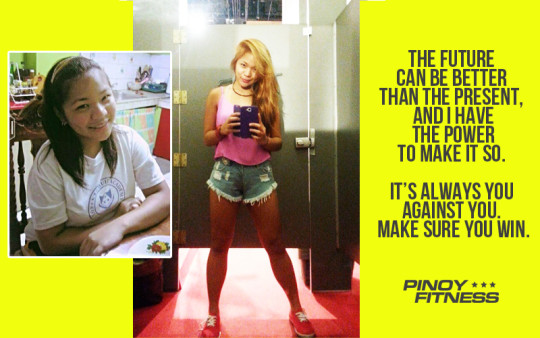 It's always you against you. Make sure you win.
by: Ja Antenor
I come from a family of hearty eaters. I reached 70kg (154lbs), Then I started to try several fad diets. I was even a sucker for diet pills and anything with "weight-loss" products labeled in the market. Be it slimming tea, coffee, even soap. I even took diuretic pills, sure I lost a few pounds, but it never lasted. I was thirsty for once to have the ideal body for my height and I was desperate. Then I realized I needed to start making realistic goals.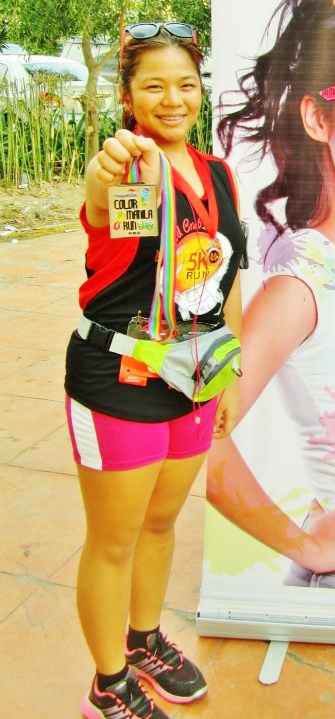 My best friend and her mom invited me to a fun run event last November 2012. I still remembered my huge thighs while wearing skimpy running shorts. At the beginning running my first 5KM was the most difficult thing I've done. I was mad at my weight and blamed "gravity" for that 1 hour torture of running. But after crossing my first finish-line, something in me was stirred, the feeling of accomplishment, it felt like I did something real for the first time. It's kinda addicting. That's when I started to crave for more.
I searched for fun runs near my city and started to fill up my weekend with back to back events. I started to want to beat my Personal Best, so on days without events, I still go out for a short run, to train. Usual route includes Roxas, Intramuros and CCP Complex, where seeing fellow fitness enthusiasts and watching what they can do motivated me more.
Then I started to mix running with functional core training and slowly incorporated healthy eating, when people began to see my weight loss it encouraged me to do more, especially once you see the results yourself. After more or less a year, I lost 13kg (30lbs) and gained a lot of confidence in myself.
I now work as a barista in a 24 hr coffee shop so my schedule varies. I don't really have a routine. My fitness regimen is a mixed bag of what fits my schedule. The biggest challenge for me has always been making time to work out and go for a run. I'd always see myself making a bunch of excuses. Until I made a decision to go back to the healthy lifestyle I was once in.
Surrounding yourself with people who shares the same passion as you can helps you stay on the right track and push yourself to the limits. Almost every successful person begins with two beliefs. The future can be better than the present, and I have the power to make it so. It's always you against you. Make sure you win. — END
Want to Share your Story? – Click Here
For Instant Updates – Follow US!
https://www.facebook.com/pinoyfitness
https://www.twitter.com/pinoyfitness
https://www.instagram.com/pinoyfitness
PF Online Community -> https://members.pinoyfitness.com
PF Online Shop -> https://shop.pinoyfitness.com
Like this Post!? Share it to your friends!