ONE FC Fighters Showcase Their Wares in Open Workout
by Don "Iron Man" Mañebo and "Raken" Roland Guia, Jr.
November 28, 2013 – ONE Fighting Championship's fighters gave a peek into their mixed martial arts arsenal in an open workout and media session in the Atrium of Resorts World Manila. Pro fighters gave a clinic on stand-up skills against boxing mitts and muay thai pads as they worked up a sweat, while onlookers built up their excitement for ONE FC 13 – Moment of Truth, to be held at the SM Mall of Asia Arena on December 6, 7:00 pm.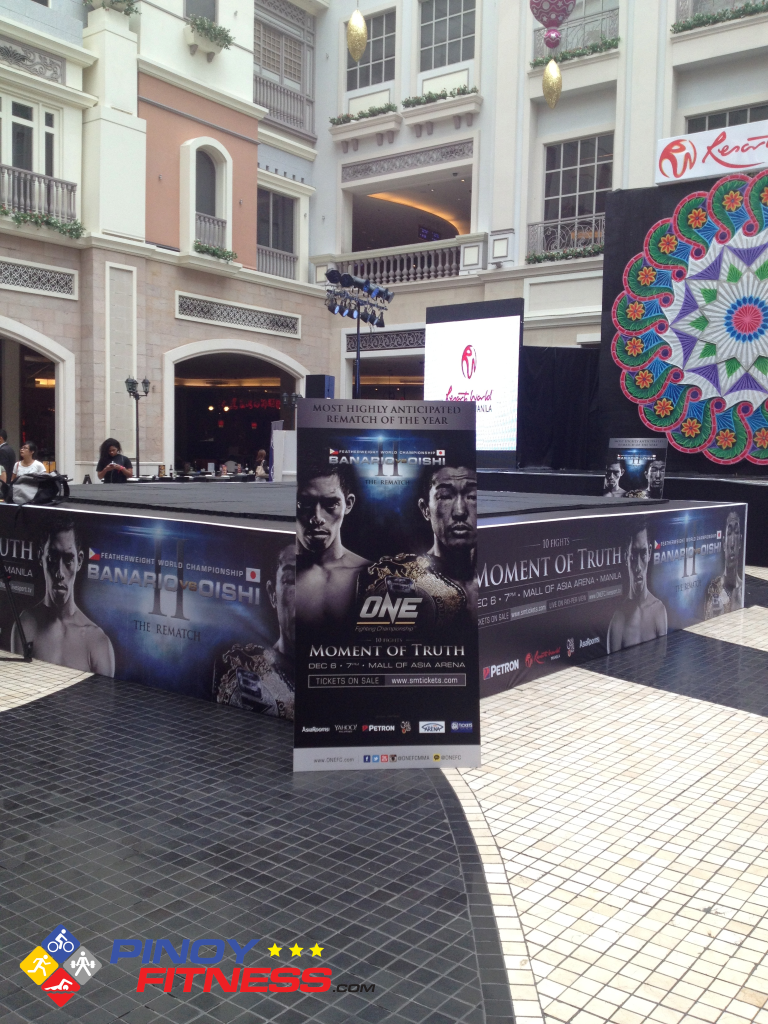 One FC workout stage in the Atrium of Resorts World Manila.
Former ONE FC Featherweight Champion Honorio "The Rock" Banario's (8-2) demeanor may be humble, but his swift strikes and crisp combinations revealed a fighter who was ready and focused to take his championship belt back in the main event. The Team Lakay MMA representative also expressed confidence in his improved grappling game attributable to new wrestling coach, Ali Heydabaradi, a former Olympic coach for the Iranian national team. Asked if he already had a strategy in place for his rematch against conqueror and current champion Koji Oishi (23-9-10), Banario replied, "My strategy won't be much different from our previous fight, but I will have to exercise more patience in this one."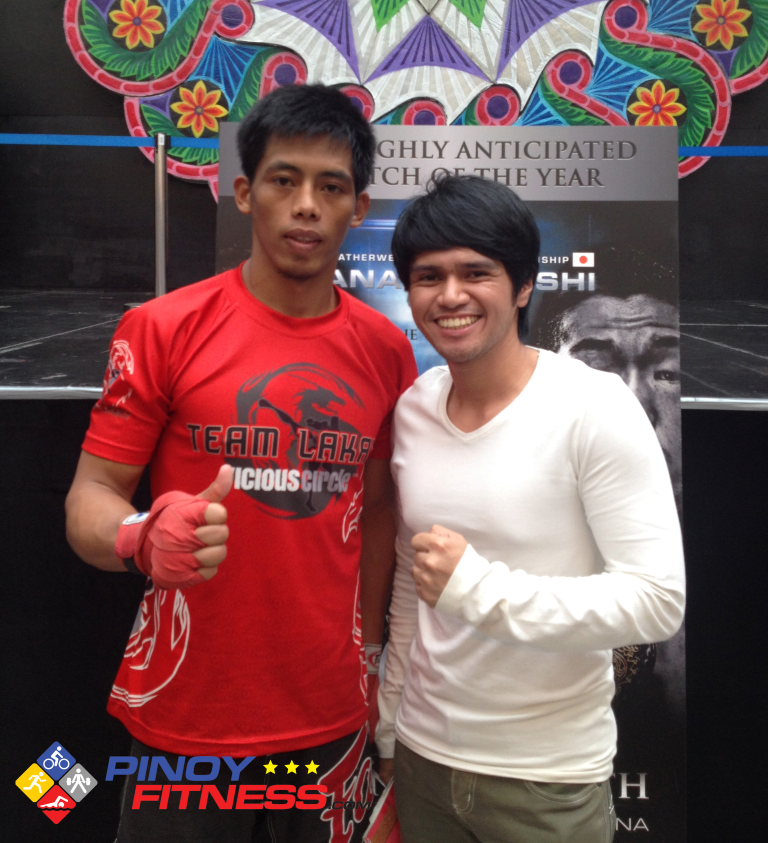 Pinoy Fitness contributor, "Raken" Roland Guia Jr. (me) poses with Honorio "The Rock" Banario, the local favorite in the main event.
Kevin "The Silencer" Belingon (11-3), a bantamweight likewise from Team Lakay MMA, exhibited the results of his all-around training by way of speedy striking and snappy takedowns. Admitting that he feels the pressure of winning for his countrymen and his team, he is nonetheless focused on his game plan against David Aranda Santacana (9-0), an undefeated prospect out of Spain who has won all but one of his fights by submission. Belingon expressed a desire to redeem himself after a loss in his previous outing, as he faces a stiff challenge against Santacana who may just be the litmus test for gauging the improvement of Team Lakay's ground game.
Perhaps the man who stole the show at the open workout was heavyweight kickboxer Alain "The Panther" Ngalani (1-0). The affable Cameroonian revealed a muscular and impressive physique prompting an invitation from a pro bodybuilder to try competitive bodybuilding, to which he jokingly replied, "If I get my ass kicked in my next fight, I will consider a different line of work." Ngalani showed deceptive speed, agility, and flexibility for a heavily-muscled fighter, by nearly decapitating his mitts partner with an array of head kicks, spinning back kicks, and wheel kicks. "The Panther" will be pitted against Canadian Paul "Typhoon" Cheng (3-1).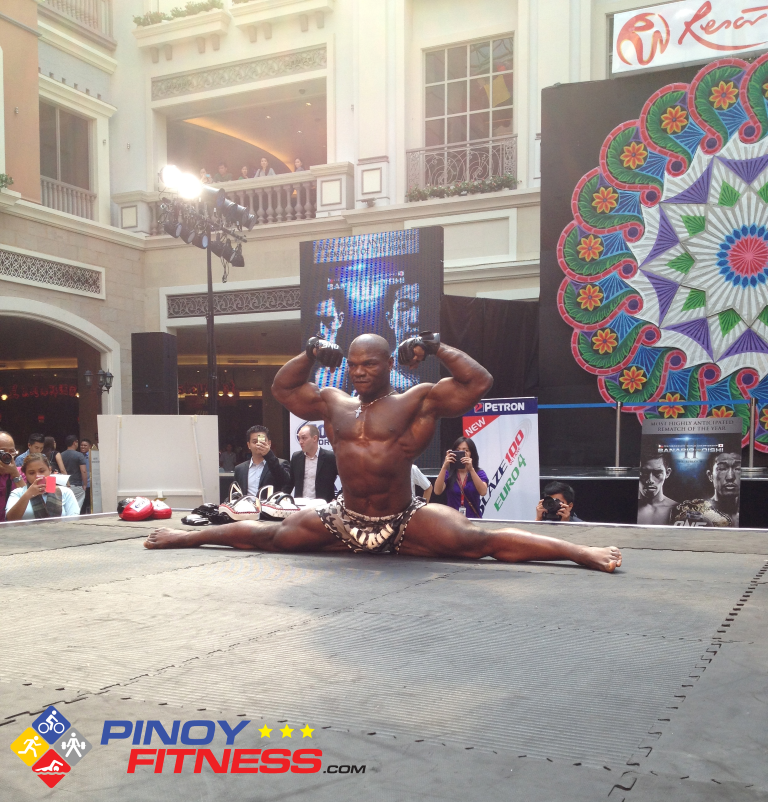 Alain "The Phanter" Ngalani showcases his incredible muscular build and flexibility.
Caros "The Future" Fodor (8-3), former Strikeforce and UFC lightweight, showed his boxing skills to the crowd. He remarked that his broad experience in other MMA organizations gives him the confidence that he needs against any opponent that he may have in the cage. "Experience pays off," he said, adding that he is proud to finally compete under the ONE FC banner, the biggest MMA promotion in Asia. Fodor faces budding lightweight contender Vuyisile "The Cheetah" Colossa (6-4), a representative of the fast-rising South African MMA scene.
Local flyweight Ruel "The Avenger" Catalan (1-4) revealed that he is raring to go after Khim Dima (1 NC) who garnered a No Contest Due to Illegal Strikes against his brother, Rene Catalan. Despite taking up the fight on short notice, Ruel has no worries because of the hard training that he undergoes every day.
Other fights for ONE FC 13 – Moment of Truth are: local featherweight Edward "The Rock" Kelly (5-0) vs. Major "Majee" Overall (4-1); Team Lakay MMA's Geje "Gravity" Eustaquio (4-2) against one of the country's best pure strikers, Eugene Toquero (4-0) of Submission Sports Philippines; bantamweights Dae Hwan Kim (8-0-1) vs. Thanh "Aladdin" Vu (3-2); and Team Lakay MMA flag-bearer Eduard "Landslide" Folayang (12-4) taking on international MMA veteran Vincent Latoel (14-13-2).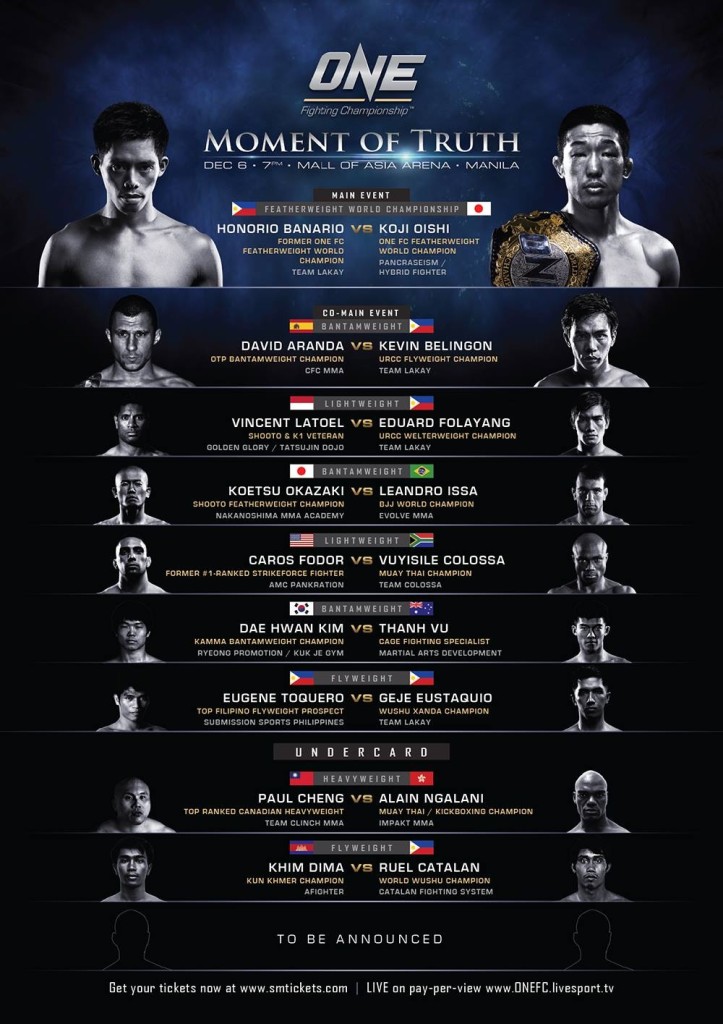 MMA fans can watch live at the venue by booking their tickets at www.smtickets.com. Prices are VIP – Php 6,360.00; Patron – Php 3,180.00; Lower Box – Php 1,280.00; Upper Box – Php 640.00; and General Admission – Php 220.00.
Fans across Asia can watch live on Star Sports, check your local listings. Live streaming is also available at www.onefc.livesport.tv, for free undercard fights, with the main card available at only US$9.99.
For Instant Updates – Follow US!
https://www.facebook.com/pinoyfitness
https://www.twitter.com/pinoyfitness
https://www.instagram.com/pinoyfitness
PF Online Community -> https://members.pinoyfitness.com
PF Online Shop -> https://shop.pinoyfitness.com
Like this Post!? Share it to your friends!