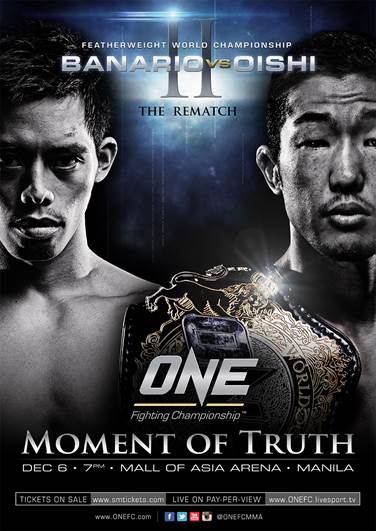 Honorio Banario and Koji Oishi topbill One FC: Moment of Truth
By: Jared Baliguat
One Fighting Championship caps off the year with an explosive mixed martial arts event happening on December 6, 2013, 7pm, at SM MOA Arena. One FC: Moment of Truth promises all MMA fans a night of heart-stopping, yet pumped-up action inside that will leave everyone screaming for more with each blow inside the One FC cage.
One FC Featherweight World Champion Koji Oishi is set to battle out and defend his title against former world champion Honorio "The Rock" Banario who promises to take the title back at all cost.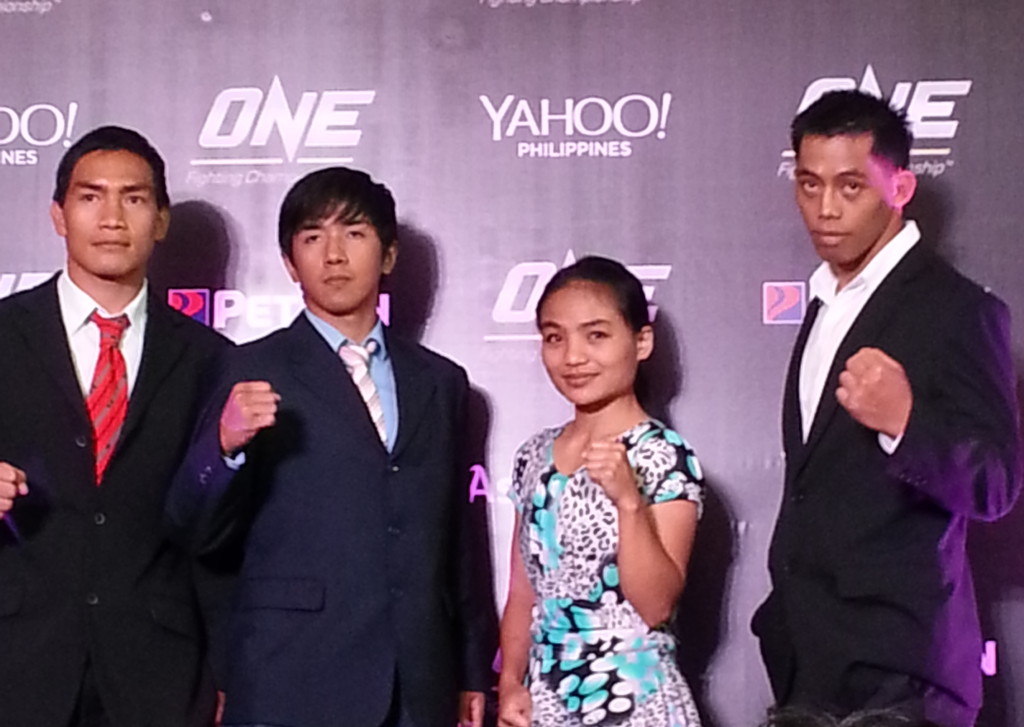 Banario vs. Oishi
Honorio Banario is the first Filipino to bring home a One FC World Title. Rising from the ranks of the legendary Team Lakay of Baguio, Banario is a Wushu expert and with his strong takedowns and explosive striking skills, he is confident that he will redeem himself as the top Featherweight MMA fighter in Asia.
One FC Feather World Champion Koji Oishi took home the title belt when he defeated Banario via a knock out in One FC: Rise to Power in May this year. Oishi is a veteran of 44 fights, a former Lightweight King of Pancrase, and has only lost two of his last 18 fights. This most anticipated rematch will prove his one punch knocking out power as he defends his title.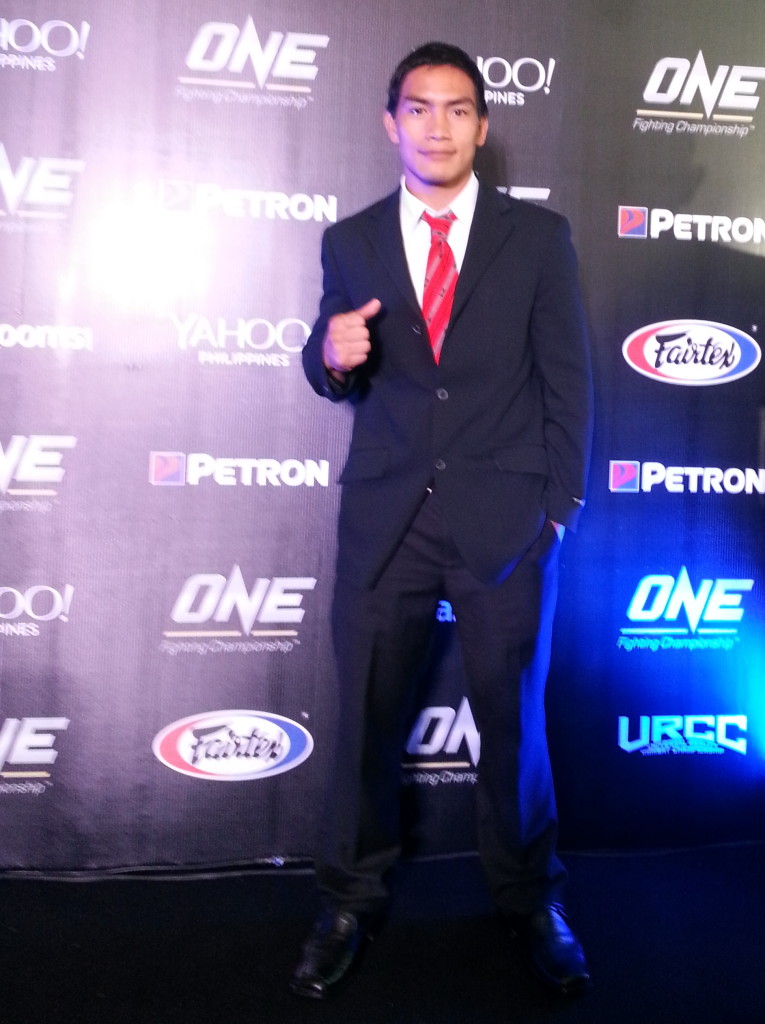 Eduard "Landslide" Folayang
Having lost the fight in May this year, Folayang is determined to win this time. "This is one of the times in my career where I really need to step up to be the top lightweight contender again." And that means capitalising on his wushu expertise while incorporating his excellent ground technique skills.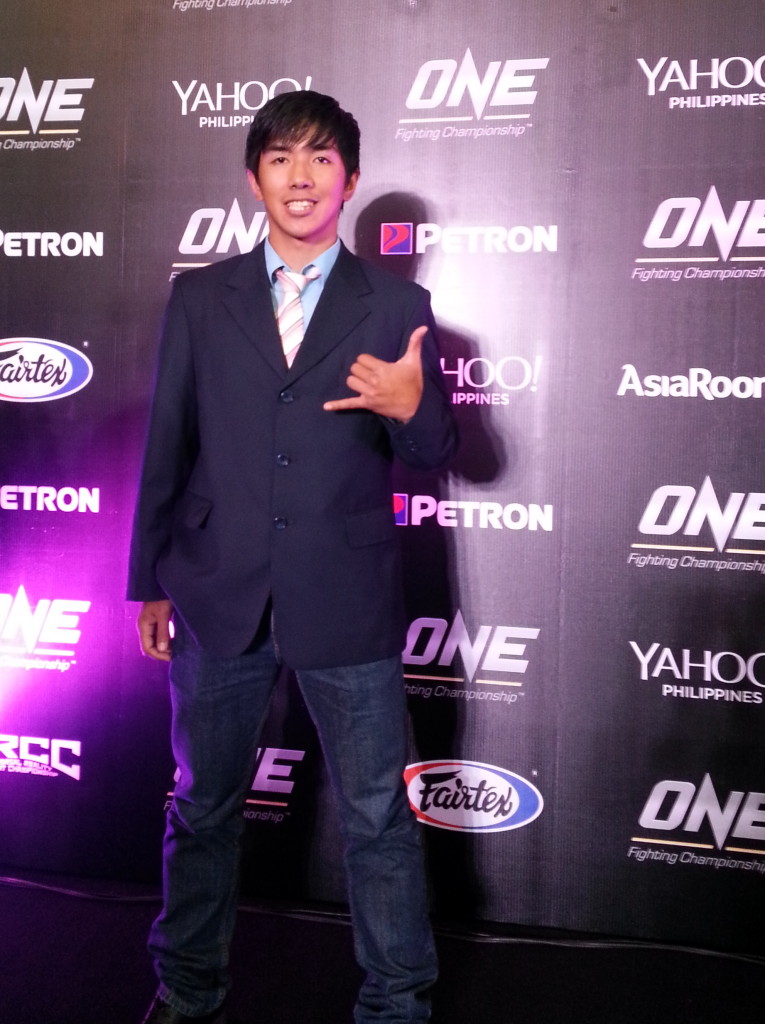 Geje Eustaquio
Joining the fight card is another Filipino fighter Geje Eustaquio. A flyweight contender from Team Lakay, 24 year old Eustaquio is setting his yes on the Flyweight World Championship title. He vows to put up a very good and entertaining fight. MMA, he shares, is a triangular sport that aims to develop the mind, the body and the spirit. Further, he confided that the hardship in life while growing up opened his doors to play MMA. Not only that he is fierce inside the MMA cage, but also, he is currently working on his thesis to finish his master's degree in Education.
He trains alongside Banario and Folayang under Coach Mark Sangiao.
Jujeath Nagaowa
Jujeath Nagaowa, a professional boxer and WBC Asian Champion, makes her One FC debut as the first Filipina MMA fighter. Her interest and passion for boxing endeared her to the sport. But what really got her into the game was her determination to lose weight. She went through a depression because of her weight. She went to hit the gym for weight training and before she knew it, she fell in love with the sport. She pursued her training and improved her skills until she found herself beating all other female boxers in her category. And they say, the rest is history.
The former WBC Asia Atomweight Champion is making a transition from boxing to MMA with an impressive 12 professional victories, defeating the best female boxers in Asia. She will showcase her lightning quick punches at One FC: Moment of Truth.
****
MMA fans can get their tickets at www.smtickets.com. Ticket prices start at Php 6,360.00 with a full Red Carpet and cageside experience for VIPs; Patron at Php 3,180.00; Lower Box at Php 1,280.00; Upper Box at Php 640.00 and General Admission at Php 220.00.
Fans across Asia can catch the action live on Star Sports. Check your local listings. Fans across the globe can watch the live streaming at www.onefc.livesport.tv. Undercard fights are available for viewing free-of-charge. The main card fights are available for purchase at just US$9.99.
For Instant Updates – Follow US!
https://www.facebook.com/pinoyfitness
https://www.twitter.com/pinoyfitness
https://www.instagram.com/pinoyfitness
PF Online Community -> https://members.pinoyfitness.com
PF Online Shop -> https://shop.pinoyfitness.com
Like this Post!? Share it to your friends!