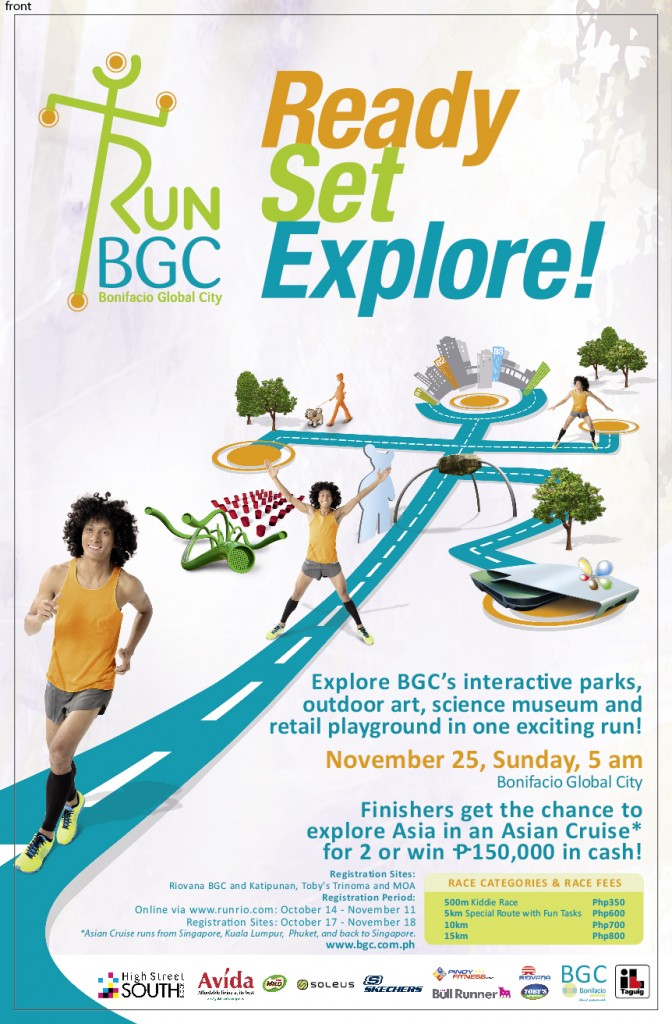 Let's all RUN together in BGC! Here are the complete details of one of the most awaited run happening in our favorite running place. Check it out!
RUN BGC "Ready. Set. Explore." 2012
November 25, 2012 @ 5AM
Bonifacio Global City
500m/5K/10K/15K
Registration Fees:
500m Kiddie Race – PHP 350
5km Special Route with Fun Tasks – PHP 600
10km – PHP 700
15km – PHP 800
* Kiddie Race Age Groups to be subdivided in two age categories: 5-8 yrs old and 9-12 yrs old
Registration Discounts for Individual Registrants:
If you live, work or study in Bonifacio Global City, you are entitled to a Php100 discount on Registration Fees. Simply bring a proof of billing or company/school ID when you register to avail of the discount.
If you are a Pinoy Fitness Follower you also get a special P100 discount! – Click Here
Registration Discounts for Group Registrants:
Come in groups or Register for the required number of participants to avail of Free additional Race Kits:
10 RUNNERS – FREE 2 Race Kits
20 RUNNERS – FREE 4 Race Kits
50 RUNNERS – FREE 10 Race Kits
100 RUNNERS – FREE 20 Race Kits
* Free additional race kits may be of shorter distance or the same as those registered
Gun Start:
500m – 6:30AM
5K – 5:50AM
10K – 5:30AM
15K – 5:20AM
Registration Venues:
– Riovana BGC
– Riovana Katipunan
– Toby's Trinoma
– Toby's SM MOA
RUN BGC 2012 – Singlet Design: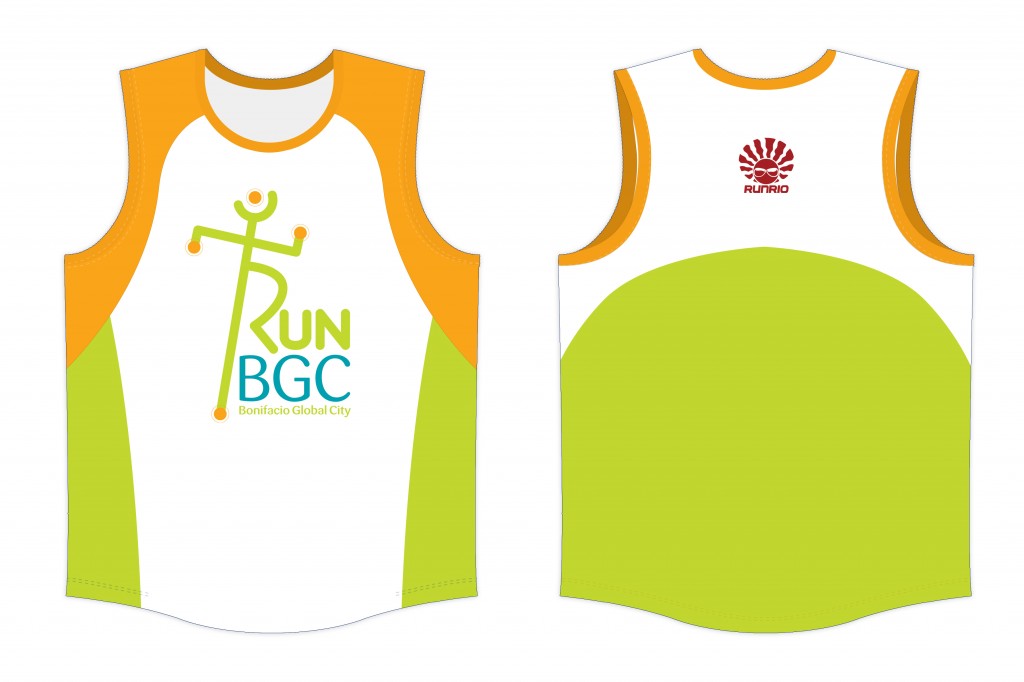 MECHANICS TO JOIN THE PROMO: ( Asia in an Asian Cruise (Singapore-KL-Phuket-Singapore) for 2)
A. How to Join:
1. Simply sign up for your preferred race category: 500m, 5km, 10km, or 15km via Riovana BGC & Katipunan; Toby's Trinoma and MOA.
2. Only runners who have registered in the RUN BGC Ready. Set. Explore! to happen on November 25, 2012 and have finished the race, in any distance category ( 500m, 5km, 10km, 15km) are qualified to join the raffle.
3. The raffle stub on the race bib of Run BGC participants will be torn off and dropped in the drop boxes located at the finish line by the runner. This will serve as his raffle stub.
4. The winner must be physically present during the raffle draw (to happen on November 25, 2012) to claim the prize in person and on stage. No proxy will be accepted.
B. Prize at Stake
Winner will go on an Asian cruise for 2, traveling from Singapore to Kuala Lumpur, Malaysia to Phuket, Thailand to Singapore. The prize includes flights from Manila to Singapore and back, the 4-day cruise and hotel accommodations in Singapore.
Prize is convertible to Php150,000 in cash but not transferrable to another person.
C. Procedure in the Selection, Verification of Winners & Claiming of Prize
1. The draw will be held during the race awarding ceremony on November 25, 2012 at Bonifacio Global City.
2. The winner is required to present his race bib and two (2) valid photo IDs with photos to claim the prize. Valid ids are: local driver's license, passport, school ID, company ID, SSS, GSIS, professional license, Philippine government issued local residency, and working or student permits for foreigners.
3. The race bib should not be tampered with and must be no less than ¾ of its actual size otherwise it will not be honored.
4. In the event that a minor (17 years old & below) wins the prize, the winner should be accompanied by a parent or guardian, and present his birth certificate in claiming the prize.
5. The raffle is open to runners of all nationalities and all citizenships.
6. FBDC will shoulder the 20% tax on the prize.
7. The prize is convertible to cash amounting to Php150,000.
8. The winner is given sixty (60) days to claim the prize after the awarding.
9. In the event that the winner does not claim the prize within sixty (60) days of awarding, the prize will be forfeited in favor of the Fort Bonifacio Development Corporation.
10. If the drawn number does not appear in the list of runners who finished the race, another raffle stub will be drawn and will be checked against the list of finishers.
11. Officers, directors, and employees of FBDC, its subsidiaries and affiliate companies, advertising agencies, organizers of the run, as well as their respective immediate families up to the second degree of consanguinity or affinity are not eligible to join the raffle promo.
12. Upon race completion, the organizers will generate a list of runners' race bib numbers who had finished the race; the list will be according to race distance.
13. Only one (1) winning raffle stub will be drawn for the raffle by a representative from FBDC.
14. The raffle stub drawn will first be checked against the list of race bib numbers of runners who had finished the race.
15. If the drawn number does not appear on the list of runners who finished the race, another raffle stub will be drawn and will again be checked against the list of finishers.
16. This process will continue until the raffle stub drawn corresponds to a finisher's race bib number.
17. The winner will be given a prize certificate issued by Fort Bonifacio Development Corporation. This certificate will be presented by the winner in person at the FBDC office located at 2nd Floor, Bonifacio Technology Center, 31st St., Bonifacio Global City to claim his prize.
18. No proxy will be entertained when claiming the prize.
19. Winner is responsible for all incidental costs attached to winning the prize.
For Instant Updates – Follow US!
https://www.facebook.com/pinoyfitness
https://www.twitter.com/pinoyfitness
Like this Post!? Share it to your friends!