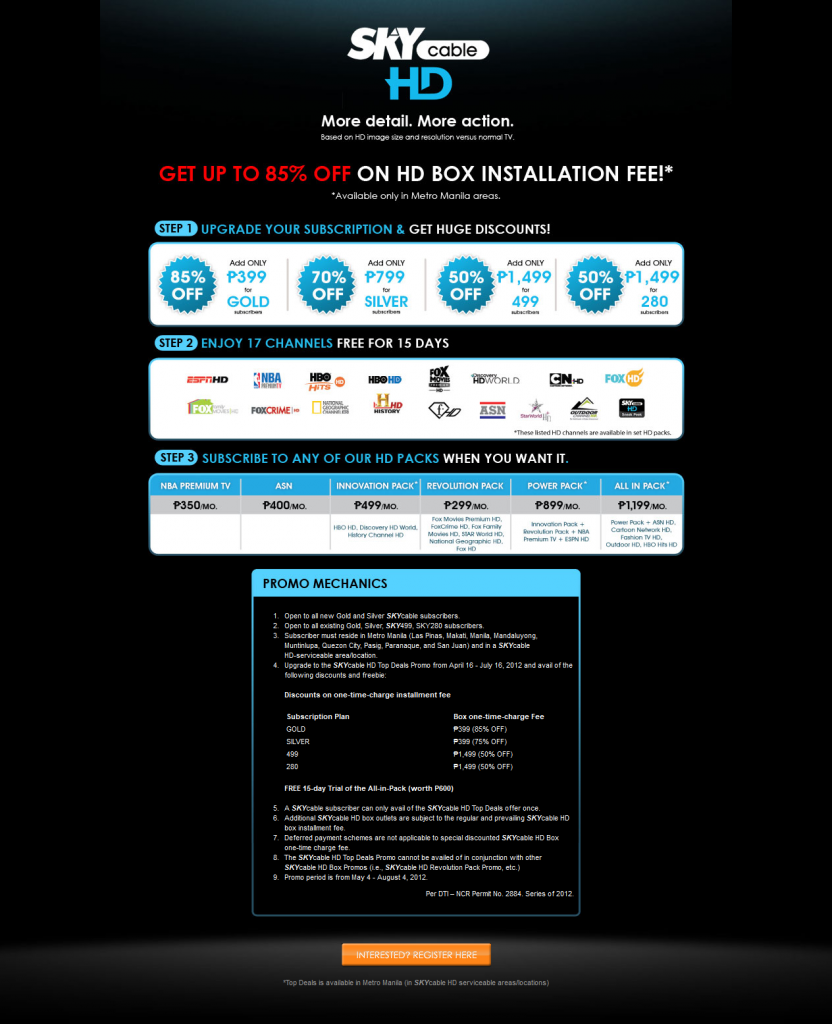 Do you own a HDTV but still watching non-HD channels? Great news! If you are a SKYcable subscriber you can now watch your favorite TV shows like ESPN and NBA in HD by availing the SKYCable HD TOP DEALS PROMO!
SKYCable HD TOP DEALS PROMO:
What is SKYCable HD Top Deals?
SKYCable HD Top Deals is the brand's top HD Box Promo to date. Get discounts when you upgrade to a SKYcable HD Box.
Promo Mechanics:
1. Open to all new Gold and Silver SKYCable subscribers.
2. Open to all existing Gold, Silver, SKY499, SKY280 subscribers.
3. Subscriber must reside in Metro Manila (Las Pinas, Makati, Manila, Mandaluyong, Muntinlupa, Quezon City, Pasig, Paranaque, and San Juan) and in a SKYcable HD-serviceable area/location.
4. Upgrade to the SKYcable HD Top Deals Promo from April 16 – July 16, 2012 and avail of the following discounts and freebie:
Discounts on one-time-charge installment fee
Subscription Plan ——————————Box one-time-charge Fee
GOLD——————————————–₱399 (85% OFF)
SILVER——————————————₱399 (75% OFF)
499———————————————₱1,499 (50% OFF)
280———————————————₱1,499 (50% OFF)
FREE 15-day Trial of the All-in-Pack (worth P600)
5. A SKYCable subscriber can only avail of the SKYCable HD Top Deals offer once.
6. Additional SKYcable HD box outlets are subject to the regular and prevailing SKYCable HD box installment fee.
7. Deferred payment schemes are not applicable to special discounted SKYcable HD Box one-time charge fee.
8. The SKYcable HD Top Deals Promo cannot be availed of in conjunction with other SKYCable HD Box Promos (i.e., SKYCable HD Revolution Pack Promo, etc.)
9. Promo period is from April 16 – July 16, 2012.
SKYcable
SKYCable is the number one cable TV service provider in the Philippines with over 500,000 subscribers. Through the years, it has grown to feature the best and most varied cable programs for the whole family. As the country's largest pay TV company, SKYcable boasts of having the widest and most varied array of TV content options being offered by any cable provider in the market today. SKYcable's pioneering foray into the digital platform enabled it to offer value added services to subscribers.
SKYcableHD
SKYCable brings TV viewing to a whole new level with SKYCable HD.Enjoy breathtaking detail you've never seen before with greater motion picture quality. Delight in a panoramic widescreen viewing that closely resembles the human field of vision. Savor a cinematic digital sound.
SKYCable HD offers 17 channels: ESPN HD, NBA Premium TV, HBO Hits HD, HBO HD, FOX Movies Premium HD, Discovery HD World, CN HD, Fox HD, Fox Family Movies, FoxCrime HD, National Geographic HD, HISTORY HD, Fashion TV HD, ASN HD, Star World HD, Outdoor Channel HD, Sky CableHD
For more details, please refer to this link: https://www.mysky.com.ph/skycablehdofferings/