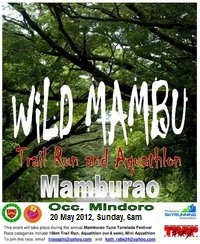 An off-road version of the ever-popular sport of running and the off-road version of the fast-growing sport of aquathlon (swim and run). Swimming will be in clear ocean water of Mamburao. The trail run route will include a beach run and will pass through an aroma forest, single track trails, Mangyan village, river crossings and rice fields.
2nd Wild Mambu Trail Run & Aquathlon
May 20, 2012 @ 6am
Mamburao, Occidental Mindoro
Categories and Race Distances: 4km trail run; 10km trail run; Mini Aquathlon: 500m ocean swim + 4km trail run; Aquathlon: 1km ocean swim +10km trail run; Aquathlon Relay: 2-member team, same distance as Aquathlon
Organizer: This event is hosted by Mayor Voltaire Anthony "Bambi" Villarosa of the Municipality of Mamburao, Occidental Mindoro and is co-organized by the Philippine Skyrunning Association (PhilSky) and the Triathlon Association of the Philippines (TRAP)
Registration Fees:
The entry fee of only P1,800 entitles participants to:
– 2D/1N resort accommodation
– Van/bus transport from Abra de Ilog Port in Mindoro to Mamburao, and back
– Van/bus transport from resort to welcome dinner venue and to race site, and back
– Welcome dinner
– Post-race brunch
– Event t-shirt
– Entry to the race
2 Choices for the Free Resort Accomodation
– Alastre Beach Resort – 38.8km from Abra de Ilog Port, 0.0km to Start/Finish line, beach side, Spartan accommodations
– Nueva Villa Resort – 44.3km from Abra de Ilog, 9.8km to Start/Finish line, with swimming pools, huts, nice/provincial settings.
– Both accommodations are based on quadruple sharing. Additional P1,000 per room if you prefer double sharing.
Limited seats in bus. Limited beds in the resorts. Register now!
Participants' Categories and Awards:
Medals will be awarded to top 3 female and male finishers of the 5 categories.
How to Get to Mamburao:
Option 1:
Drive your vehicle from Metro Manila to Mamburao via RORO. Take SLEX and Star Toll way to Batangas City Port. Load your vehicle in the ferry to Abra de Ilog Port. The preferred ferry is Montenegro Shipping Lines which leaves Batangas city at 2am, 6am, 10am, 2pm, 630pm and 10pm. Contact 0919-878-8055.
Option 2:
Take the Dimple Bus from Cubao or Alabang to Mamburao. Dimple Star Bus which has its terminals at Espana Sampaloc, Alimall Cubao, Alabang, Pasay and Santolan. Contact numbers 985-1451, 517-9677, 664-7796, 809-7796, 407-4614, 416-8956.
Option 3:
Take a bus to Batangas City Port (P140 from Alabang), take Montenegro ferry to Abra de Ilog Port (P260), and take the van transport from Abra de Ilog Port to Mamburao (P80). Free van transport from Abra de Ilog to Mamburao for those arriving until 1pm on May 19, Saturday.
Travel time from Alabang to Batangas Port is 1.5 hours. Ferry from Batangas to Abra de Ilog is 2.5 hours, Abra de Ilog to Mamburao is 37km and will take about 45 minutes.
Bus schedules and ferry schedules may change from time to time. Please verify with bus or ferry company.
For more adventure and exercise, why don't you bike from Abra de Ilog Port to Mamburao?
Event Schedule:
2nd week of May – Race briefing in Metro Manila (exact date, time and venue to be announced)
May 19, 2012 (Saturday)
6AM or 10AM – Departure of Montenegro ferry from Batangas Port to Abra de Ilog Port
8:30AM or 12:30PM – Arrival at Abra de Ilog, take free van to Mamburao (look for Mamburao staff beside the "Wild Mambu" banner)
9AM or 1PM – Check-in at designated hotel
6PM – Race briefing / Welcome dinner hosted by Mayor Voltaire Villarosa at Bambino
May 20, 2012 (Sunday)
5AM – Assembly at Start/Finish area at Alastre Beach Resort, body marking, check-in
6AM – Start of race. Mass start for all categories
9AM~11AM – Brunch
10AM – Awarding
1PM – Leave Mamburao via free van/bus
2PM – Departure of ferry from Abra de Ilog to Batangas Port
Note: Those with own vehicle or riding the Dimple bus can take own transport schedules
Other Race Info and Guidelines:
1. Runners are required to wear their race number bib at the front.
2. Water refilling stations will be at 3 locations along the trail run route, runners are required to bring their own water containers (fuel belt, hydration pack or similar).
3. Runners will be penalized for littering, damaging plant life or for any unsportsmanship conduct.
How to Register:
1. Deposit entry fee of P1,800 at BDO savings account number 1470047754 of Ramon Marchan
2. Email scanned or photographed deposit slip to [email protected] with the following info:
– Race name: WILD MAMBU
– Race category (4kmTrail, 10kmTrail, MiniAqua, Aqua, or AquaRelay)
– Full name(s)
– Gender
– Birth date
– Mobile number
– Choice of resort accommodation (Alastre or Nueva Villa)
– Names and ages of friend or family members (non racers) joining the trip.
Joining fee for non racers is P1,200 per person regardless of age. Mamburao residents can register at the Tourism Office of Mamburao.
This event is hosted by Mayor Voltaire Anthony "Bambi" Villarosa of the Municipality of Mamburao, Occidental Mindoro and is co-organized by the Philippine Skyrunning Association (PhilSky) and the Triathlon Association of the Philippines (TRAP)
Contact Details:
Kath
Cell: +63 932-153-2601
Email: [email protected]
Website:https://www.facebook.com/events/295581357153959/