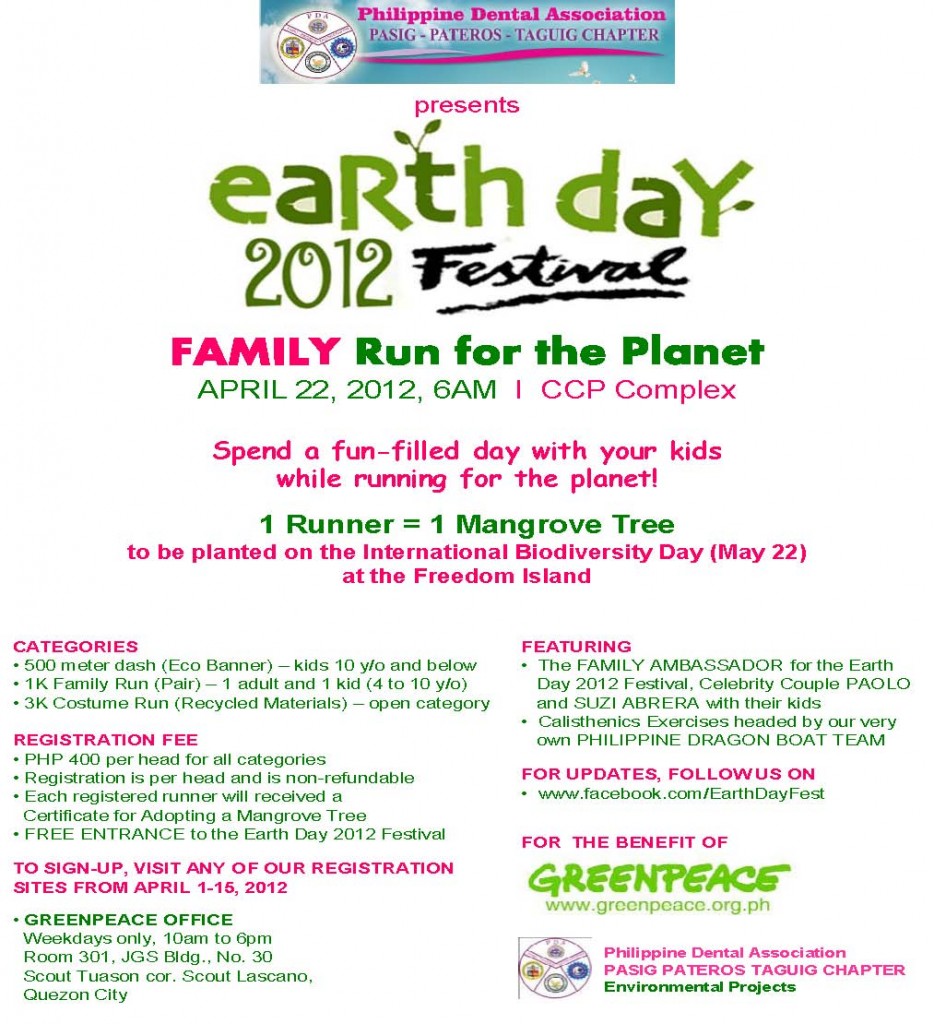 As the world celebrates Earth Day on April 22, 2012, the Cultural Center of the Philippines (CCP), together with various environmental NGOs and local groups, are organizing the Earth Day 2012 Festival on April 22 at the Liwasang Kalikasan, CCP Complex. With the theme "GoGreen. Save Our Planet. Celebrate Earth Day Everyday!", the festival aims to raise environmental awareness in a family fun-filled event.For the benefit of GREENPEACE.
SEE YOU ALL!
Earth Day Festival 2012
April 22, 2012 @ 6am
Liwasang Kalikasan, CCP Complex
500m/1K/3K
– 500 meter dash (Eco Banner) – kids 10 y/o and below 1K Family Run (Pair) – 1 adult and 1 kid (4 to 10 y/o) 3K Costume Run (Recycled Materials) – open category
Organizer: Philippine Dental Association – Pasig Pateros Taguig Chapter
Registration Fees:
PHP 400 per head for all categories
– Registration is per head and is non-refundable
– Each registered runner will received a Certificate for Adopting a Mangrove Tree
– FREE ENTRANCE to the Earth Day 2012 Festival
TO SIGN-UP, VISIT ANY OF OUR REGISTRATION SITES FROM APRIL 1-15, 2012
Registration Venues:
SECONDWIND STORES:
a. Teachers Village (Tel. 2380005)
b. Ortigas Home Depot (Tel. 9140283)
c. Greenhills Shopping Center
GREENPEACE OFFICE
Weekdays Only, 10am-6pm
Room 301, JGS Bldg, No.30
Scout Tuason St cor Sct. Lozano, QC
On APRIL 22, Earth Day festivities include the following:
– FAMILY RUN FOR THE PLANET: presented by PDA- PASIG PATEROS TAGUIG CHAPTER featuring calisthenics headed by the Philippine Dragon Boat Team and cooling down with Tai Chi Lessons (6am-8am)
-Environmentalists and Sports Enthusiasts Celebrity Couple Paolo Abrera and Suzi Entrata-Abrera, together with their kids, are joining us in this Earth Day celebration as the AMBASSADORS of the Family Run.
OTher Activities includes:
– Launching of CCP's Art Installation / Opening Program (8am-9am)
– Environmental Heroes Cosplay/Mascot Performance (9am-10am)
– Earth Talk: Gardening, 3R, Green Living (10am-11am)
– Organic and Raw Food Cook-out (11am-12nn)
– Special Performances (12nn-1pm)
– Eco Amazing Race (1pm-2pm)
– HeART for Nature Auction (2pm-3pm)
– ROCK the Earth: Eco-Fashion Show and Music Jam (3pm-6pm)
– 3D Street Art / Best Exhibitor Booth Awarding (5pm-530pm)
Activities happening simultaneously during the day
– PICNIC for the PLANET
– ECO-MARKET ZONE: Organic Market, Vintage Finds, Local and Hand-made Fair. Highlights include "Kiddie Earth Warriors Bake Sale", "Celebrity Ukay-Ukay", "Make your own notebook", and "Design your own eco-bag"
– ROCK BALANCING
– DOODLE EARTH ECOKIDS Zone: Face Painting/Doodling/ Mural Painting
– WASTE-to-ART Exhibit
– iRECYCLE Zone: Waste Segregation & Composting Area
– LARONG PINOY Tournament & Workshop
– ECO-SOLUTIONS and GREEN TRANSPORT Exhibit
– BIKE Workshop
Contact Details:
For more information, please contact Tel. 9751317 or Tel. 3406709 or [email protected].
Visit www.facebook.com/EarthDayFest.