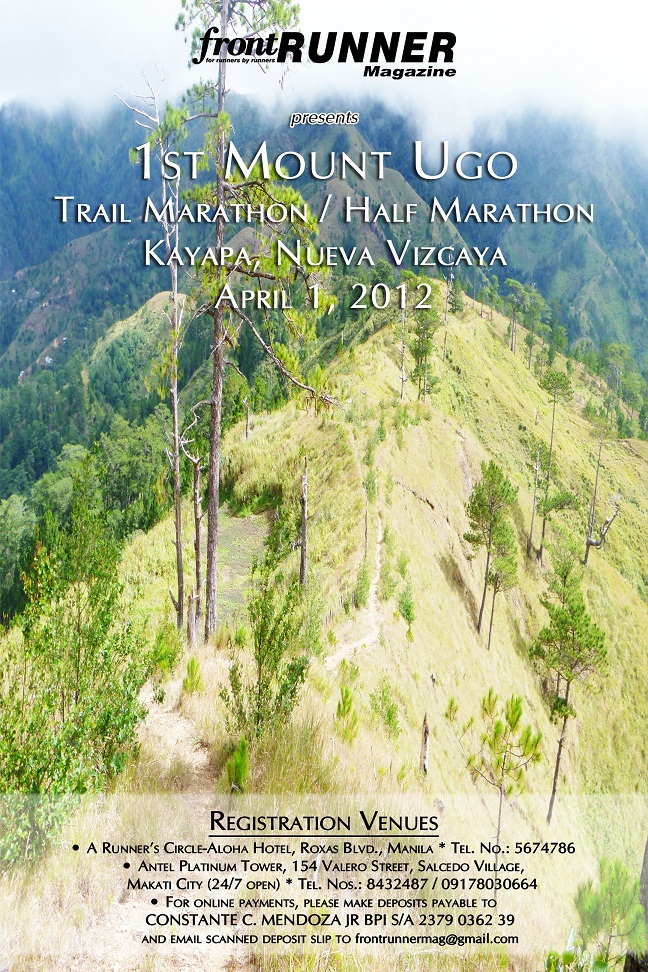 Join the 1st Mount UGO Trail Marathon / Half Marathon brought to you by frontRUNNER Magazine in cooperation with the Municipalities of Kayapa, Nueva Vizcaya and Itogon, Benguet. Check out the details!
1st Mount UGO Trail Marathon / Half Marathon
April 1, 2012 @ 4:30AM-5:00PM
Kayapa, Nueva Vizcaya – Tinongdan, Itogon, Benguet – Kayapa, Nueva Vizcaya
21K/42K
Registration Fees:
Marathon: PHP 1,250
Half Marathon: PHP 750
(inclusive of trail fees, shirt, medal and post-race meal)
Note: LIMITED SLOTS ONLY.
Registration starts on JANUARY 9 and closes DEFINITELY on MARCH 16.
Race briefing will be held at 3:00 PM on March 31 at the Kayapa Municipal Hall.
Race bibs will be distributed during the briefing or before the race starts.
Registration Venues:
– A Runner's Circle-Aloha Hotel, Roxas Blvd., Manila, Antel Platinum Tower, 154 Valero Street, Salcedo Village, Makati (24/7 available)
– Bank Deposit: Constante C Mendoza Jr, BPI S/A 2379 0362 39. Scan and email deposit slip to [email protected] for confirmation
THERE WILL BE NO ONSITE REGISTRATION.
NO CASH PRIZES, NO FRILLS, NO LOOT BAGS, NO FREEBIES and ABSOLUTELY NO WHINING.
Start/Finish(All events): Kayapa Municipal Hall (1121 Meters Above Sea Level-masl)
Gun Start:
Marathon Start: 4:30 AM
Half Marathon Start: 5:00 AM
Marathon Turnaround: Mt. Ugo Summit Marker (2170 masl)
Marathon Cutoff time: 6 hours SUMMIT/12 hours FINISH
Half Marathon Turnaround: Bundao (1835 masl)
Half Marathon Cutoff time: 12 hours FINISH
For More information about the Race, Trail and Tips -> visit https://bugobugo85.wordpress.com/