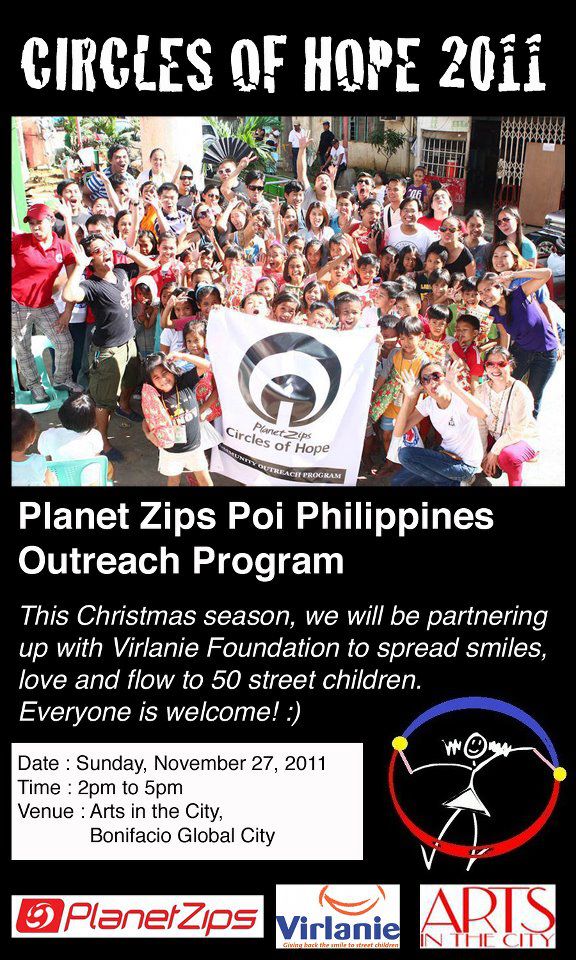 Planet Zips' outreach program, the CIRCLES OF HOPE, is happening on November 27, 2011 (2-5pm), at Arts in the City, the Fort. On their second year, they will be partnering up with Virlanie Foundation to spread smiles, love and flow to 50 street children.
To be a part of this fun-filled event, you may:
(1) GIVE BACK THROUGH YOUR CONTRIBUTION – We are raising funds for the school supplies and loot bags that we wish to give to the children, and a certain amount as a donation to the foundation itself. For the Planet Zips Poi Academy students who wish to take part, you may give your contribution to your instructor on or before November 16, 2011. (Wednesday)
AND/ OR
(2) PARTICIPATE and become an Ate/Kuya for a day to one adorable kid from Virlanie Foundation and:
a. Help your kid win in the game/s!
b. Bond with your kid while doing arts and crafts (fun poi-making workshop! )
c. Teach (or learn with) your kid how to spin poi (really something to look forward to!)
d. Spread smiles, laughter, and flow to all the participants and the kids
e. Help in making the day memorable with circles of love, happiness and hope.
This is an open event and EVERYONE is invited! For the friends, family and members of the poi and fire/flow/object manipulation arts community, you may contact and coordinate with Jamie (09278719835) for your inquiries, contribution and/or participation. :)
Spreading the love for poi has never been this fulfilling!
FREE YOUR FLOW!
-THE PLANET ZIPS TEAM