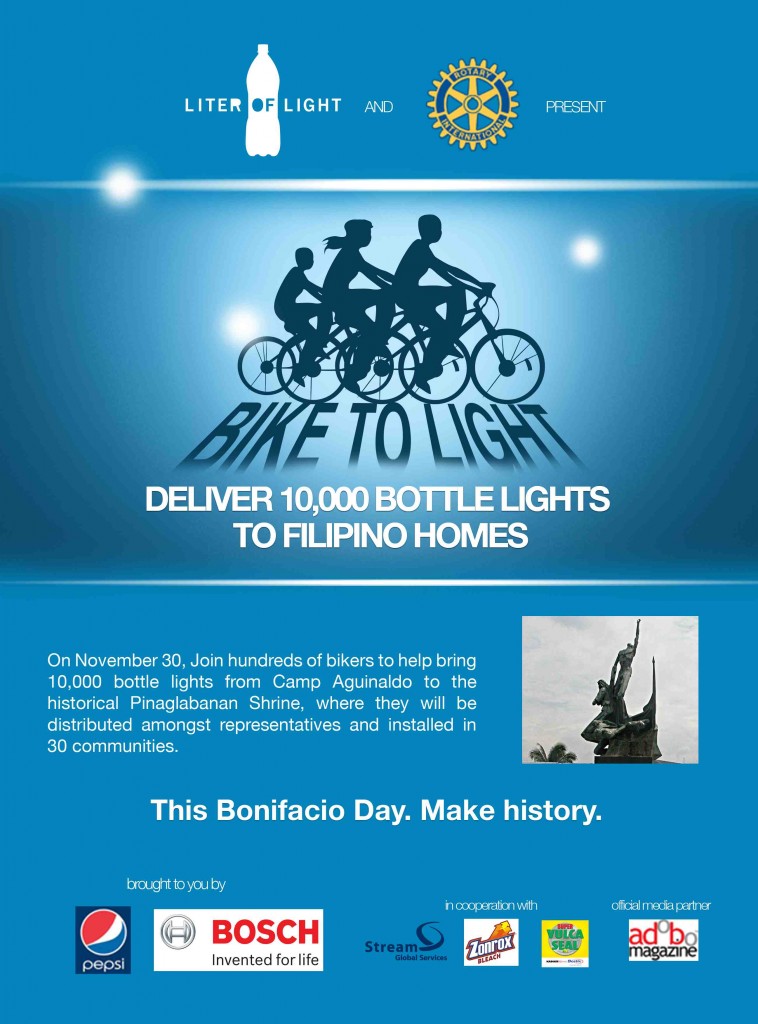 Let's all support this momentous event as hundreds of bikers help to bring a total of 10,000 solar bottle bulbs from Camp Aguinaldo to the historical Pinaglabanan Shrine, where they will be distributed amongst volunteers and installed in 30 communities on November 30, 2011!
Bike To Light 2011
November 30, 2011
Camp Aguinaldo, Quezon City
Registration Fee is FREE!
– FREE FIRST PRINT ' LITER OF LIGHT' T-SHIRTS FOR THE FIRST 1000 BIKERS
– FOOD AND DRINKS TO KEEP UP THE ENERGY OF ALL YOU REVOLUTIONARIES
Be part of the documentary that will be shot on this day which snippets will be shown in Durban South Africa on December 6, 2011 on the Climate Change Convention where Liter of Light is invited to speak to 500 world leaders ! Help make this BIG for the Philippines who is leading the way in community built solar lighting.
This Bonifacio Day, Commemorate History. Make History. Be a part of a New Revolution!
Registration Venue:
To register online – https://www.isanglitrongliwanag.org/biketolight
Event Schedule:
Details: Camp Aguinaldo, Quezon City to Pinaglabanan Shrine, San Juan. View Bike Route
6 AM – Registration opens. Participants to pick up bottle bulb, t-shirt and messenger bag from designated area.
7 AM – Program starts
7:45AM – Deployment of bikers
9 AM – Estimated arrival at San Juan Symbolic turnover of lights to community representatives
Check out YouTube Video:
For more information please e-mail [email protected].