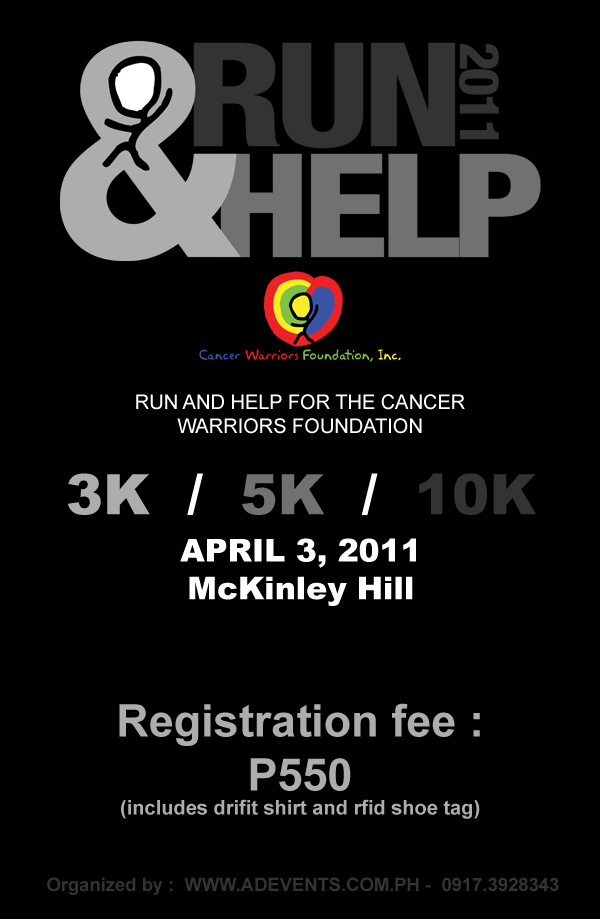 Here's a letter from the Run and Help (for Cancer Warrior Foundation) Organizers:
It is with deep sadness that we at Cancer Warriors Foundation and the organizing team of RUN AND HELP announce the postponement of the benefit run slated on April 3 to a later date due to low turnout. Pushing through with the event with little participation runs the risk of incurring more losses for the organizing team which will grossly affect the funds expected to be raised for Cancer Warriors Foundation. We are moving the event to extend the registration period so more people can run with us and help Cancer Warriors Foundation.

We thank those who already registered and hope that you will hold on to your race kits until we find a suitable date for the event. Let's continue to engage in promoting this run to further our cause of helping patients with childhood cancer live a better life.

For updates, please log on to https://www.c-warriors.org/ , https://adevents.com.ph or find us on Facebook, just type Run and Help.

Again, our sincerest apologies. We look forward to running with you in the next few months.