[ad#square-middle]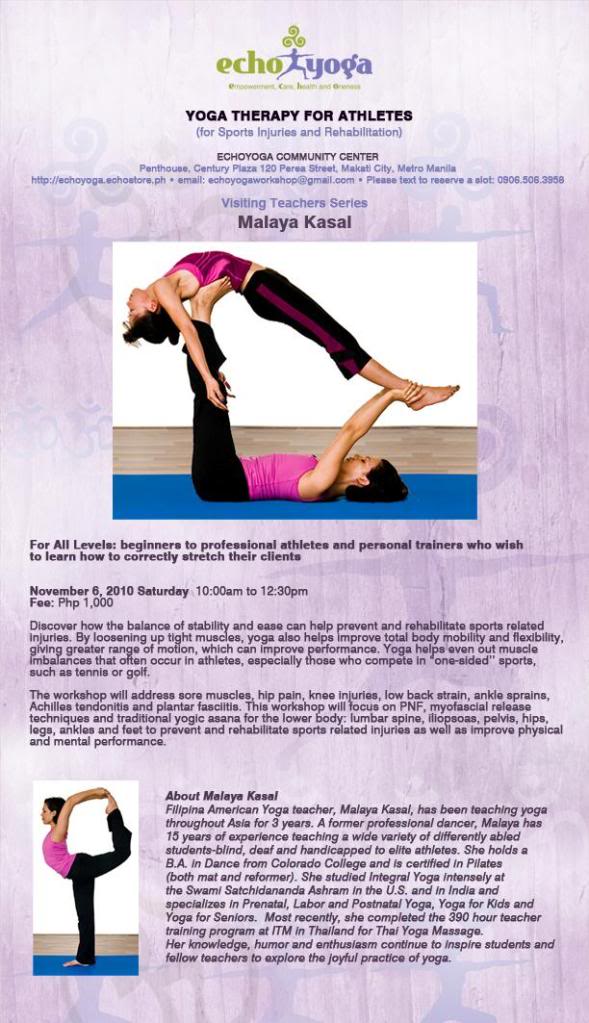 Discover how the balance of stability and ease can help prevent and rehabilitate sports-related injuries. By loosening up tight muscles, yoga helps improve total body mobility and flexibility, giving a greater range of motion and improving performance. Yoga helps even out muscle imbalances that often occur in athletes, especially those who compete in in "one-sided" sports such as tennis or golf.
YOGA Therapy for Athletes (for Sports Injuries and Rehabilitation)
November 6, 2010 @ 10 a.m. to 12:30 n.n.
ECHOyoga Community Center
Penthouse, Century Plaza, 120 Perea St., Perea St., Makati City
Registration Fee: P1,000
The workshop will address sore muscles, hip pain, knee injuries, low back strain, ankle sprains, Achilles tendonitis, and plantar fasciitis. This workshop will focus on PNF, myofascial release techniques and traditional yogic asana for the lower body: lumbar spine, iliopsoas, pelvis, hips, knees, legs, ankles, and feet to prevent and rehabilitate sports-related injuries as well as improve physical and mental performance.
About Malaya Kasal
Filipino-American yoga teacher Malaya Kasal has been teaching yoga throughout Asia for three years. A former professional dancer, Malaya has 15 years of experience teaching a wide variety of differently-abled students — from blind and handicapped to elite athletes. She holds a B.A. in Dance from Colorado College, and is certified in Pilates (both mat and reformer).
Malaya studied Integral Yoga intensely at the Swami Satchidananda Ashram in the U.S. and in India. She specializes in Prenatal, Labor, and Postnatal Yoga, Yoga for Kids, and Yoga for Seniors. Most recently, she completed the 390-hour teacher training program at the Institute for Thai Massage in Thailand for Thai Yoga Massage. Malaya's knowledge, humor, and enthusiasm continue to inspire students and fellow teachers to explore the joyful practice of yoga.
For more information about this:
ECHOyoga Community Center
Penthouse, Century Plaza
120 Perea St., Perea St., Makati City
Website: echoyoga.echostore.ph
Email: [email protected]
Text: 0906-5063958 to reserve slots