[ad#square-middle]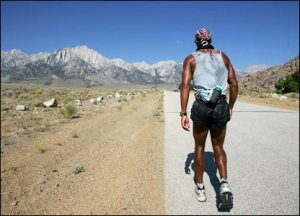 Dreaming to become a Pinoy Ultramarathon Man? Now is your chance to get trained for FREE!
In preparation for the 2011 Bataan Death March 102K Ultramarathon Run, the Bald Runner's Events Management will conduct a FREE Ultramarathon Clinic starting on the month of October 2010. This clinic will consist of lectures on related topics about ultramarathon; "tips" and guides to finish the race and the conduct "test runs" on the actual route of the race. The following are the details of the clinic:
WHAT: FREE BDM 102K Ultramarathon Clinic
WHO: A "Must" for 1st time applicants for the event. A runner-participant must have finished a Marathon Race with at least 6 hours or better as finish time. BDM 102 "veterans" are not required to attend the lectures. However, they are encouraged to join the "test runs".
WHEN: Every 1st & 3rd Friday of the month. From 6:00 PM-7:30 PM. The first clinic/lecture will be held on Friday, October 1, 2010.
WHERE: 1st Floor Lecture Room, Philippine Army Officer's Club, Headquarters Philippine Army, Fort Bonifacio, Taguig City
ATTIRE: Casual/Athletic or Sports Attire
The lecture will start at exactly 6:00 PM.
For more information and inquiries, visit https://baldrunner.com/