[ad#square-middle]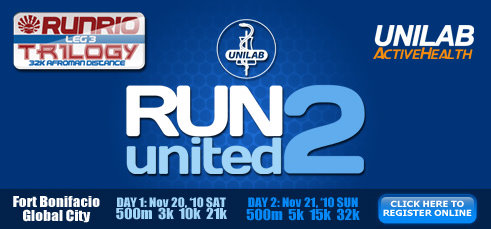 Unilab Run United 2 scheduled on November 20-21, 2010 is one of the most anticipated running event of the year, a lot have been wondering why this event is scheduled for 2 days and the teaser ad that Runrio released today definitely shed some light on the subject.
Based on the teaser ad, it seems like it's going to be 2 running events with 4 categories for each event day.
November 20 – 500m / 3K / 10K / 21K
November 21 – 500m / 5K / 15K / 32K
I know a lot of people are excited for this event already, registration has not yet started though, I will update this site once it opens.
I wonder if there is anyone planning to run on both days… are you?