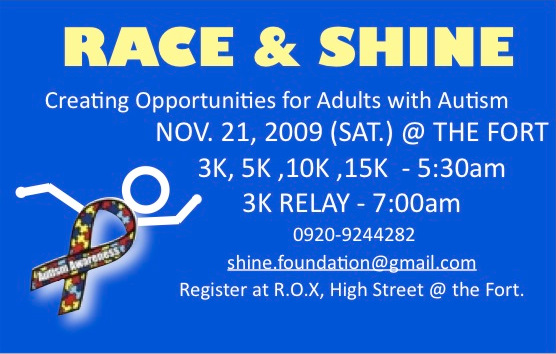 RACE AND SHINE (CHARITY RUN FOR AUTISM AWARENESS) has re-scheduled its race one day earlier to November 21, 2009 (SATURDAY)!
Venue remains at THE FORT! Great prizes await the runners from some of our sponsors like NIKE PARK, PLANET SPORTS, RUNNR, CPK, CEBU PACIFIC, and our official drink sponsor VITWATER!
Registration forms are available at R.O.X. and soon at the NIKE stores. Other registration venues and dates shall be announced very soon! Lets all join and support the race and help individuals with Autism SHINE!
For more details you may text 0920-9244282 or email [email protected]
Download Registration form Here:
[download id="19″]