Before Breast Cancer awareness month ends, we would like to share an athlete's inspiring battle against Breast Cancer. Sheilla Gagui, a wife, mother of two, and triathlete, had recently finished her second full Ironman. She was at her fittest as a triathlete, when she got news from her doctor that she tested positive for Breast Cancer.
Sheilla and the Tri Life
Sheilla is no stranger to training and competitions, as she did gymnastics and was part of ICA/Xavier's swimming varsity team at a young age. She has always been used to being physically fit, due to her early varsity life. As she graduated college and started working right away, Sheilla got married and started a family. After giving birth, Sheilla missed her physical strength and fitness. She began her weight loss journey by trying kickboxing. After a few months of that, Sheilla felt that she could still do more and be more active. "Masaya naman ang boxing, pero parang bitin," Sheilla laughingly shared, as she also explained that her boxing trainers started to have a hard time catching up with the rounds that she wanted to do.
Her introduction to the triathlon world happened when a friend invited her to join an open water swim training in Subic. It felt great to be in the water again, so Sheilla found ways to continue swimming in Manila. Around October 2015, she went to Ultra in Pasig, just so she could continue swimming as a workout. She found coaches there who helped her get her early swimming fitness back. Her coaches and friends in Ultra started inviting Sheilla to do triathlon training with them. She started running and swimming in Ultra, and with a borrowed bicycle, she would join the group to bike around the MOA complex. "From my gymnastics and swimming experience, I was used to juggling three or more events during competitions. So doing three sports, one after the other made sense to me," Sheilla mused as she recalled how starting triathlon training got her excited.
In the same year, Sheilla joined two sprint triathlons. In 2016, she started joining runs and other races so that she could prepare for her first 70.3 Ironman. Two years later, she joined Ironman PH in Subic and completed her first full Ironman. Sheilla fit so well in the tri life. What helped her pursue it was the feeling of being able continuously improve. "There's always room for improvement. I think I got addicted to getting my PR (personal record). Kaya ko pa kaya i-push? Can I still make my time faster?" Doing triathlons is all about your personal best, where the goal is to get your best swimming, biking, and running time. That although Sheilla's "why" started with weight loss, she carried on because of the feeling of improving all the time. She knew it was also making her a better person.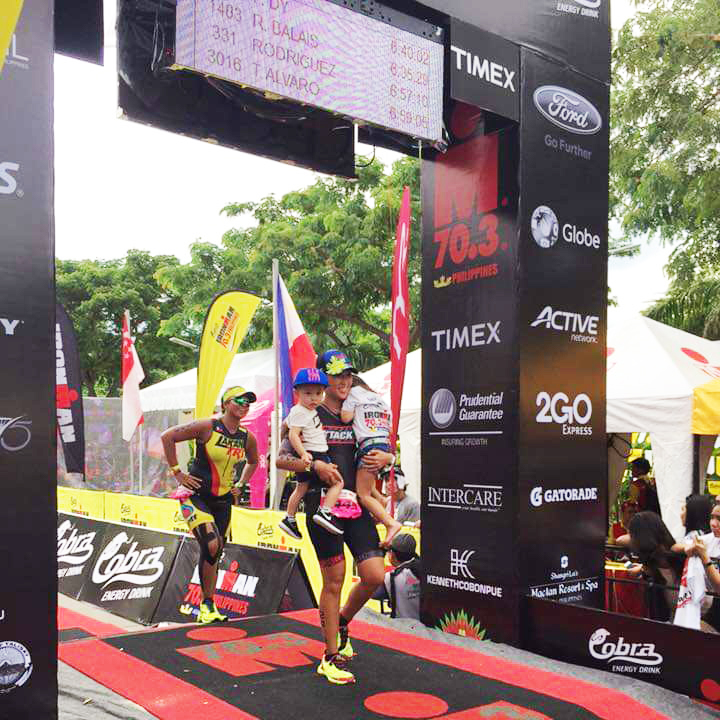 It wasn't always easy
Since Sheilla had just given birth, when she started her fitness journey, the long hours of training was something new to her husband. She was still breastfeeding, the scheduling was a challenge. But Sheilla said that she loved tri so much that she was willing to compromise so that she could continue. Instead of long, outdoor bike rides, Sheilla got an indoor bike trainer so that she could stay home and easily take care of her kids. Her swim trainings and runs were quick, and she did those near her home.
The most remarkable feat Sheilla did was when she joined the 2016 Audax 200, she was breast pumping at every pit stop. Audax is a group that promotes randonneuring, a non-competitive, time-limited, long-distance cycling event. Imagine cycling 200 kilometres, stopping every 2 hours so that you could breast pump! Cyclists who join the Audax normally stop every 50 kilometres to get their cards signed by the organizers. They also use this time to eat, drink, and rest for a few minutes before setting off again. Sheilla would eat quick and then allot 15 minutes to breast pump for her baby. She even quipped that cycling as a breastfeeding mom was not easy, because she was blessed with a good supply of milk! Sheilla recalled how she used to joke that with her steady supply of milk, "siguro naman hindi ako magkakaroon ng breast cancer, no?" But to her surprise, about 4 years later, she would get that fateful call from her doctor.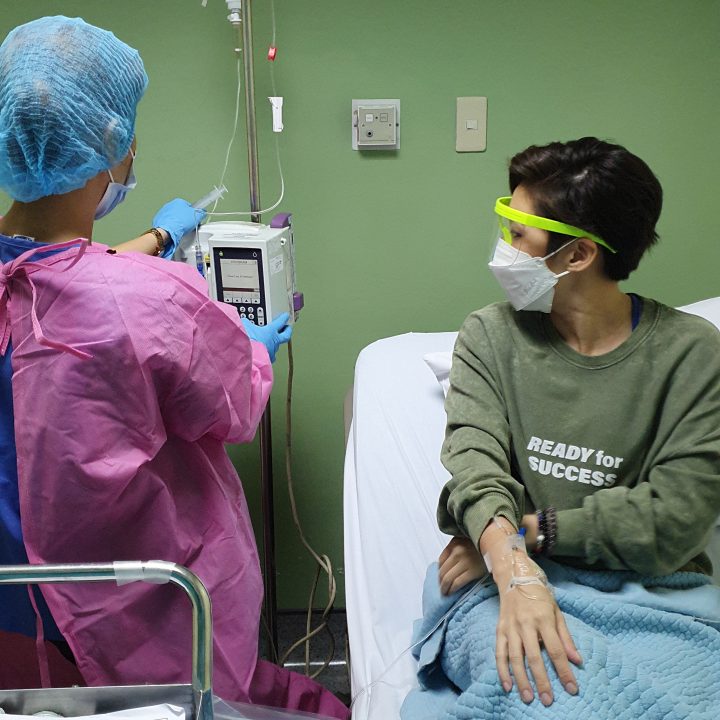 Learning about her Breast Cancer
Sometime in March 2020, it was a normal day for Sheilla. She was taking her usual shower when she discovered a lump in her chest. When she told her husband, they both decided to have it checked immediately. Initially, her OB said that it seemed benign. But a voice inside Sheilla's head was telling her to have more tests done. Unfortunately, they had to wait a couple of months, since COVID was getting worse in Manila, and the country was experiencing its first Enhanced Community Quarantine.
Around May 2020, after her biopsy, her doctor called her to say that she had tested positive for Breast Cancer. Sheilla said it was shocking news, to learn that she had the big C. But, she and her husband acted fast. They immediately proceeded to doing all the necessary tests, to know if the cancer had spread and where. Fortunately, all test results turned out well and she was cleared to undergo her mastectomy, which took place in June 2020.
This is what God had trained her for
It took Sheilla a whole month to rest and recover from her mastectomy. She waited to get clearance from her to doctor to go back to training. She first got clearance to swim. It took a lot of patience to keep swimming, since she couldn't lift her arm fully, on the side where her surgery was done. Sheilla remembers the slow laps she would do in the pool, struggling to lift her left arm.
After her first four chemo sessions, Sheilla got clearance from doctor to bike and run. Again, she had to be kind and patient to herself as she began again. On her first try, she was tired from 30 minutes of biking. "Na knock out ako after 30 minutes. I had to sleep and rest after," she recalls. But after that, it became 45 minutes of biking, then one hour, until she was able to bike for 1 and a half hours. On other days she would do slow runs with her kids, in the afternoons. Sheilla was determined to keep moving, even with her chemo therapy. "It made me feel good, it kept me positive."
However, during the next four chemo sessions, Sheilla could not run a lot anymore, due to the fatigue from chemo and other medicine. At this point, she needed two days of rest before her session and one day of rest after. Sheilla said that she was lucky to not have side effects from chemo, like vomiting, and knew in her heart that this is what she had been training for all along.
"God really trained me, not just for tri. But God trained me for my cancer journey. Everything that led me here was to help me get stronger for my cancer."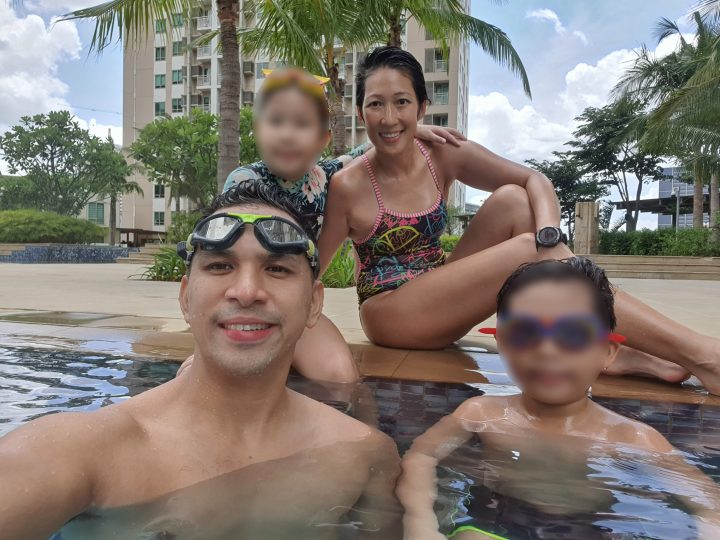 Keeping a positive outlook
Sheilla mentioned how blessed she was for having a strong support group. Her husband, her kids, family, and friends all contributed to keeping her strong and happy. Another thing that kept her going was her triathlon training. She learned to play things by ear, test the waters, and listen to her body.
But most of all, Sheilla knew it was God who truly helped her through this. "When I was doing tri, alam ko I can finish it, kasi I trained hard for it. I am just executing what I prepared for, alam ko kaya ko. Pero nitong cancer, wala akong way to say to myself 'kung ako lang kaya ko to.'" Sheilla knew that cancer was not something she could overcome alone. She knew she overcame cancer with God's grace, the help of her family, and friends that became family.
Another valuable lesson Sheilla learned is to stay positive. She said that there was no point in dwelling and saying woe is me. She told herself "You have to move forward. O sige na, nandito na e. Labanan na natin."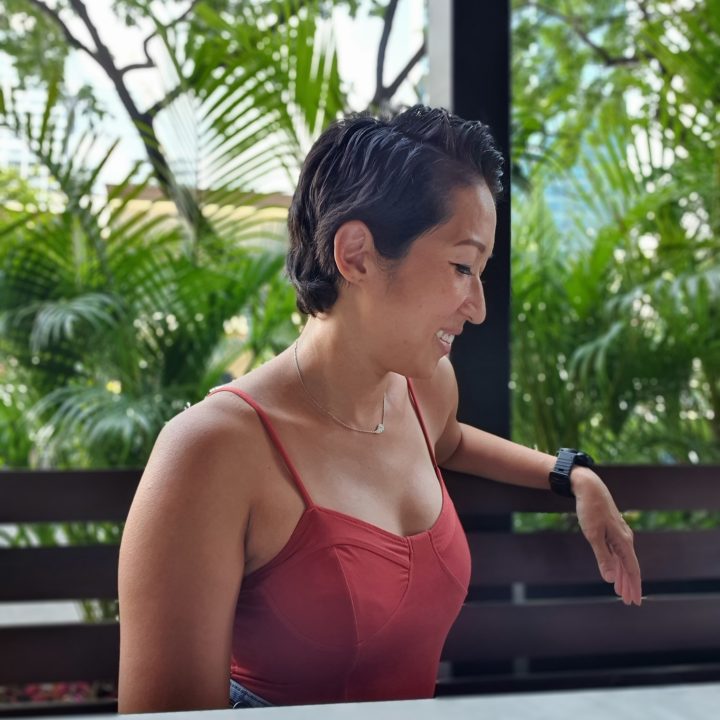 "Magpapakalbo ako in style!" she also told herself, and shared that she recalls not being too sad about having cancer. She felt more sad about gaining weight and losing the A-game fitness she had, when she got the news. She understood it was inevitable to be experiencing fatigue, to be gaining weight because of the medicine and treatment, but it still made her sad to gain 20 pounds. "Hindi ako na sad sa cancer ko e. Sa weight gain ako na sad. I didn't want to buy clothes kasi ibig sabihin na accept ko na weight ko at yung fitness level."
After remission, Sheilla worked out three times a day. In the morning she would bike, at mid-morning she would either jump rope or do strength training, and then run with the kids in the afternoon. She also started watching what she ate. She lessened sugary food and ate more well-balanced meals. In two months, Sheilla lost the 20 pounds.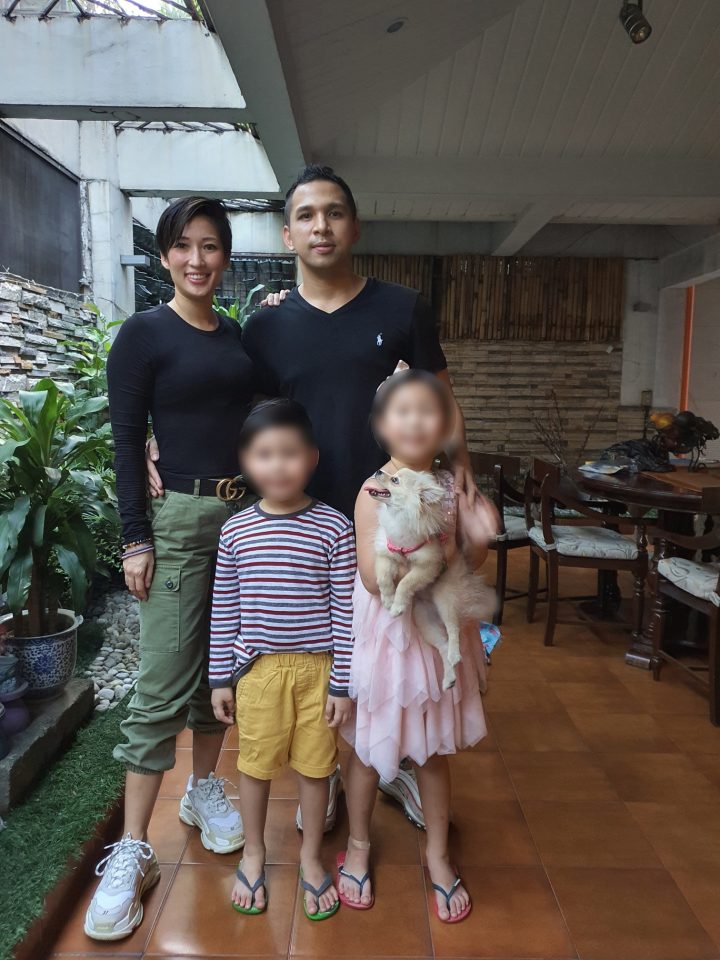 Be healthy for yourself and your loved ones
What does a cancer survivor have to say to fellow Pinoy Fitness athletes? She reminds us that whatever our passion is, don't stop doing it. Keep doing what makes you feel good, as long as it makes you a better person. Even with obstacles, "'Wag mo pigilan. Go lang!"
"I believe workout is important physically. We have to take care of our body. Give yourself 30 mins a day to move – whether it's walking, jump rope, or running. Take it one day at a time, baby steps lang." And as a final reminder, Sheilla also said "Boys, you can also get breast cancer so please check yourself and don't be shy if you find something unusual, have it checked." Early detection is key!
Take care of yourself. Know your body well enough, so that if you feel something, like a lump, you will know when something is not right. Be cautious, do regular check-ups, and most of all be healthy so you can care for others or your family. You're not just doing this for yourself, but also for them.
If you want to connect with Sheilla regarding Breast Cancer awareness you can reach her via her Instagram account here – https://www.instagram.com/sheilla__g