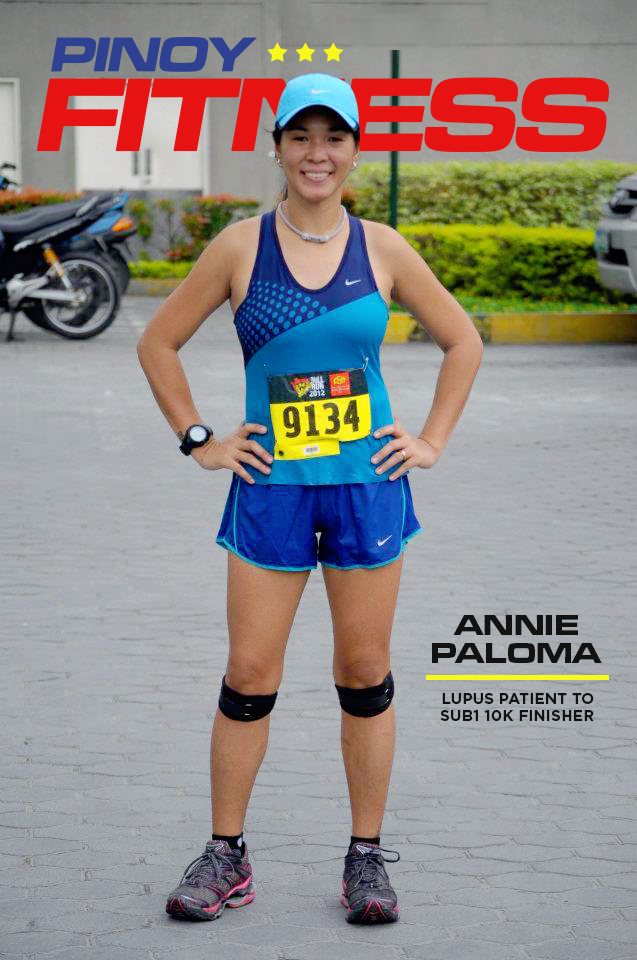 What will you do if, at the ripe age of 20, a doctor will tell you that you have an incurable disease? That you will always have a weak immune system, weak joints, a high risk for cardiovascular disease, kidney disease, and stroke…
And that you should never run anything more than 10K.
That's exactly what Annie Ponce Paloma heard when she was only 20 years old.
Annie was devastated upon learning that she has Lupus, a disease wherein the immune system malfunctions and fails to differentiate healthy tissues from foreign invaders. From a very active mountain, wall, and rock climber in her college days, she was there, sitting in a doctor's office listening to how she can never be able to do those things again.
For several years Annie stayed away from any type of physical activities that she used to enjoy. Until one day her friend asked her to run around a park in Pateros.
"Pinahirapan ko talaga siya (sa pag-aaya). January 2011 niya ako unang inayang tumakbo pero pumayag lang ako nung April na"
When asked what finally made her decide to run, Annie laughed and said "Kasi lumaki na ako!"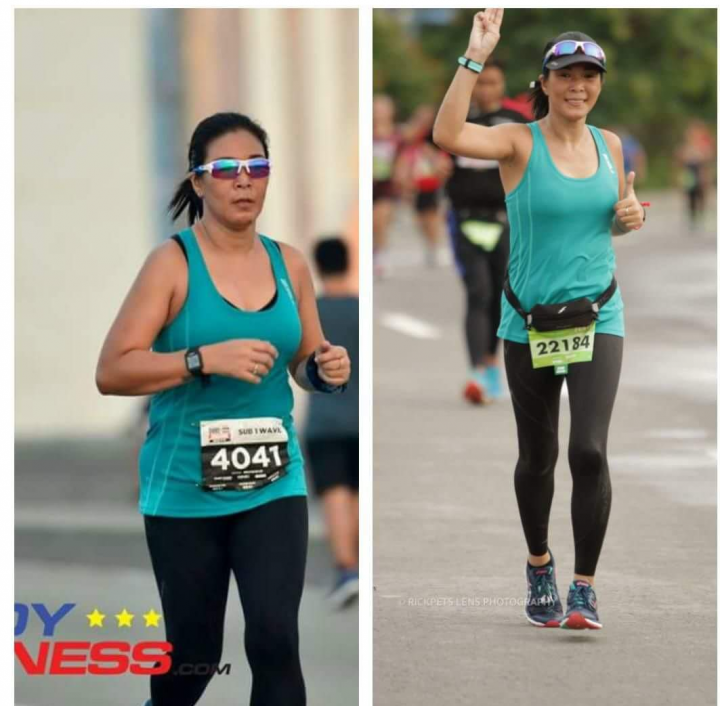 Running with Lupus
To Annie, running was love at first sight. She enjoyed running so much that every day she would do 5K or 10K and would join races every weekend. But more than just losing weight, running has helped her overcome the limits set by being a lupus patient.
"2011 was the year I started running and since then I have never been hospitalized"
Because being a Lupus patient also means that you are sensitive to sun exposure and has possible joint ailments, Annie makes sure to run with compression tights for long distance running (21K and up) and uses patella support if running short distances.
Aside from running, Annie also leads a very healthy lifestyle as she does cross training and practice healthy eating habits every day.
The struggle to get that SUB1 Finisher Medal
Pinoy Fitness first launched the SUB1 10K Challenge in 2013 – a run where only the participants who finish the 10K race on or before 60 minutes will receive a finisher's medal.
This was also the year when Annie started her 6-year journey to get the SUB1 Finisher's Medal. Every year since 2013, Annie would sign up early and join the SUB1 10K challenge, and for 5 years, the universe seemed to not be in her favor.
"Sabi ko nga…Bakit kaya parang may sumpa ako sa Sub1?"
In 2017, Annie went the extra mile and flew all the way to Cebu just to join the Pinoy Fitness SUB 1 Cebu for the 2nd time that year! She finished the 2017 SUB1 Cebu at 1:03. Just 3 minutes shy of the much-awaited medal!
This was a very memorable experience for her as she cried upon realizing that she didn't make it again. "May 20, 2017. Hindi ko makakalimutan yan kasi life changing talaga siya sakin!" Annie said while recalling how frustrated she was after the 2017 SUB 1 Cebu. Imagine having to fly to Cebu, book a hotel for a few days, and basically be as all out extra as you can be in a 10K run because you were sure that this time, you're finally going to get that medal…only to learn soon that you won't.
The final ultimatum
"Sabi ko sa sarili ko pag ito hindi ko nakuha hindi na ako tatakbo sa SUB 1 "
The Cebu experience changed how Annie thought of the SUB 1 Challenge. She took her training seriously this time around by incorporating speed training and joining more 5K and 10K races to focus on her speed. In fact, during her training, Annie managed to get first-place in the Bandana run last February 10, 2018, by finishing 5K in just 26 minutes! A quite remarkable feat for the 43-year-old Annie Paloma who has been battling Lupus for more than two decades already.
"Nagreduce ako ng 8 kilos as preparation for the SUB1 10K 2018"
She also changed her diet to lose weight and be able to run faster. She didn't eat rice and ate boiled kamote instead for her daily carbs. She also focused on eating more vegetables and totally quit on eating junk foods. Boiled eggs, kamotes, and saging na saba became her staple food.
And finally, after 7 attempts at the SUB 1, Annie can now look back and say that she did it! She has finally conquered the 10KM in just 56 minutes!
"Alam mo eto talaga of all the medals ung pinakapinaghirapan ko. Natatawa and natutuwa ka na lang kasi maiisip mo na wala talagang impossible"
Annie was ecstatic when she was recalling to us how it felt in the 2018 Sub1 Challenge. "Nung alam kong kuha ko na siya, nag gogoosebumps talaga ako at umiiyak habang tumatakbo. Pagkasabit ng medal, nagselfie kagad ako and sinend ko sa mga kabibigan kong alam na ultimatum ko na to…Daig ko pa ang natapos sa full marathon (sa iyak ko)"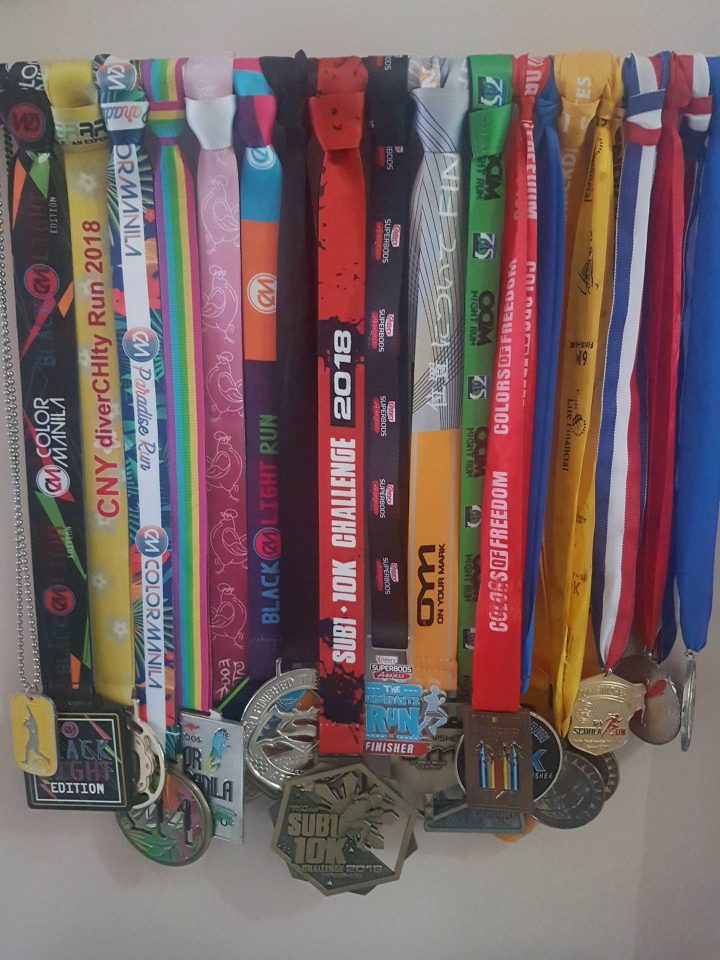 Tips for aspiring SUB 1 finishers
As a veteran of the SUB 1 10K challenge, we asked Annie to share some tips on how to be a SUB 1 Finisher as well.
"If you aim for it you really have to work hard for it. Hindi naman kasi yan biro. Everyone can finish a 10K event pero if you are aiming for a SUB 1, you should have a preparation. You should be disciplined too."
While training for the SUB 1, Annie emphasized how good sleeping and eating habits can drastically improve your time. Her main advice is to aim it for yourself and not for bragging rights. This way you can focus on your training more.
As a lupus patient who was once told that this was impossible, Annie wanted to prove to herself that she is stronger than this disease. She wanted to prove to herself that she has what it takes to be a SUB 1 Finisher.
Eight years ago, she was the girl who's in and out of the hospital, now Annie Paloma is a strong woman who has finished 14 full marathons, 7 ultramarathons, and is a SUB 1 10K Finisher.