Ian Banzon: The Woman Who Ran on Air
Nike challenged their Nike+ Run Club Coach, Doctor, and multi-sport athlete, Ian Grace Banzon to run on air and this photo happened: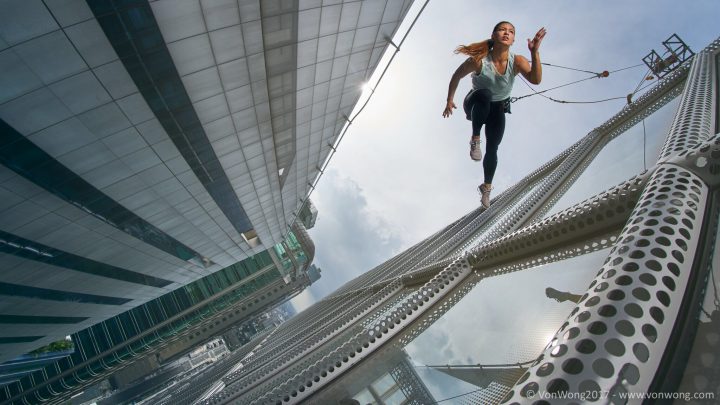 Photo by VonWong
To make this amazing photograph possible, Nike had to fly in the world-renowned photographer, Bon Von Wong, all the way from California and set-up for a photoshoot in a 30-storey building right in the heart of Taguig. But what's an action shot without a person in action?
The Woman in the Stunning Photograph
Ian (pronounced as Ai-yan) Banzon has been an athlete since her grade school days. She first fell in love with swimming and became a consistent student-athlete since then. It was also this sport that paved way for a college scholarship as part of the Ateneo De Manila University Swimming Team.
In fact, in 2008, she was one of the swimming varsity players who brought Ateneo their first ever UAAP Women's Swim Title. And if this is not enough of athleticism yet, Ian also did all sorts of active recovery during their off-season in UAAP. It is during the off-season that she found her love for doing other sports like wall climbing, badminton, triathlon, and of course, running.
What's more amazing is how she managed to continue the student-athlete life even when she entered Medical School already! "When I entered med school, tigil ako sa lahat (ng sports)". But just after one sem of purely med school, she found herself lining up for the swimming team. In fact, it was in her 2nd year of Med School when she even became part of the Water Polo National Team! "Med School is really stressful and sports really help you cope with it"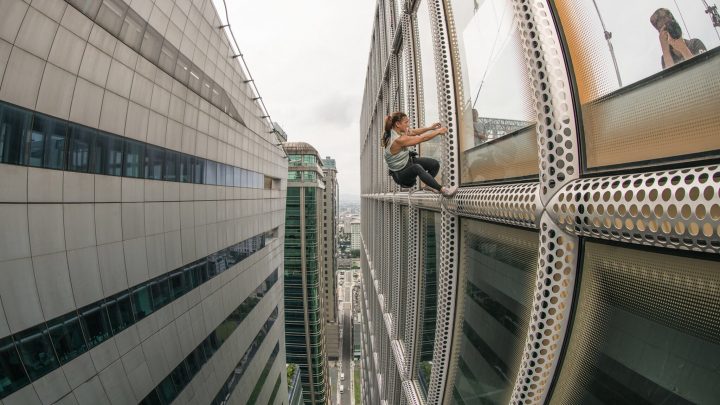 BTS photos by Ian Celis Productions
Learning to Love Running
Just like most of us, it wasn't "love at first try" for Ian and running. "I used to not like running a lot", said Ian while telling the story of how she would stop running and rest behind a wall when her coach is not looking. But over time, she learned to love the sport as well.
"What I like about running is that you can do it anywhere anytime. When I travel, I run". She talked about how she enjoys participating in Nike Run Clubs (NRC) whenever she goes in a different country.
Her Journey with Nike
Nike originally contacted Ian Banzon to be part of the Nike Training Club. She was in 5th year then of medical school at the Ateneo School of Medicine and Public Health (ASMPH). At that time, she was already doing her internship which means more than 24 hours shift in the hospital multiple times a week. Her busy schedule – balancing med school and training for Water Polo National Team – made her unavailable at that time for the Nike Training Club
"I couldn't shake off Nike. I really really wanted to work with Nike"
So in 2015, she emailed Nike and a few months after, they were scouting her to be a coach in the Nike Run Club. But there was a big dilemma: Nike's Coaching Training in New York was scheduled only a few weeks before her board exam as a doctor!
Juggling Med School, SEA Games, and Nike Training
"Medyo monumental yung training para sa akin". It was a very BIG decision for Ian because she already lost precious time for reviewing when she, along with her teammates, represented the country in 2015 SEA Games. Her schedule then revolved around studying for AT LEAST 8 HOURS A DAY for the board exam and training for the Water Polo National team. She told herself that after competing in the SEA games in June 2015 that's it – it's all going to be studying from then on until the board exam in August.
"It was difficult pero dasal lang talaga…If God didn't really want me to go to this training, it would have been sakto sa board exam"
She reminisced how that one week got by with Nike Run Club at 6 am the morning, Coaching lectures from 8am to 5 or 6 pm, and another Nike Run Club in the evening – on top of this, she still had one extra night of work to answer the review questionnaires here friends are currently doing.
Ian came back in the Philippines only 10 days before the board exam. But her hard work certainly paid off. She passed the 2015 medical board exam and soon became Dr. Ian Banzon, M.D, the Nike+ Run Club Coach.
Making the Shot Happen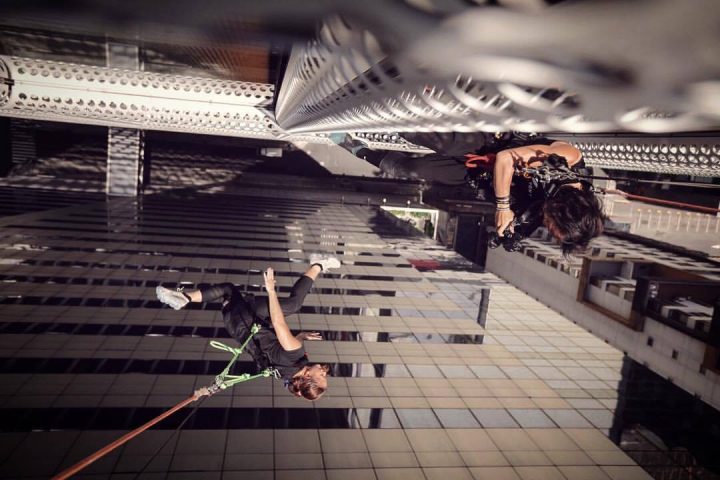 BTS photos by Ian Celis Productions
When asked if they had training on running on air prior to the shoot, Ian smiled and shook her head before saying "No, we only had a practice shoot a day before". This made the actual shoot day a challenge since their bodies were already sore from the practice shoot. But this did not stop Ian Banzon from doing her best during the actual shoot.
"I would just jump off the building and really run on air until I crash into the building"
"I would just jump off the building and really run on air until I crash into the building" was how Ian described what she did for the shoot. One can imagine the difficulty of this challenge because they were not simply hoisted downwards, she had to maneuver her whole body to run sidewards.
An everyday Person doing Extra Ordinary Things.
A famous photographer once said, "There is one thing a photograph must contain: the humanity of the moment". Ian is the type to be always up for anything adventurous and unconventional. But hanging on a 30-storey building really has a way of getting on anyone's nerve.
"At that moment, fear would really creep in but then again I thought why would I even be afraid it's not gonna help the situation"
The inevitable truth Ian Banzon admitted: that there was fear in that moment. Yet, looking at the final shot that made it in the Nike Ad, all of us can agree that it shows only composure and strength of an athlete. There was fear and it had crept in but the humanity of the moment was Ian Banzon's realization that fear is a choice and she chose to ignore it and focus and her work – and that made this action shot all the more stunning.
For us, this picture captures so many things that go way beyond advertising the Nike Vapormax, which is an amazing product on its own. It captures the true spirit of the athlete starred in the picture – an everyday person doing extraordinary things.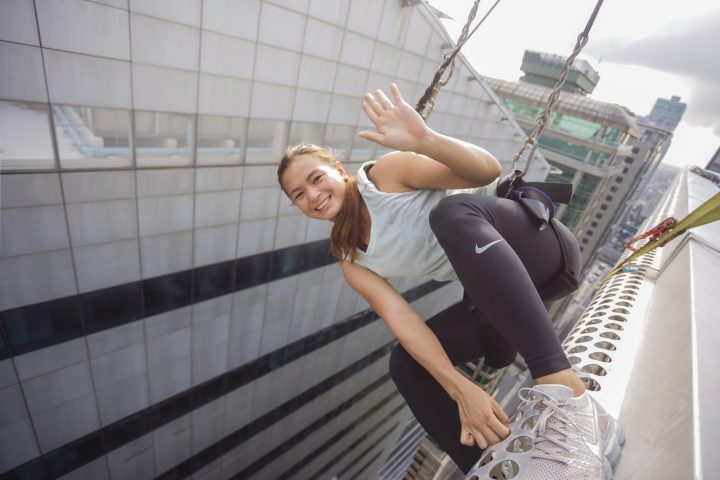 BTS photos by Ian Celis Productions