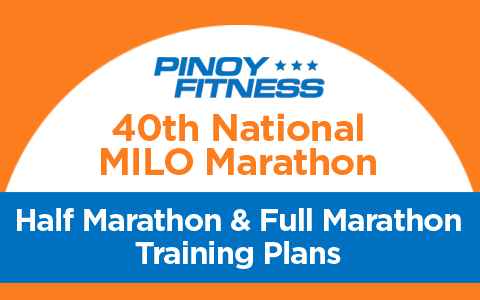 Aiming to run for the upcoming Milo Marathon Manila Leg on July 31? Don't know what to do or don't have a training plan yet? Then download our Milo Marathon and Half-Marathon Guide here!
We tweaked the Training Plan from the Runner's World Big Book Marathon and Half-Marathon, converted it into Kilometers and added suggested local races on where you can do your long runs.


For complete details and registration information about the upcoming Manila Races, Check out our Events Calendar Page
Notes: from Big Book of Marathon Book
REST – Take a REST DAY, or moderate cross-training
STRIDES – Accelerate over 100 meters until you reach 90 percent of all-out effort. Hold of 5 seconds and smoothly decelerate. Walk to recover between each stride.
YASSO 800s – run 800 meters at a time that's "equal" to your marathon time. If you are targeting a 5:10 marathon, your 800-meter repeat should be 5 minutes and 10 seconds. Jog 400 meters in between 800s.
For Instant Updates – Follow US!
https://www.facebook.com/pinoyfitness
https://www.twitter.com/pinoyfitness
https://www.instagram.com/pinoyfitness
PF Online Community -> https://members.pinoyfitness.com
PF Online Shop -> https://shop.pinoyfitness.com
Like this Post!? Share it to your friends!