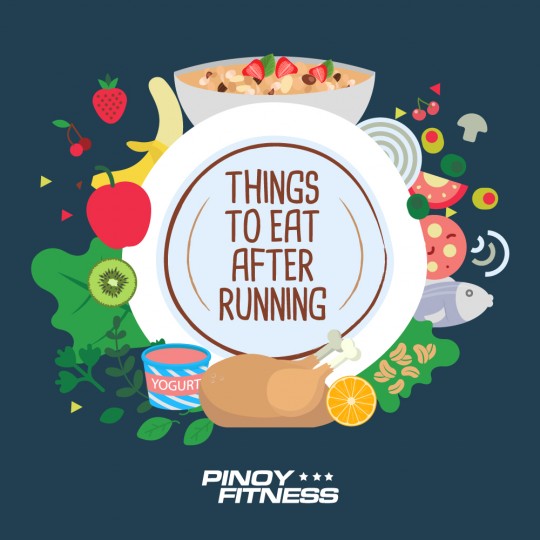 10 Healthy Things To Eat After Running
After a run session, it's important that your body replenishes the fluids, carbohydrates, and protein it lost while working out. This will make your body recover faster, ready for you're the next run.
Hydration should be your top priority. One of the first things you should do after a run is to drink water or a sports drink packed with electrolytes.
Then, get something to eat within the next 30 to 45 minutes. This will give your body the nutrients it needs for muscle repair.
Instead of heading to the nearest fastfood restaurant, here are 10 healthy things you could eat after a run. Wake up a little earlier than usual to prepare these as your baon. You'll save on money, too.
1. Oatmeal
It's a great post-run snack because it has a winning combination of carbohydrates, protein, and fiber. Fiber will make you feel busog so you won't eat too much. Make it more delicious by adding slices of your favorite fruits and a little honey.
2. Plain Yogurt
Protein-rich yogurt is another healthy post-run eat. It also has good bacteria for proper digestion. Just like oatmeal, you can add fruits, nuts, and honey to make it even yummier.
3. Hummus
If you're into Arabic or Mediterranean food, this creamy chickpea dip is for you. It's a great protein and fiber source. Use it as a vegetable dip or spread it on wholewheat bread.
4. Chicken Breasts
If you love chicken, go for chicken breasts; they're rich in protein, lean, and easy to prepare. Pair it with brown rice and you've got a complete meal.

5. Salmon/Tuna
These fish contain omega-3 fatty acids and antioxidants that will help your body recover faster. Use these as sandwich filling or eat these with rice or pasta.
6. Sports Bars
Sports bars are great energy boosters. Be sure to check the nutritional label as there are some candy bars high in sugar that are pretending to be sports bars.
7. Bananas
Bananas deserve a special mention on this list. They are rich in Vitamin B6, Potassium, and Magnesium – nutrients that a runner needs after a run. Get a protein boost by eating this with peanut butter.
8. Fruits
When you feel hot and tired, chilled grapes, watermelon, apple, and orange slices are refreshing, pleasantly sweet, help hydrate the body, and won't upset your stomach after a run.
9. Nuts
Almonds, pistachios, walnuts, and cashews are low in calories and even help lower bad cholesterol. These also help prevent sore muscles after a run.
10. Vegetables
You don't always have to eat them on their own. Add thin cucumber slices to your sandwich. Mix carrots and spinach leaves to your salad. Or stir fry a combination of your favorite vegetables. However you want to eat them, just make sure they're a mainstay in your post-run meals.
How about you? What do you eat after your run? Share them below!
For Instant Updates – Follow US!
https://www.facebook.com/pinoyfitness
https://www.twitter.com/pinoyfitness
https://www.instagram.com/pinoyfitness
PF Online Community -> https://members.pinoyfitness.com
PF Online Shop -> https://shop.pinoyfitness.com
Like this Post!? Share it to your friends!