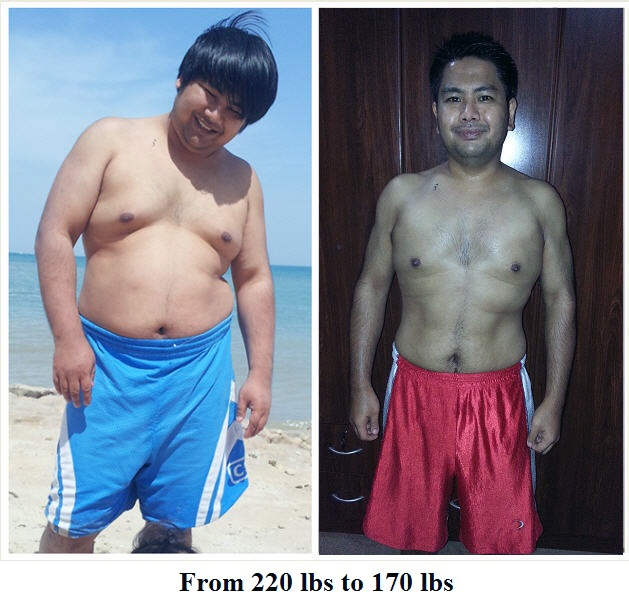 I'm not on a diet, I'm on a lifestyle change
by: Jose Mangibin
It was a normal day last September 2013, while mindlessly browsing through the internet, I found myself reading an article about the early warning signs of a heart attack. Now I don't really consider these types of health topics interesting, but as I was browsing through some of the symptoms posted in the article, I became totally fixated, Why? Because each and every symptom they mentioned were the exact symptoms I was feeling on a day to day basis! That article became the ultimate wake up call for me.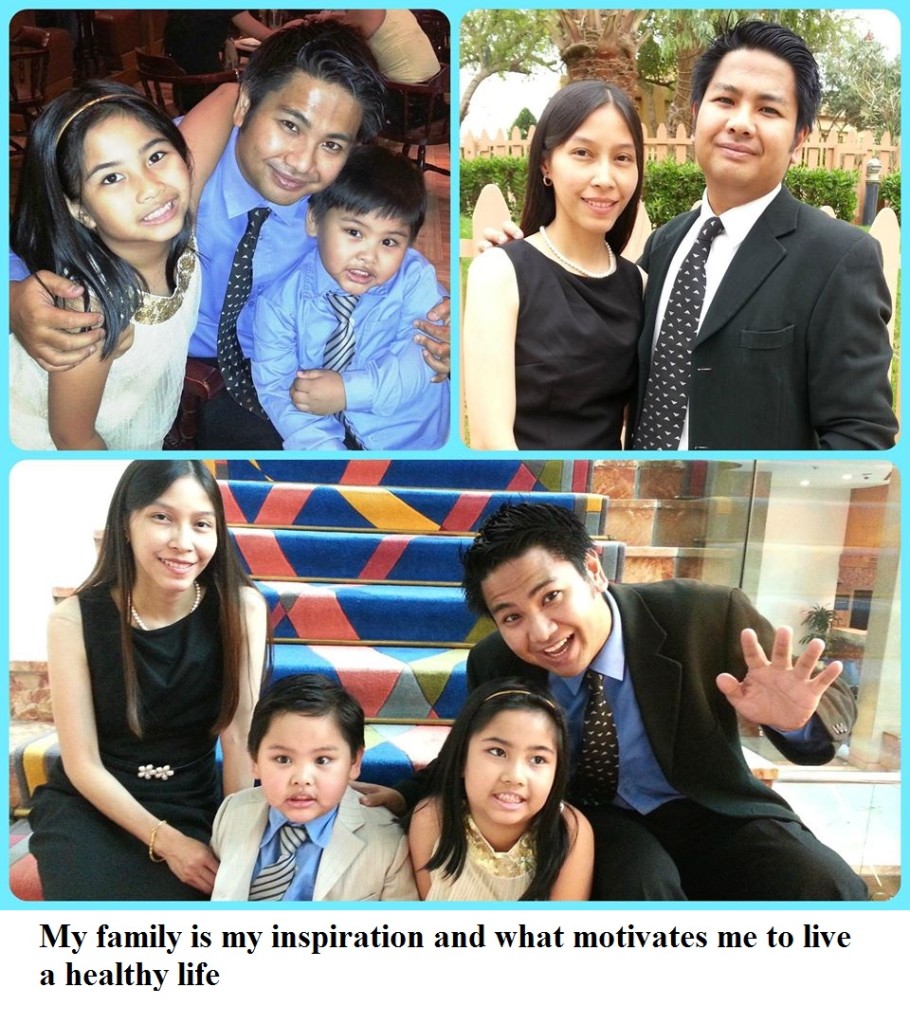 During that time I was a 33-year-old man with a wife, a 5-year-old daughter and a 3-year-old son, I realized that it was definitely high time to make a lifestyle change; if not for myself, then for my family's sake. I have learned some things through my lifestyle change journey, and I'd like to share some of them through my story.
Everyone is different, there is no one perfect diet and exercise plan, it's also based on what type of lifestyle you would like to have. One route is to perhaps join a fitness club and seek professional advice from one of their fitness instructors. This would be a big help to jump start your new lifestyle, fitness instructors are knowledgeable about fitness and backed with years of experience in order to assist you in making a plan for your weight goals or whatever health goals you'd like to achieve.
I believe this would be a great route; but the road I took was of a self study route. I just researched everything on the internet and from forums (like Pinoy Fitness) in order to get tips and ideas on what type of diet and exercise plans I should have.
At first I just started off with jogging for 20 minutes a day during my 1 hour lunch break at work, and also started slowly lessening what I consume. I also read online diet articles and try my best to stick to the diet plan. Later on, I increased my running time per day and then I also switched some days on doing some fitness exercise programs.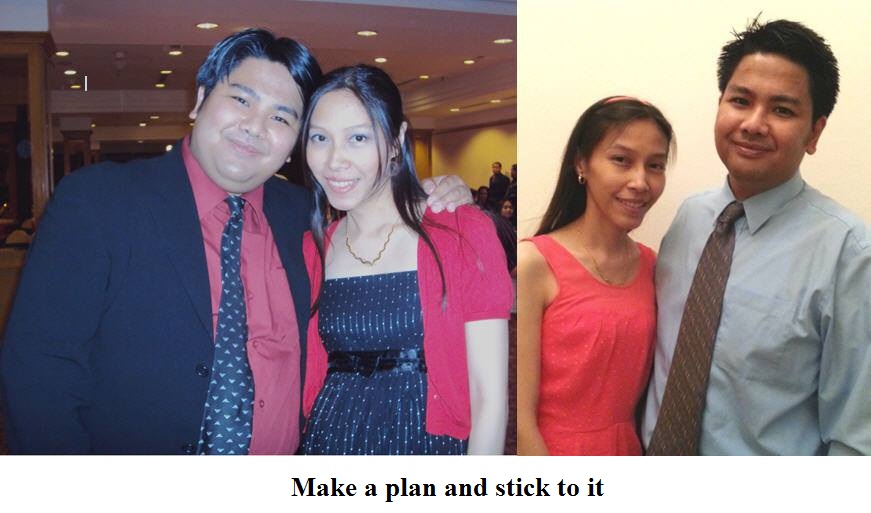 I guess for me, the most important thing is to follow your diet and exercise plan slowly but consistently, and from time to time assess your plan and make modifications based on what your body is telling you. It is also important not to rush weight loss, give your body time to adapt in order to not really feel you are on a diet or exercise plan. I always tell people that this is not a diet, but a lifestyle change; and it shouldn't be seen as something you will be doing for 3 to 6 months, but should be seen as something that you will be doing for the rest of your life.
It is also important to always have a good motivation in mind as to why you want to lose weight and live a healthier lifestyle. For me, it was so I can live longer as my kids and I'd like to be there for them and hopefully see them with their own kids some day. In the beginning of my lifestyle change, it was really difficult, however, keeping my family in mind and the mental picture of my family pushing me allowed me to follow through will my plans. The first 3 to 6 months was the hardest, after that phase, I felt like it's not a diet anymore, and exercise became part of my life. In 6 months, my week isn't complete without exercise. That's when you know that you have successfully made a lifestyle change.
From September 2013 till March 2014, I was able to loose 50 lbs coming from 220 lbs down to 170 lbs. I believe I could lose more weight if I wanted to, but I'm already happy with my current weight, I made modifications to my diet and exercise plan in order maintain this weight and focus a little bit on muscle toning.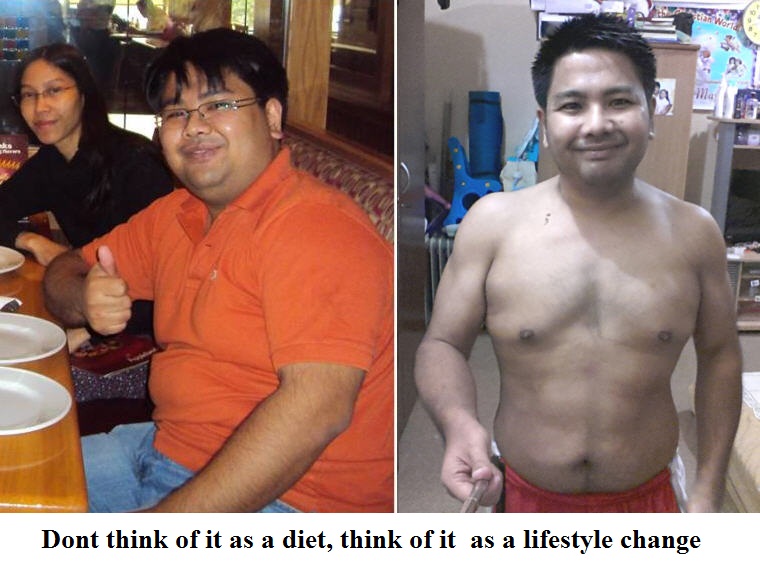 So in closing, I'd like to sum up everything I mentioned above. Remember to (1) prepare a diet and exercise plan, (2) find a good motivation to help you stick and follow through with your plan, and (3) assess your plan from time to time in order to make modifications if necessary. Also, remember to not view this as a diet and as something with a limited time frame, rather view it as a lifestyle change.
Thanks very much for taking the time to read my article, I hope that this article helps you reach your goal and I truly hope that one day, I'll be reading your success story here on Pinoy Fitness as well! :) — END
–
Want us to share your Story?? Submit it – Click -> Share Your Story!
For Instant Updates – Follow US!
https://www.facebook.com/pinoyfitness
https://www.twitter.com/pinoyfitness
https://www.instagram.com/pinoyfitness
PF Online Community -> https://members.pinoyfitness.com
PF Online Shop -> https://shop.pinoyfitness.com
Like this Post!? Share it to your friends!