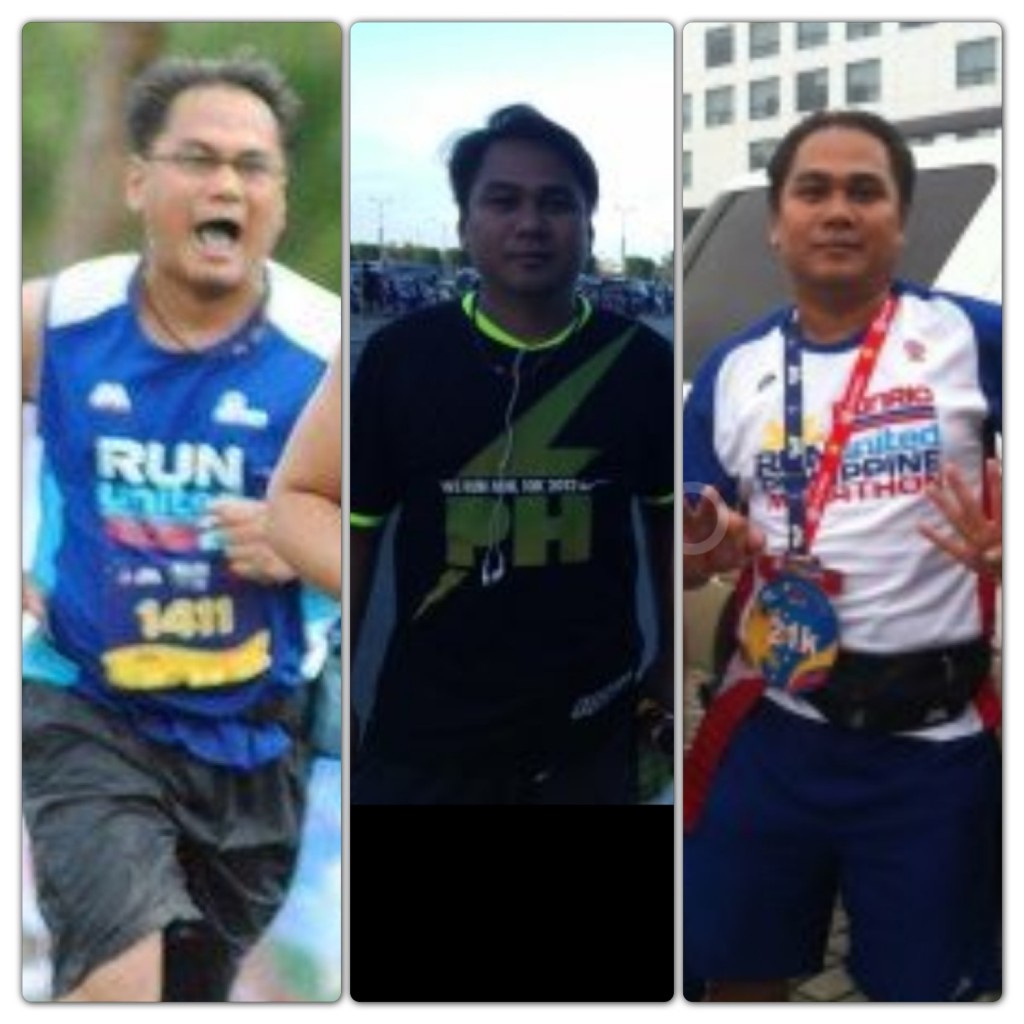 RADING'S RUN TO THE FINISH LINE
by: Palmer Mallari
Last Year's National Geographic Earth Day Run 2012 was interestingly full of lessons as an athlete and as a person.
Almost a year ago, I received this invitation from CONRADO "RADING" DE LEON, my kumpadre, classmate and friend for life to join the run. While I have been actively into physical fitness for five (5) years now, characterized by different changes in my body structure as brought about by revisions in my workouts, I have never really tested my strength and resolve as a finisher. A five (5) kilometer run in the treadmill coupled by lifting weights have been part of my daily routine but running in a formal event such as the NATGEO Run had never been my cup of tea. I have experienced a few "fun-runs" here and there but hey, this was the NATGEO, for the mother earth where thousands of runners would be in tow. So, I thought maybe it was a good idea after all to join.
What struck me most prior and subsequent to the run was RADING's passion for what he was doing. Years before, he had undergone operation for a gallbladder ailment and like me had lost his father in our teens due to an illness. RADING had always been concerned about being sick and dying young because he had two daughters who are still in school. He dreaded thinking about leaving his wife to work all by herself to raise their kids. More than that, he was in suspect whether to start in a physical activity was already beyond his years. He was after all 40, "obese" as he claimed, and had a body part removed from his body early on. But his resolve was just too overwhelming that nothing was stopping him.
Months into the NATGEO run 2012, RADING had started running every morning, to test the waters. The short distances elevated to longer runs, testing the effects of temperature, weather and other factors that he could think of. He then joined fun runs and finishing with ease decided to go the half-marathon route – the NATGEO's 21K.
Days to the run, he immersed himself to the science of long runs, be in the physical conditioning, diet and mental preparation. On the very day itself, he even pulled-out his insurance papers, medical plans in preparation for the worse. He may not admit it, but maybe he even prepared a short "farewell letter" to his family. At the track waiting for the race proper, I saw nervousness in his eyes, his hands were sweaty when the summer wind brought some coolness to the environment. From time to time he would mention about how he dreads quitting the race, maybe in a stretcher. It was even funny that he gave to the organizers my name and number, plus that of our friend RESTY just in case an emergency takes place. But to reiterate, he was way too determined and no amount of chills in his spine would stop him – and off he went.
Having finished my race ahead of him, I called him several times to check on him. I know he did not need any motivation from me or anyone, but seriously speaking, I wanted him to take his time and if need be, consider not finishing the race if it would mean danger to his health. Hours (yes, hours) have passed since my finish time, RADING was still out but this time I did not follow up on him. Maybe it was a pressure or sorts on him for me to do so, I just waited and true to his promise, he did finish. As he walked towards the parking lot with his arms raised, I saw him and said to myself, this was the image of a determined guy.
The lessons – there is no age to restart for physical fitness. At the stages of our lives when we have obligations not only to ourselves but to the families who rely on us, to not take care of our health is equivalent to cheating our loved ones. When we are already sick, the money we spend for medicines and check-up is money diminished from food on our loved-ones' tables or funds deducted from our kids' education. It is deprivation of quality time which translates to precious memories later on.
It is not too late to emulate the ways of my kumpadre RADING. His NATGEO run was an inspiration on determination and spirit, on how one can go beyond his comfort zone in order to safeguard a future for a family. I salute you RADING.
Finally, maybe this would serve as wake-up call to our other friends who have been too immersed with work effectively disregarding the silent calls of their health. Believe me, it feels good to be healthy – and certainly feels better to be sexy. – END
—–
Want us to share your Story?? Submit it – Click -> Share Your Story!
For Instant Updates – Follow US!
https://www.facebook.com/pinoyfitness
https://www.twitter.com/pinoyfitness
Like this Post!? Share it to your friends!