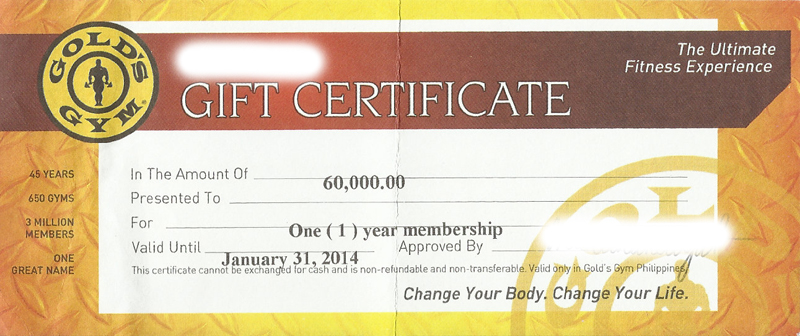 It took me some time to decide either to use this myself or to give it away for a raffle, after a week I finally decided to raffle it away! So here it is! I'm giving a chance to (1) lucky winner to get this (1) Year Membership GC from Gold's Gym worth PHP 60,000!! That's big! Ofcourse I won't make it that easy to get it, so follow the instructions on how to join carefully!
Raffle Mechanics:
1. You must be a Pinoy Fitness Facebook Follower, if not follow us now!
-> https://www.facebook.com/pinoyfitness
-> https://www.twitter.com/pinoyfitness
2. Choose a Photo and change your Facebook Cover Photo with the following Statement. "I'm a ________ @ pinoyfitness.com"

– Example: I'm a Runner @ pinoyfitness.com
– Others can be: I'm a Swimmer @ pinoyfitness.com, I'm a Climber @ pinoyfitness.com, I'm a Gym Rat @ pinoyfitness.com, I'm a Golfer @ pinoyfitness.com
– Make sure to use the original logo of pinoyfitness.com
– Make sure it's visible and readable in the photo
– Make sure your Cover Photo is accessible to public, if we cannot verify the photo you will be disqualified
– Download Pinoy Fitness logo -> [download id="678″]
3. In your new Facebook Cover Photo, Tag 10 friends who are into sports and fitness.
4. Put this in your Facebook Cover Photo Description using the "Add a Description" function
– "I joined the Pinoy Fitness Gold's Gym (1) Year Membership Raffle Promo here! https://wp.me/pQctC-3VA"
5. Share in Facebook or Tweet the following:
– "I joined the Pinoy Fitness Gold's Gym (1) Year Membership Raffle Promo here! @pinoyfitness https://wp.me/pQctC-3VA"
6. Fill up the Entry Form Below:
[CLOSED]
Again, Make sure you follow the steps carefully, here's a quick summary:
1. LIKE US
2. Change your Cover Photo with a statement and PF LOGO
3. Tag 10 Friends
4. Update Cover Photo Description
5. Share and Tweet
6. Complete Entry Form
That's It! 6 Steps to get a chance to win the GC!
Note:
– Raffle period if from May 1 to May 31. Drawing via Random.org on June 15, 2012
– Primary Cover Photo with logo should stay within the Promo Period, if we checked and it's not, your entry will be disqualified.
– Facebook account needs to be at least 6 months old with at least 50 friends (NO NEWLY CREATED ACCOUNTS PLEASE!)
– Join at your own free will, Let's all have fun!
– Good Luck! and Share this post to a friend.
Here are the 78 Entries:
Entry Name
1 Russelon Ronan
2 Mark Lloyd Gallardo
3 John Onofre G. Dizon
4 Bernard Dale Dy
5 Terrence Joseph G. Dizon
6 Larry N. Salazar
7 Antonio B. Benig Jr.
8 Russel T. Hernandez
9 Alison I. Barrero
10 Julio S. Judilla Jr
11 Marc-Ian Salavante
12 John James B. Alejandro
13 Justin Robert Santos
14 Darwin P. Picazo
15 Erwin Bautista
16 Eric Bergara
17 Edison L Nebrija
18 spencer tabing
19 Darrenz William A. Genel
20 claridel guanseng
21 Michael B. Yongque
22 Catherine Solmayor Manuel
23 Alvin L. Abo
24 Jesrel G. Doriga
25 John Paul G. Lipardo
26 Aldrine Borreros Landrito
27 ROY L. TINGCO
28 christian datu
29 Joshua Oronce Nieva
30 Linton Yeo Lim
31 Kid Anthony E. Ablaza
32 Jayson Biadog
33 Marwil Primavera Velasco
34 Aurora R. Colina
35 Ronaldo Damasco Nillusguin
36 Peter Chua
37 daisy cruz
38 Ernesto Solano Jr.
39 Ramil Lomboy
40 Erik Rey Santos
41 paul vincent b. billones
42 Kate Garcia
43 Rose Ann P. Mallen
44 Marvin Caguioa
45 Roger T. Abonita
46 marcelo moises
47 Mary Wilther V. Co
48 marcelo p venzon jr
49 Marly B. Barrameda
50 Rico B. Azurin
51 Dorothy Dela Rosa Punzalan
52 Danilo P. Agpaoa
53 Ryan F. Santos
54 Keithsvan Sanchez Suasba
55 Mercebal P Canonero
56 Francis Joeriz Catienza Nueva
57 Oriel Brian A. Briguela
58 Siy, Louie Carlo Matic
59 PCG ID
60 Jarred Que
61 kimberly calub sombrito
62 Joel Mel Sombrito
63 virginia p. atmosfera
64 Jagger Camungay
65 Emilio G. Ynciong III
66 Harold Kimm F. Isaguirre
67 Rosemarie Baco-Mallo
68 Anna Lissa Ordaniel
69 Karl Miguel H. Cruz
70 Romualdo S. Bareng
71 Albert Ortiz Rubis
72 Bernard Tristan Q. Magcarang
73 Roberto Manuel Jr
74 Micaella Angelica R. Gonzales
75 Dexter Lou L. Ignacio
76 Camille Quiambao
77 Sheryl Bergantinos
78 Jose Tuason
AND THE WINNER IS!!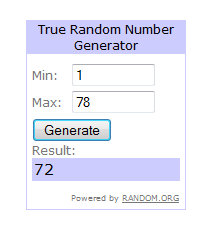 72 – Bernard Tristan Q. Magcarang – https://www.facebook.com/bernardTM
CONGRATULATIONS! I'll contact you via email! Thanks for joining everyone!