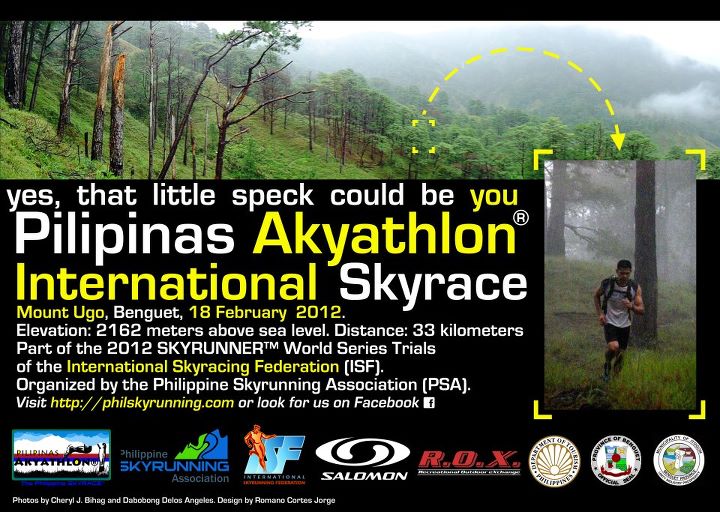 Want a different kind of challenge? Ever heard of a SKYRACE? A skyrace is a high-altitude mountain trail-running race, and this sounds interesting to you then check this out!
On February 18, 2012, get a chance to join the Philippines' FIRST international SKYRACE and is part of the SKYRUNNER™ World Series Trials, dubbed locally as the PSA Pilipinas Akyathlon!
PSA Pilipinas Akyathlon
February 18, 2012
Mount UGO, Benguet
Elevation 2162 meters above sea level, 33 Kilometers
Event Organizer: Philippine Skyrunning Association
Registration Fees:
For local Philippine runners:
Php 1,500 until 30 November 2011.
Php 1,800 until 31 December 2011
Php 2,000 until 31 January 2012.
Php 2,500 until 17 February 2012.
*USD50 for foreign entries payable on Feb. 17 during race kit claiming.
Payment by local residents can be made by depositing the fee to BPI current account number 3191-0473-02 of Philippine Skyrunning Association, Inc.
Email scanned deposit slip (with your name) to [email protected].
Race Course Description:
This is a 33-km out-and-back race, starting from the Barangay Hall of Tinongdan (779 masl) in the Municipality of Itogon, Province of Benguet. The first 1.7km is a downhill run on paved road to the start of the trail (499 masl). From this point, the route to the summit is mostly uphill with a total elevation gain of 1858 meters, and loss of 195 meters. The scenic route will showcase magnificent views of surrounding mountains, including portions of Binga and Ambuklao dams as far away as Pangasinan. It will navigate through pine forest trails and 3 sitios: Cayuco, Cawayan and Lusod which lead to vantage points where other peaks in Benguet can be seen. The turnaround point will be at the summit of Mt Ugo (2162 masl). The 16.4-km route from the summit to the finish is a mirror image of the route to the summit, and concludes with a 1.7-km (280m vertically) ascend to the finish line at the hall of Barangay Tinongdan.
For more information about this event, course description, recommended schedule:
Visit -> https://philskyrunning.com/
Visit -> https://runningmistress.blogspot.com/