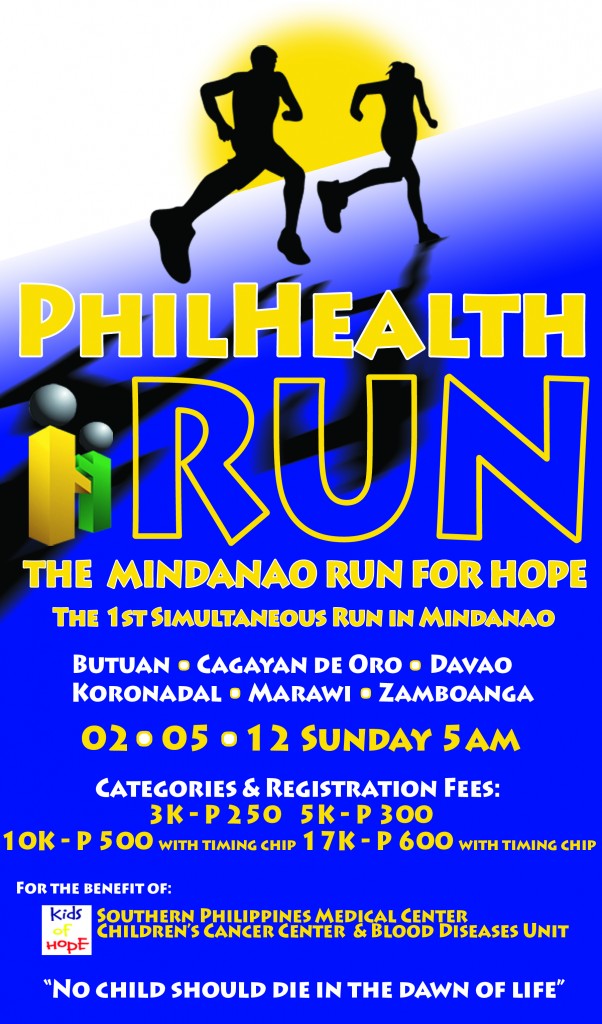 On February 5, 2012 PhilHealth will be organizing the First Simultaneous Run in Mindanao dubbed "PhilHealth Run-Mindanao Run for Hope", this activity will be the first running event ever held at the same time and date in six venues with this magnitude.
PhilHealth Run-Mindanao Run for Hope
February 5, 2011
Butuan, Cagayan de Oro, Davao, Koronadal, Marawi and Zamboanga City
Registration Fees:
3K – PHP 250
5K – PHP 300
10K – PHP 500 (with timing chip)
17K – PHP 600 (with timing chip)
Since PhilHealth will be celebrating its 17th year in February 2012, they are targeting at least 17,000 runners in all six venues. Registrants from all over the country shall be invited and enticed for increased participation
The Main Beneficiary for the event is Southern Philippines Medical Center (SPMC) Children's Cancer Center and Blood Diseases Unit. SPMC is the largest Tertiary Hospital in Mindanao and the only hospital facility in the island that can deliver multidisciplinary care for children with cancer.
More info on how to register to follow…